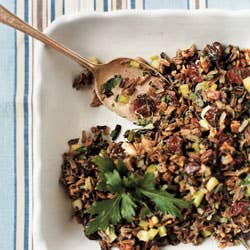 Recipes
Wild Rice Salad with Dried Sour Cherries
Use real wild rice, not the cultivated variety, for this salad; it takes longer to cook but has more flavor and a better texture.
**1⁄2 cup wild rice
5 cups Chicken Stock
4 slices bacon, coarsely chopped
3⁄4 cup dried sour cherries
1 rib celery, diced
1 scallion, trimmed and chopped
Leaves with 5 sprigs parsley, chopped
2 tbsp. red wine vinegar
Salt and freshly ground black pepper
**
1. Put rice into a medium pot, cover with water, and swish around with your hand. Drain; repeat process until water is clear, 3-4 more times. Drain rice; return to pot. Add stock and bring to a boil over high heat. Stir rice once or twice and reduce heat to medium-low. Partially cover pot and cook rice until grains are swollen and tender but not blossomed, 50-60 minutes. Drain rice in a colander and let rest, undisturbed, for 10 minutes. Transfer rice to a large bowl to let cool.
2. Cook bacon in a medium skillet over medium heat until crisp, about 5 minutes. Transfer bacon and 2 tbsp. of the rendered bacon fat to bowl with rice. Add dried cherries, celery, scallions, parsley and vinegar and toss well. Season to taste with salt and pepper. Garnish salad with a sprig of parsley, if you like, and serve at room temperature.