Buri Daikon (Yellowtail and White Radish)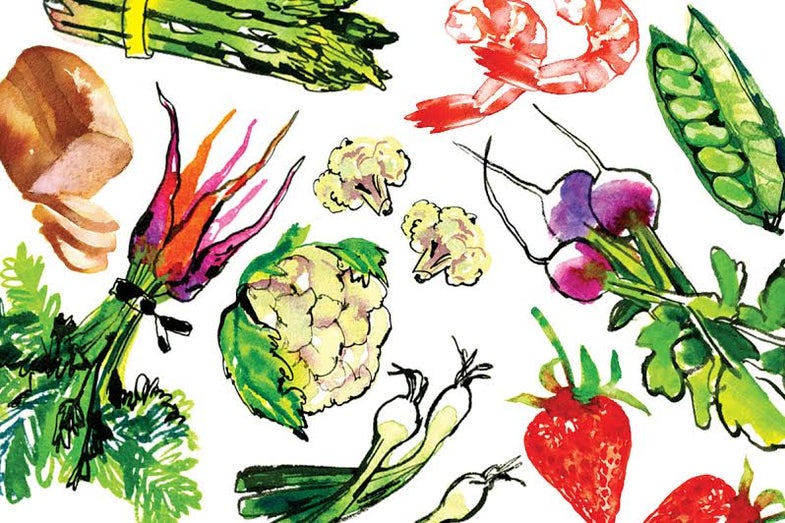 Dashi is a simple soup stock and the lifeblood of Japanese cuisine. It is mostly made by heating konbu (dried giant kelp) and bonita flakes in water. Fresh dashi is rarely found today, even in Japan so the instant version is more commonly found in recipes like this one. This dish also requires long, slow cooking which makes the humble daikon remarkably tender, and the richness of yellowtail balances its slight bitterness.
Yield: serves 6
Ingredients
1 oz. konbu (dried giant kelp)
1 (1-lb.) yellowtail or salmon collar (have fish monger cut in half) or 2½-lb. steaks
1 Tbsp. vegetable oil
2 lb. daikon, peeled and cut into 2″-thick rounds
1 bag instant dashi (Japanese stock)
1⁄2 cup sake
3 Tbsp. soy sauce
1 Tbsp. mirin (sweet cooking rice wine)
Instructions
Wipe dirt off konbu with a damp cloth. Place in a bowl, cover with hot water, and soak until soft, about 1 minute. Drain and set aside.
Sear one piece of the fish in oil in a skillet over high heat until brown, about 2 minutes per side.
Place daikon in a saucepan, add enough water to cover, and bring to a boil over medium-high heat. Remove from heat and drain.
Steep instant dashi bag in 2 cups hot water in a mixing bowl for 5–10 minutes. Discard bag and stir in sake, soy sauce, and mirin.
Line saucepan with konbu, add daikon in a single layer, and pour in dashi mixture. Lay seared fish on daikon and fold konbu over it. Cover and cook over medium-high heat until steam seeps from under lid. Reduce heat to low and cook, adding water as needed, until daikon is very tender, about 3 hours.
Discard konbu and cooked fish and sear remaining fish as in step 2. Place 1–2 daikon rounds in one of six serving bowls, add broth, flake fish on top.