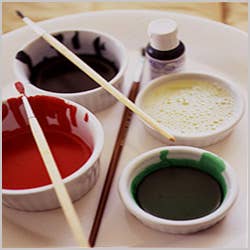 The egg wash is used before baking to add sheen or color and to help decorations adhere to cookies. The sugar glaze is painted on after baking for detail. Both can be tinted by adding food coloring.
EGG WASH Combine 1 egg white and 1⁄2 tsp. water in a small bowl. Brush on cookies before baking.
SUGAR GLAZE Place 1 cup confectioners' sugar in a small bowl and add enough milk (about 5 tbsp.) to form a spreadable glaze. Brush on cookies after baking.