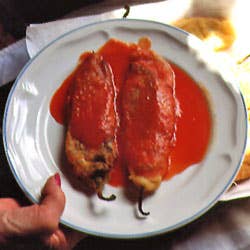 1. CHOOSING: Fresh anaheim chiles are preferred for stuffing but poblanos also work nicely.
2. COOKING: Char about 10 chiles over a gas flame or under a broiler, turning to blacken all over. Place in a paper bag, close, and steam 15 minutes. Rub off skin. Cut a slit lengthwise, stopping about 1⁄2" from tip. Scrape out veins and seeds.
3. STUFFING: Fill each chile with a 3" × 1" stick of monterey jack; you will need about 1 lb. of cheese in all.
4. FLOURING: Dredge chiles in flour seasoned with salt and freshly ground black pepper.
5. PREPARING COATING: Separate 4 eggs. Beat whites until foamy, add a pinch of salt, and beat until stiff. Beat yolks, then fold into whites.
6. COATING: Working quickly, dip chiles in eggs to coat.
7. COOKING: Fry chiles in 1" hot corn oil in a large skillet, turning to brown evenly.
8. SERVING: Drain on paper towels. Serve with Red Chile Sauce or sauce of your choice.