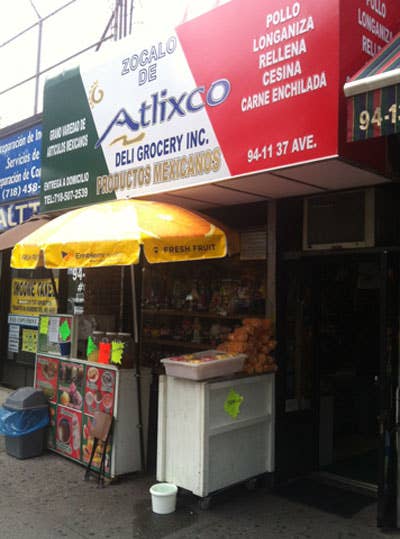 Travel
Looking for Mexico in New York City
Sourcing the hard-to-find ingredients for our Mexico issue.
As we cooked our way through the Mexico issue, we found ourselves scrambling to locate ingredients we had never heard of or seen before — which is saying something, considering that we are two girls from Santa Fe, New Mexico, and San Antonio, Texas. Not only were we unfamiliar with most items on the list — huanzontle? chepiche? — but after a few days looking around, it became clear that what we were looking for did not exist within Manhattan's borders. We widened our scope to the outer boroughs of the city and set forth to shop. Below, our favorite sources for Mexican ingredients in New York City.
New York City has a way of transporting you thousands of miles in a matter of subway stops. When we emerged from the Corona Plaza subway station, we stepped onto Roosevelt Avenue, which was lined with food carts that, instead of the usual hot dogs and soft pretzels were selling pozole_ (hominy stew), _chicharrones (fried pork rinds), corn on the cob, roasted pig heads, sweet potato cakes, and endless varieties of fresh fruit, both blended into refreshing smoothies and sold by the glass full garnished chile powder and a squeeze of lime. In front of convenient stores there were coolers packed with guava, tamarind, and pina colada flavored popsicles, and at every corner, young women ladled out aguas frescas (fresh juices) in flavors like lime, hibiscus, and watermelon into cups for thirsty patrons.
And, most crucially for us, the grocery stores here had exactly what we were looking for. There were aisles and aisles of chiles, fresh, dried, jarred and pickled. There were cuts of meat, like tripe, pigs feet and even oxtails, which are excellent for caldo de res, displayed in abundance. When it came to cheese, there was queso Oaxaca, queso fresco, Cotija and more—offered wrapped in a banana leaf, cornhusk, or just plain plastic. The varieties of dried beans on offer wildly outnumbered that of our Manhattan grocers. There were crusty, sugary panes dulces (sweet baked breads) and colorful galletas de azucar (sugar cookies). This, we agreed, was a gold mine. We were certain to find what we needed here and began exploring the markets.
Food Bazaar
This medium-sized grocery store had an abundance of some of the fresh produce and dried chilies that we set out to collect; nopales, or cactus paddles, calabacitas (a zuchinni-like squash) canela (true cinnamon) and Mexican oregano, as well as chepiche, which resembles tarragon, and fresh epazote and chayote, both the smoothed-skinned and spiny varieties.
Food Bazaar
34-20 Junction Boulevard
Queens, New York 11368
800/553-8341
Fine Fare
This generic-seeming store seemed to be a lost cause when, just as we were leaving, we discovered a hidden back room that housed items like pink beans, fideos (thin, wheat-flour noodles), canned chiplin and the truffle-like corn fungus Huitlacoche.
Fine Fare
4125 102nd Street
Corona, New York 11368
718/505-2585
Zocalo De Atlixo
Just as we felt we had found every hidden vendor in Corona, we stumbled upon this little place, more like a well-stocked walk-in pantry than a grocery store, that carried a preponderance of the most hard-to-find ingredients on our list: the elusive huanzontle (a wild, slightly bitter vegetable with seed heads covered with clusters of spiky, broccoli-like flower buds) and fresh hoja santa (we had found the dried version elsewhere but the fresh leaves possess a more intense flavor and can be used in more applications). We burst into punchy laughter when the store owner informed us she also had chilaca chiles in stock.
Zocalo De Atlixo
9411 37th Avenue
Flushing, New York 11372
718/507-2539
Corona King Produce
Some online digging led us to this deli in Jamaica, Queens, with a small inventory of dried chiles and spices. We left here with a bag of Mexican cumin seeds and guajes, long flat pods that house garlicky, bean-like seeds.
Corona King Produce
4008 National Street
Corona, New York 11368
718/205-6053
Tortilleria Nixtamal
This place makes old-fashioned tortillas, partially cooking corn soaked with lime and grinding it against limestone to create a fine corn flour called masa. All of their equipment and corn is imported from Mexico, and along with fresh tortillas, they also offer delicious dishes like tamales, tacos al pastor, and enchiladas.
Tortilleria Nixtamal
10405 47th Avenue
Corona, New York 11368
718/699-2434
The Meat Hook
Green chorizo, a fresh pork sausage flavored with serranos, poblanos, jalapenos, cilantro and garlic, was especially difficult to find: no one we spoke with in Corona had any idea where we might find some. We finally stumbled upon this boutique butchery housed in a kitchen store in Willamsburg, Brooklyn, whose house-made sausage list includes two types of red chorizo as well as two different types of green chorizo. All were extraordinary. Our favorite, the "Toluca green chorizo," which included pepitas, spinach, and Mexican oregano, was based on a family recipe given to the shop by one of their Mexican customers.
The Meat Hook
100 Frost Street
Brooklyn, New York 11211
718/349-5033; the-meathook.com