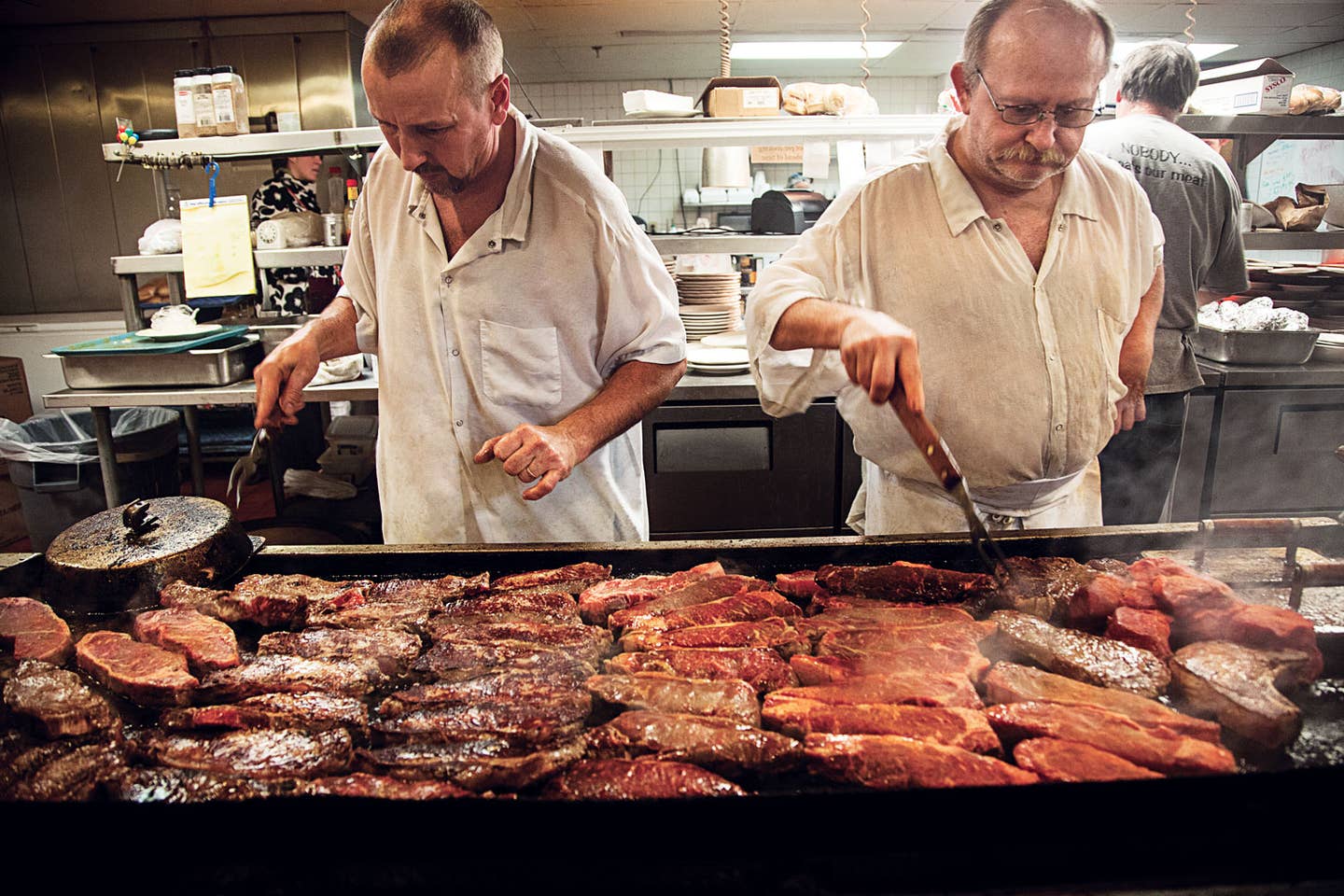 Travel
Here's the Beef
Once home to enormous stockyards, Omaha still boasts glorious steakhouses
It's 6:30 on a Saturday night in Omaha, and I'm standing in the kitchen at Cascio's Steakhouse staring at a flattop grill. It's a sea of steaks, the grill guys flipping 70 house-cut New York strips in waves. Beside me, a young food runner named John Davis, sweaty bangs flopping over heavy-framed eyeglasses, fits a dozen plates of steak and foil-wrapped baked potatoes onto a tray like puzzle pieces. He heaves the burden onto his shoulder, groaning "aw, f*@k," then pushes through the kitchen door, calling out as he turns corners, "Hot food comin' round!" I scurry after him to one of the 2,200-seat restaurant's basement party rooms, where members of the Cornhusker Corvette Club await their meals.
By now most of the hundreds of diners Cascio's will serve tonight have been seated. And in two hours, the house will be empty. That's how dinner happens in Nebraska's largest city: on the early side. Good thing, too, since it leaves more time to digest everything before hitting the sack. This is a town surrounded by grazing lands, so meals here almost always feature a big slab of beef—particularly at classic restaurants like Cascio's, founded in 1946 by owner Alfie Cascio's grandfather, Joe, and Joe's brother Al, a former bootlegger.
It's places like this that keep me pining for Omaha, a city I first visited in 2008 after completing a writing residency in Nebraska City, an hour south of here. Before heading back to New York, I thought, Nebraska has two more things to offer me right now: Western wear and steak. So I stocked up on cowgirl shirts, snapped one on, and drove to Omaha to tour its steakhouses. I ogled the neon globe sign and swooping mid-century roofline of the 70-year-old Gorat's. I popped in for a gander at Brother Sebastian's monk-robed servers, monastery-themed rooms, and throwback menu featuring dishes like chicken cordon bleu and filet Oskar, steak topped with hollandaise and crabmeat. And I settled in at Johnny's Cafe, a chophouse I knew from its cameo in the movie About Schmidt by Omaha-born filmmaker Alexander Payne. There, I sat in a rolling Naugahyde swivel chair before a backlit photographic mural depicting a cattle run, ate a juicy T-bone with a delicate, nearly sweet flavor, and thought, I'll return some day. Omaha's cow palaces, with their vintage decors and red-blooded meals, had me in their thrall.
Five years later, I've come back, as promised, to find out more about the history and cuisine of a city whose name is nearly synonymous with steak. The first thing I discover is that I'm not the only one who's so enamored. At the Drover, a fireplace-warmed, wood-paneled bar and grill in south central Omaha, I meet diners who've driven from as far away as Kansas City and eastern Iowa just to eat here. I meet waitstaff who have held their jobs for 20 years and managers who started out when it was still known as the Cork and Cleaver, a franchise that introduced the salad bar—Omaha's first—that the folks here remain proud of.
That was four decades ago, "or 75 pounds ago for me," says Spike Sabine, the Drover's bearded and bullish restaurant manager. He's consumed enough of his own food to understand its appeal: "The whole deal is, 'I'm coming to Omaha and I want the biggest, baddest good steak you can put in front of me.'" He serves me exactly that—the whiskey strip, a 14-ounce New York strip steak that's marinated in bourbon, soy sauce, and garlic before it's seared on the grill to brand it with grate marks—"that's your presentation side"—then cooked over open flame. It's winey and briny, with a yielding texture, a slightly sweet finish, and no trace of the minerality or pronounced chew of the steaks I am used to eating back home. The reason, Sabine explains, is that "this is wet-aged beef," shipped and rested in its own juices in Cryovac packaging. Compared with the dry-aged beef common in New York, which hangs for several weeks, or even months, in chophouse meat lockers before serving, wet-aged steak doesn't taste better to me—just different. But Sabine is clear in his preference. "It's more tender, it holds its juices better; it doesn't even look like dry-aged." He likes Nebraska beef but not just because it's local. After the first six months of pasturing, "it's corn-fed, not grass-fed," he says. "It has better marbling." Whatever its appeal, Nebraska beef is a $12 billion industry. At the Drover, I heard a saying repeated to me often during my visit: "When the manure hits your nose, that's the smell of money."
The mention of money calls to mind the most famous Omaha steakhouse fan, Warren Buffet. The billionaire has the massive shareholders' meeting for his company, Berkshire Hathaway, in his hometown each May, hosting parties at his favorite haunts. I go next to one of these places, Piccolo Pete's. An Italian steakhouse, it's one of a genre started in Omaha by the five Caniglia brothers, who opened several restaurants here starting in the 1940s, including one remaining location, Caniglia's Venice Inn. The brothers' sister, Grace, married another steakhouse scion, Tony Piccolo Sr. Today Piccolo Pete's neon icon, a musician piping on his tiny flute, glows over a sleepy street. But in 1922, when Tony's father Joe bought the building and turned it into a dance hall where revelers hoofed it to big bands, it was in the center of south Omaha's bustle.
"The neighborhood was a melting pot: Polish, Italian, Bohemian," says Grace's daughter Donna Sheehan, who runs Piccolo's now with her sister Dee Graves. "The Metropolitan Utilities was next door. The stockyards were open. It was a madhouse every night here until 1 a.m." The dance floor eventually gave way to a dining room serving dishes prepared by Frank Skryja, who's manned the burners for 36 years now. He plates me his hashbrowns, shredded potatoes fried in butter in a small steel pan until they fuse into a golden disk with a crunchy exterior encasing a creamy, fluffy center. He ladles a thick, smoky white bean and ham soup into a bowl and portions out a slab of prime rib, its moist pink flesh hugging ribbons of fat. The meat has been seasoned with garlic, dried basil and oregano, celery salt, and loads of black pepper, blasted with heat for a couple of hours, and then held at a low temperature overnight until its fragrant jus pools in the roasting pan. At lunchtime he slices it thinly onto thick slices of local Rotella's Italian sandwich bread and douses it in gravy for a knockout version of a French dip. For Warren Buffet, Sheehan tells me, the order of choice is the chicken Parmesan. Tasting it now, I understand why. Skryja simmers his tomato sauce with steak trimmings and beef and pork bones, the breaded chicken cutlet serving as a tender canvas for the meaty-tasting red gravy.
A similar sauce is served at Anthony's Steakhouse, which was opened by owner Tony Fucinaro's father in 1967. Back then, the Italian specialties were prepared by Tony's mother, Josephine. The restaurant still uses her sauce recipe for the sides of spaghetti and penne-like mostaccioli. At this sprawling place off the interstate in south Omaha, a humongous fiberglass steer smiles down from the rooftop, and families sit at big tables, the fidgety kids eating meatballs and the grown-ups tucking into steaks, which I'm surprised to discover have a darkly rich, dry-aged flavor. Fucinaro tells me that the beef here is pulled from the Cryovac it's shipped in and dry-aged for two weeks. Each of the steakhouses, as it turns out, deals with its beef in a slightly different way. Some buy precut meat from the custom processor Omaha Steaks, but most get packaged short loins, comprising the top loin and tenderloin, which they cut in-house into T-bones, porterhouses, and strip steaks and age wet or sometimes dry for a matter of days.
"It's all boxed beef now. But restaurants used to hang whole carcasses," a knowledgeable fellow named Harold Norman tells me when I meet him at Anthony's. Previous executive director of the Omaha Restaurant Association and former secretary—treasurer of the Omaha Stockyards, where he worked for 46 years, the 91-year-old Norman shows up to dinner in a three-piece suit with a watch fob and declares, "I'm from the old school. The way people are today, they're too damned casual." His elegance befits his stature: Each year the Harold Norman Excellence Award is handed out at the Omaha Hospitality Hall of Fame celebration. He's treated like a star at places like Anthony's, where we share a loaded bacon—Swiss burger. It's full of moisture and flavor from a sear on the flattop in rendered steak trimmings, and comes with a crunchy pile of cornmeal-battered onion rings.
I order a few more sides—Brussels sprouts hash dotted with pancetta and an iceberg wedge salad latticed with red onions and dripping with both Italian and blue cheese dressings—as Norman shares his stories. He tells me that the Omaha Stockyards were founded in 1883 to provide a location closer than Chicago to sell and process cattle and other animals from points west. By the 1950s, they were the largest in the world, a buzzing place where cattle, pigs, and sheep were shipped from ranches and sold to the slaughterhouses. At the 250-acre crazy quilt of pens, 40 commission firms representing ranchers sold upward of 7 million head yearly to 19 different packing houses. The stockyards went strong until the late 1960s. Then the packers figured out they didn't need the middlemen and started dealing directly with ranchers, setting up shop out on the prairie and shipping packaged beef to Omaha and beyond. By 1999 the city stockyards had closed.
"Everything is gone now except the Livestock Exchange Building," Norman sighs. That ten-story Art Deco edifice, today housing condos, still towers over south Omaha a few blocks from Johnny's Cafe, 91 years ago one of the first restaurants that sprung up at the yards' edges to feed the hundreds who worked there. Norman remembers all the old places: Ross's Steak House, opened on a dirt road; Sam Nisi's Spare Time Cafe, with its cooler full of steaks at the entrance; Al Caniglia's Top of the World, in an office building penthouse. They're gone now, the casualties of time and a changing Omaha, whose current economy is driven by telecommunications not cattle. But Johnny's, where I had my first Nebraska steak, and where Harold Norman has eaten at least once a month since 1966, survives. So I return to it. Displayed in the foyer, a "Good Morning Menu" from the 1940s when the place was open until the wee hours reads: "A pick me up? Why, yes. How about a whiskey sour." I order one. Sitting on a saddle-topped stool in the barroom amid photographs of the old stockyards, I raise a glass to one last filet, the delicious legacy of a town built on beef.
Great Steakhouses in Nebraska:
_Cascio's
1620 S. 10th Street
Omaha, Nebraska
402/345-8313
Gorat's
4917 Center Street
Omaha, Nebraska
402/551-3733
_The Drover
2121 S. 73rd Street
Omaha, Nebraska
402/391-7440
_Anthony's
7220 F Street
Omaha, Nebraska
402/331-7575