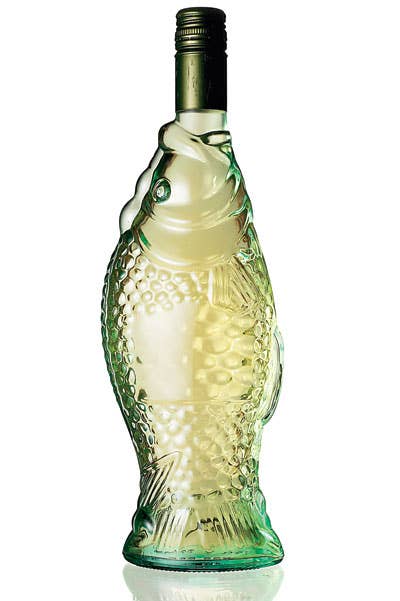 Drinks
Back in Style: Verdicchio Wine
Wines from Italy's Le Marche region are poised for popularity—again.
When I was growing up, my father's wine cellar contained green bottles shaped like fish. He liked to open them on summer evenings, when he'd come home with pounds of shrimp, mussels, and clams for dinner. Though the bottles looked fancy, the fresh, uncomplicated wines, made with the white Italian grape verdicchio, didn't get in the way of the seafood's flavor.
That's the way verdicchio used to be. In the 1960s and '70s, this wine from Le Marche, a region of Italy located on the Adriatic Sea east of Tuscany and Umbria, was casually made and served young. Cheap, easy, and cleverly packaged, verdicchios were also ubiquitous in stateside pizza joints and fish houses. But as wine drinkers grew sophisticated, verdicchio fell out of fashion. I hadn't tasted verdicchio since I was a teenager, so on a recent trip to Le Marche, I was eager to see what had become of it. As it happens, the world's waned interest was a blessing: Winemakers had spent those neglected years quietly improving their grape quality, equipment, and techniques. Moreover, they learned to let their wines mature; unlike many other whites, verdicchio benefits from aging.
Little known and lightly traveled, Le Marche is a land of walled villages, rolling farms, craggy hillsides, sandy beaches, and great terroir. My drive in from the west revealed the region's isolation: The road tunneled through the soaring Apennine Mountains, which taper off in a series of valleys that open to the Adriatic. In one of these you find the more prominent of Le Marche's two verdicchio appellations, the denominazione di origine controllata (D.O.C.) Verdicchio dei Castelli di Jesi. Here, humid ocean breezes bring roundness to the wines, and calcareous clay soil lends acidity. I stopped in at the Garofoli winery, where the luscious, single-estate verdicchio called "Podium," which spends a year in stainless steel barrels, demonstrates the grape's aging capacity. Carlo Garofoli, a member of the family winery's fourth generation, shared with me his "Podium" from 1999. Green-tinged when young (verdicchio's name derives from the Italian verde, meaning green), it had acquired a deep golden hue and a full, velvety feel. Its acidity had mellowed to reveal a ripe apricot flavor, mixed with a burnt sugar note, like that of creme brulee. Garofoli recorked the bottle. "I'm taking the rest of this home," he said.
Traveling on winding roads inland from Castelli di Jesi, I came upon the lesser-known D.O.C. Verdicchio di Matelica. I stopped in to see the winemaker, Aldo Cifola, whose father, Casimiro, founded La Monacesca vineyard there in 1966. Verdicchio di Matelica's landlocked appellation on an extinct salt lake bed yields soil that's rich in potassium and calcium. The mineral-laden earth produces verdicchios that are deeper, more complex, and brasher than Castelli di Jesi's wines when young. But their acidity gives them great potential for maturation. After a slow vineyard stroll, we sampled Aldo's 2007 "Mirum" reserve. It was rich and—though it hadn't been aged in oak, like some of the other local verdicchios—smoky, with gorgeous undertones of anise and almond. "I have arrived at the wine I love," Cifola said, assessing a glass with satisfaction, "representative of myself and my idea of wine." It lingered forever on my palate.
Not all of the surprises I encountered in Le Marche involved verdicchio, however. Francesco Bellini, a biotechnologist who recently retired to his native district of Ascoli Piceno, in southern Le Marche, is growing two local white varieties I'd never heard of: pecorino and passerina. At his Domodimonti winery's hilltop guesthouse, I sipped a summery passerina that tasted like honeydew and an oak-aged pecorino with a floral bouquet while gazing out at the Adriatic and the Apennines. Like much of what I encountered in Le Marche, these wines tasted ripe for discovery.
Bonci "San Michele" 2007 ($24) Old Castelli di Jesi verdicchio vines yield butterscotch and licorice aromas, a luscious mouth-feel, and a long, dry finish of pear and a bit of peat.
Domodimonti "Deja V" 2008 ($15) Light, brisk, and citrusy, with a touch of melony sweetness, this passerina is a terrific aperitif to pair with fresh oysters.
Garofoli "Podium" 2008 ($22) This single-vineyard Castelli di Jesi verdicchio rounds out a bright fruit-and-herb backbone with a soft, creamy body. Try it with salmon and cream-based sauces.
La Monacesca "Mirum" 2007 ($30) A lush, amber-hued wine from Matelica tasting of apricot, anise, and toasted almond. Made to age, but delicious now with duck or a nutty cheese.
Umani Ronchi "Plenio" 2007 ($35) Thirty percent of this Castelli di Jesi verdicchio is aged in oak for aromas of vanilla, pineapple, and coconut; caramelized peach flavors balanced by a mineral tang.
Villa Bucci Riserva 2006 ($47) You smell the Adriatic in this Castelli di Jesi verdicchio's spicy, saline aromas, while leathery oak notes are complemented by a bordeaux-like structure and elegance. Great with lobster and pork.