Friday Cocktails: Taste of Life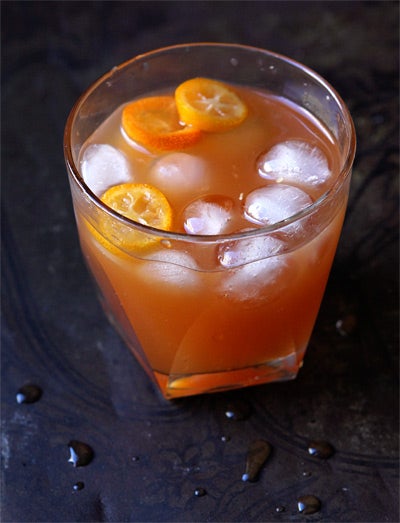 When I was in Hong Kong recently, my trip coincided with Lunar New Year, and everywhere I went I marveled at the beautiful potted citrus trees people placed in front of their businesses and homes for good luck. I had to hold back from helping myself to this gorgeous fruit, and I wondered if and when people would get to eat all those oranges, clementines, and my favorite of all, the sweet-skinned, sour-fleshed tiny kumquats that lined the streets. Could they really be only ornamental?
Many of the cooks I met that week explained to me that after the holiday, they stripped the trees and made a sort of salty citrus preserve that they used throughout the new year, often mixing it with hot water and sugar as a soothing drink. But the most surprising and refreshing use of all that ornamental fruit that I found was at Mo Bar, a popular cocktail spot at the Mandarin Oriental overseen by the creative mixologist John Ng. Inspired by that salty preserve he used to make with his family every year, Ng muddles tiny kumquats with sea salt, then shakes it with orange and lemon juice, adds a bit of Aperol and Pimms for a bitter edge, and orange liquor for a voluptuous flavor and consistency. The result, poured over ice and garnished with an orange peel or slivers of more kumquats, is salty-sweet-bitter-sour and completely satisfying — like a more complicated, citrusy margarita. It's light and goes down easy, and the touch of salt makes what Ng calls the essential "tastes of life" — sweet, sour, bitter — shine even brighter.