Friday Cocktails: The Brow Burner
Developed by Steve Wood of John J. Jeffries, The Brow Burner is a more sophisticated take on the old-boys' drink whiskey and ginger.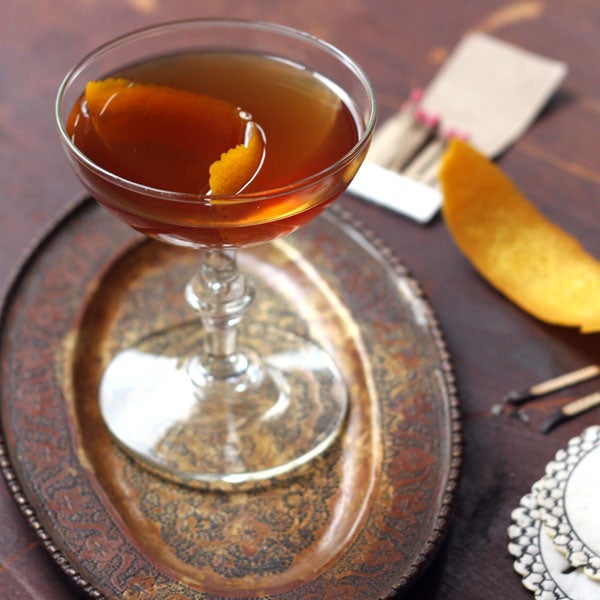 On a recent visit to Lancaster, PA, I found myself sitting at the bar of John J. Jeffries restaurant at the Lancaster Arts Hotel. In a town best known for its Amish pies and pickled products, the bar has an impressive list of cocktails featuring local spirits, fresh-squeezed juices, and housemade syrups and bitters (head bartender Steve Wood cooks up fresh batches of aromatic syrups made from locally sourced fruits—the post-industrial city is surrounded by farmlands—and herbs from his own garden). I was intrigued.
With much deliberation, I opted for The Brow Burner, a more sophisticated take on the old-boys' whiskey and ginger. After meticulously measuring and mixing Tullamore Dew Irish whiskey, housemade ginger and peppercorn syrup, The Bitter Truth orange bitters and Xocolatl mole bitters, Steve placed the drink in front of me, lit a match, and held a coin of orange peel above the flame, letting it caramelize. I watched in delight as he squeezed the peel, causing the flame to spray up as if from a fire breather's mouth. A lover of all things theatrical, I applauded, howling with pleasure. Ashen lines skated across the surface of the potation, which was smooth and almost buttery—a sweet and spicy mix of citrus, honey, and peppercorn, with a deep sulphur char from the flame. With flavors that bring to mind warm sweaters and colorful leaves, this cocktail is perfect for fall. —Emma Emerson
See the recipe for The Brow Burner »
Emily Arden Wells is the founding writer behind cocktail, food, and art blog Gastronomista