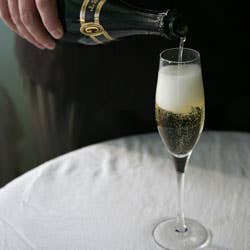 New Year's Eve hardly seems complete without the sound of popping corks and the sight of bubbly fizzing from the bottle at the stroke of midnight. But when you're just starting out the evening or savoring a meal with a bottle of something good, a more subtle (and less wasteful) approach to opening champagne is called for.
1. Keep the bottle upright, and handle it gently when carrying it to the table.
2. After removing the foil and loosening the wire cage enclosing the mouth of the bottle, grasp the cork firmly in one hand, keeping your thumb atop it in case it should start to fly off before you're ready.
3. Holding the bottle at an angle with your other hand, slowly twist the bottle, not the cork, in a clockwise direction until the cork starts to loosen.
4.Gently work the cork from the mouth of the bottle until it comes out with a soft hiss.
5. Keep the cork close to the mouth of the bottle, and hold the bottle at an angle for at least five seconds before you serve the wine. This should allow the pressure inside the bottle to equalize, releasing the gas without sending the champagne spilling.
6. Pour and enjoy. Cheers!