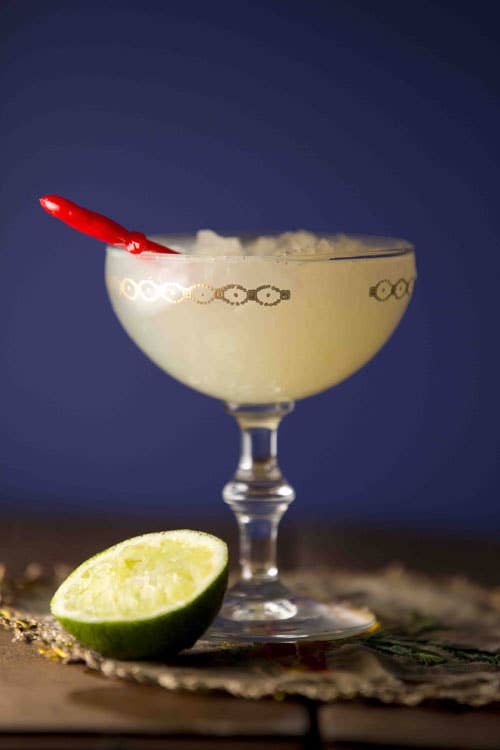 Drinks
Papa's Favorite Poison
Straight up, over ice, or frozen, daiquiris are just as good now as when Hemingway drank them.
Years ago, I had little use for the daiquiri. I regarded it as a fruity, frothy, adolescent concoction, made for injudicious college drinking and the "specialty cocktail" page at chain restaurants, all too often impregnated with artificial colors and flavors. Then something changed: Mixologists rediscovered the drink. Using careful techniques and artisan rums, they started pouring daiquiris of beauty and of balance. How could a cocktail I once dismissed as garish be able to clean up so nicely? It simply went back to its roots. As I found out when I looked into the matter, the daiquiri in its inaugural incarnation possessed a dignity and purity to match any libation.
Rum, lime juice, and sugar: Americans, British sailors, and Caribbean locals have been mixing these ingredients for nearly as long as sugarcane and citrus have been grown in the West Indies. Colonial America loved punch, a sweet, citrusy potion; rum, distilled from Caribbean cane or molasses, regularly found its way into the bowl. During the 1700s, British sailors spiked their daily ration of watered-down rum with lime and sugar. For this reason, the seamen became known as "limeys." In fact, there are endless variations on the island trio, including Brazil's caipirinha and Martinique's ti' punch. The daiquiri, Cuba's 19th-century gift to the world, is arguably the prime exemplar of this strong, tart, sweet balance of flavors.
The man who gets the lion's share of credit for bringing the drink's harmonious flavors together under the moniker "daiquiri" was not a bartender but a mining engineer. Jennings Cox was a rotund, bow-tie-sporting American who worked at a Cuban iron mine around the time of the Spanish-American War. A jolly entertainer, he'd serve large batches of his own liquid invention, a just-so blend of light-bodied white rum (probably Cuba's own Bacardi brand), lime, and sugar. Stories vary, but at one point or another, one guest came up with the bright idea of naming it after the town where Cox mined: Daiquire.
Thinking he was onto something, Cox took his daiquiri to a couple of upscale bars he hung out at in nearby Santiago de Cuba, the Hotel Venus bar and the private San Carlos Club. According to Jeff "Beachbum" Berry, author of the forthcoming Potions of the Caribbean: 500 Years of Tropical Drinks and the People Behind Them (Mud Puddle Inc., 2013), a bartender Cox introduced the drink to began mixing it in single servings that he poured over shaved ice in a cocktail glass. From Santiago the recipe traveled to Havana, where the added steps of shaking and straining the mixture turned it into a straight-up cocktail.
Credit: Courtesy John F. Kennedy Presidential Library
Within the next couple of decades, a perfect storm of circumstances conspired to make the daiquiri a border-crossing hit. In 1909, an American naval officer named Lucius Johnson went to a shindig at Cox's place, pocketed the recipe, and took it back to Washington, D.C., where it became the signature at the Army and Navy Club. Eleven years later, Prohibition was passed, instilling in thirsty Americans an interest in travel to Cuba, where liquor still flowed freely. Anyone drinking in Havana was bound to encounter a daiquiri at some point. In the 1930s, the drink got an added boost by the one-man publicity machine known as Ernest Hemingway, who had decamped to Cuba seeking quiet to write. He ended up spending just as much time drinking at a Havana bar called El Floridita as he did composing terse sentences; "Papa" liked how the owner, Constantino Ribalaigua Vert, handled a daiquiri. Hemingway's fame rubbed off on the drink. On a wave of rum that flooded the States following Prohibition's repeal, the daiquiri swept the country.
For today's purists, it is tempting to believe that the daiquiri's virtue as a pared-down masterpiece—shaken, strained, and served straight up—remained unstained until the 1970s, when some bartenders threw the poor girl into a blender. But that's not exactly the case. The words frozen and daiquiri were never quite strangers. Those chilly potions Hemingway guzzled at El Floridita were served on piles of shaved ice. In the 1928 work When It's Cocktail Time in Cuba, Prohibition-era writer Basil Woon cautioned that the drink "must be drunk frozen or it is not good." He probably meant you should serve it very cold. But the notion is there.
When the Waring blender was introduced to America in 1937, encouraging people to make smoothies out of everything, the daiquiri was transformed, as Wayne Curtis puts it in And a Bottle of Rum (Crown, 2006), into "something to be eaten with a spoon." It stands to reason that postwar America's love of mechanical convenience and the need for speedy service in the discos and singles' bars of the 1970s sealed the drink's slushy fate. In 1971, Dallas resident Mariano Martinez paired up with inventor Frank Adams to make the first frozen drink machine, and the daiquiri, in a rainbow of fruity new flavors, returned to batch proportions. Today, manufacturers such as Louisiana's Frosty Factory of America, supplier to many of New Orleans' drive-thru daiquiri shops, boast contraptions that dispense 30 gallons of icy cocktail per hour. For bar owners, it's a heck of a lot less work than blending drinks one at a time.
But, as I've found out, the effort it takes to make a daiquiri by hand is well worth it. Of course, like many classics, it is easy to make and easy to get wrong. Because there are only three ingredients, a classic daiquiri can quickly be thrown out of whack. Too much sugar or lime (or too little), and you're sunk. As one barkeep told me of the cocktail, "There's nowhere to hide."
To make a proper daiquiri, the lime juice must be fresh squeezed. Simple syrup (basically sugar water) should be used to achieve a smooth consistency. And the rum must possess the right mix of lightness, body, and pungency; aged rum, so delicious on its own or in tiki drinks, makes for an inappropriately ponderous daiquiri.
For me, 86 Co.'s Caña Brava, a Panamanian rum, has enough lightness, as well as an intriguingly gamey flavor, to make a balanced daiquiri. I'm also a fan of St. George's Spirits Agua Libre California Agricole Rum. Pressed from fresh sugarcane, it adds grassy, pungent depth to the drink. Once I have my mighty trio ready, I measure each into a cocktail shaker, give it a hearty rattle over plenty of ice, and strain it into a chilled coupe. It took practice, but I now make a pretty fine daiquiri: potent, piquant, and just this side of sweet.
And I have to agree with something that today's mixologists already know: The daiquiri is endlessly adaptable. Once I learned to master the original, it was a simple side step to the Hemingway Special. The version, which the legendary writer enjoyed at El Floridita, incorporates maraschino liqueur and grapefruit juice. When I'm in the mood for a sparkling drink, I try the Airmail daiquiri, which includes champagne. If I want to go stronger, I mix up a Kapu Kai, which calls for high-proof Lemon Hart 151 Demerara rum. I've even come to appreciate frozen inventions when they're crafted by a skilled bartender using fresh ingredients—blackberries, strawberries and bananas, cinnamon and pineapple—and that balanced undergirding of rum, sugar, and lime. With each new, delicious creation, I've found that the daiquiri hasn't deserted its island roots at all.