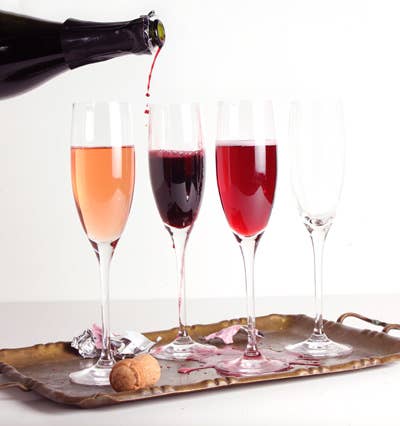 Drinks
Red, Pink, and Bubbly
From effervescent pinks to rich fizzy reds, these sparkling wines are perfect for Valentine's Day.
There's something inherently special about a glass of sparkling wine, and all the more so if it's toasting a romantic evening. But the magic isn't just in the sipping: these wines almost always have an interesting story to tell about their creation, too, especially when the grapes in question aren't white. I've always been especially curious about the treatment of the red grapes of Champagne—pinot noir and pinot meunier—whether quickly pressed and made into white wine or left on the skins, their pink juices mixed in later on. Although many common sparkling wines are white, I've been seeing more and more bottles that use red grapes, from the more traditional red pinots to indigenous varieties like grolleau. Here are some of the more interesting (and delicious!) sparkling reds and roses I've come across recently, just in time for the iconic colors of Valentine's Day.
I first tasted this beautifully refreshing bubbly as an aperitif at Atlanta's Miller Union restaurant and quickly fell in love. This sparkling wine comes from the Alsace region of France. Made from 100 percent Pinot noir by the methode traditionelle, it is known as a Cremant-style wine, the legal name for sparkling French wines produced outside of Champagne. Watermelon-colored, the brut rose has a hint of lemon on the nose and a clean berry flavor on the palate, with a full, fruity finish. It's a delicious quaffing wine, perfect as a start to any evening.
A beautifully rich, salmon-colored wine, the Conti di Buscareto Rose is made from the Lacrima di Morro d'Alba grape in Italy's Le Marche, an ancient varietal rarely seen outside of this region. Its name comes from its shape, which is reminiscent of a tear. Crisp, dry, and highly acidic, the Conti pops open with intense bubbles which then subside into a fine mousse in the glass. It has a floral nose, with hints of citrus and yeast; on the palate, I was surprised to taste so much grapefruit, lightened with hints of tart red fruit and black pepper. It's a medium-bodied sparkler, with some depth and a long finish, and would hold up well to some of the region's traditional dishes, like pasta con le noci.
Don't be fooled like I was: this dark bottle is made of clear, colorless glass, showing the rich, raspberry hue of the wine itself. Made from 100 percent Grolleau, an almost extinct deep red grape from the Loire, it's a lovely sparkling red in the frizzante (slightly fizzy) style. The nose hints at sweetness, with notes of violet and red berries; when you taste, a medium acidity shines before a surprising nuttiness comes through. Those red fruits are apparent on the finish, rounding it out. Its more savory characteristics mean that this wine can hold up to earthy, hearty food: try it with lamb chops or lentil stew for interesting contrasts.
Produced in the town of Acqui in the Piedmont region of Italy (DOCG), Brachetto d'Acqui is a slightly sweet sparkling red made from the Brachetto grape. It has a soft effervescence, produced by the Charmat method, where the secondary fermentation occurs in tanks just before bottling. Typically, this method is used for wines that are meant to be consumed young, evident in the flavor profile of the 2010 vintage. Light violet in color, the red fruits and roses on the nose are very apparent. It's ripe and thick, but its youthful acidity cuts through with a layer of brightness. On the finish, I found hints of strawberries and cream; it's a perfect pairing for chocolate, and probably the perfect wine for your Valentine.