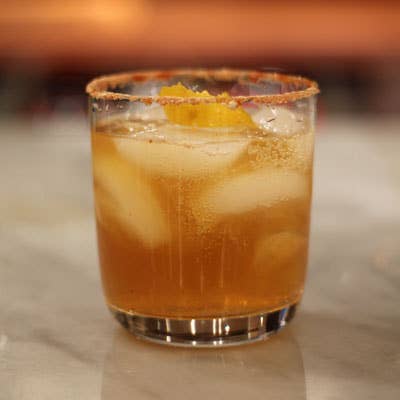 Drinks
The Retox Cocktail: An Alcoholic New Year's Cleanse
At the Saveur offices, we're working late (again? really!?), finishing up a March issue that features Canadian writer Sasha Chapman's delicious dive into the heart of Quebec's maple sugarland. As a consequence, we're positively dripping in the sweet stuff that comes from the Great White North's maple forests.
How lucky for us, then, that a bottle of the sweet stuff that comes from Kentucky's bourbon country hit some of our desks today. I figured Knob Creek's new Single Barrel Reserve, aged 9 years and smooth as all get out, would pair perfectly with some of those maple goodies.
A couple of types of syrup (the floral blonde stuff from the first blush of sap, courtesy of La Ferme Martinette, and a smoky, amber mid-season syrup from Familie Faucher), an herbaceous dose of Urban Moonshine's Organic Maple Bitters, a squeeze from a ripe lemon . . . I mixed up a batch, poured it over ice, and topped it off with soda. I tasted it.
"You know what this needs?" I said to myself. "Some spice: a cayenne rim." To keep the heat from searing our lips, I blended the ground pepper with some more of the sweet stuff, in the form of granulated maple sugar. Then I the rolled the top of a rocks glass in the mix, and offered the concoction to our resident guinea pig, deputy editor Beth Kracklauer.
"Delicious!" she declared, "It's like an alcoholic version of the Master Cleanse diet!" — the cleansing regimen of lemon juice, maple syrup, and cayenne pepper that celebrity types often turn to for detoxing. Forthwith, she dubbed it The Retox. Here's looking at you.