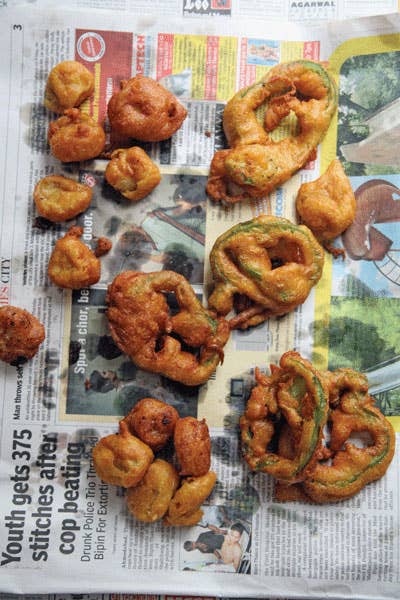 Recipes
Batter-Fried Peppers and Bananas
Chickpea flour, the base of the frying batter for this appealing, spicy-sweet snack, is one of the most important foodstuffs in Gujarati cooking. If you can't find that ingredient, substitute all-purpose flour.
2 cups Indian chickpea flour
4 tsp. hot paprika
2 tsp. ground turmeric
1½ tsp. baking powder
1 tsp. kosher salt
⅛ tsp. cayenne
2 firm-ripe bananas, peeled and sliced into ½"-thick rounds
2 green bell peppers, stemmed, seeded, and cut crosswise into ¼" rings
Peanut oil, for frying
Black salt, to taste (optional)
1. In a large bowl, whisk together 1 cup flour, paprika, turmeric, baking powder, salt, cayenne, and ¾ cup water to make a smooth batter. Put remaining chickpea flour into a medium bowl. Working in batches, dredge bananas and peppers in chickpea flour; shake off excess. Transfer bananas and peppers to a rack set over a baking sheet.
2. Pour enough oil into a 6-qt. Dutch oven that it reaches 2". Heat over high heat until a deep-fry thermometer reads 400˚. Working in batches, dip bananas and peppers in batter, shake off excess, and fry, turning occasionally, until crisp, about 1 minute. Using a slotted spoon, transfer to paper towels. Sprinkle with black salt, if you like.