The Best Things We Cooked in 2013
For all the time we spend thinking, talking, and writing about food, we also manage to do some serious cooking for ourselves, our families, and friends. These were our favorite things to cook in 2013, from Neapolitan pizzas to a tapioca dessert soup.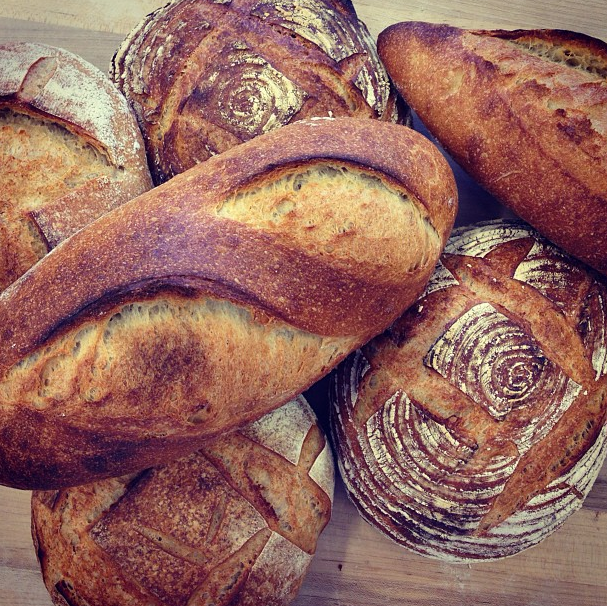 A tie is lame, I know, but there is no humanly possible way to choose which of these pizzas, one a fried, smoky masterpiece, the other a pistachio-pesto sauced pie topped with savory mortadella. Who could choose? —Kellie Evans, Associate Food Editor
Cream of crab soup—for me, it's comfort food at its best. Creamy and spiced with Old Bay seasoning, with lump crab meat in every bite: It doesn't get any better, unless of course you add a few dashes of sherry. —Farideh Sadeghin, Associate Director, Test Kitchen
The stuffed cabbage that was on the cover of our October issue was a revelation. Normally you think of stuffed cabbage as meat-centric, and I was thrilled to discover this authentic Hungarian version, with tender leaves of cabbage encasing a polenta-like filling studded with bits of salty ham. —James Oseland, Editor-in-Chief
Two dishes from Ottolenghi: his roast chicken with sumac, za'atar and lemon, topped with buttered toasted pine nuts and cilantro. The preparation is super simple but the results absolutely delicious and satisfying. His roast sweet potato salad with fresh figs, scallions, and chile became my new favorite side dish—such an unusual combination, but it works like a charm. —Sophie Brickman, Senior Editor
Andrea Nguyen's banana, tapioca pearl, and coconut sweet soup. How do I know it's the best thing I cooked this year? Because I've never been a tapioca fan and now I'm a convert. —Dominique Lemoine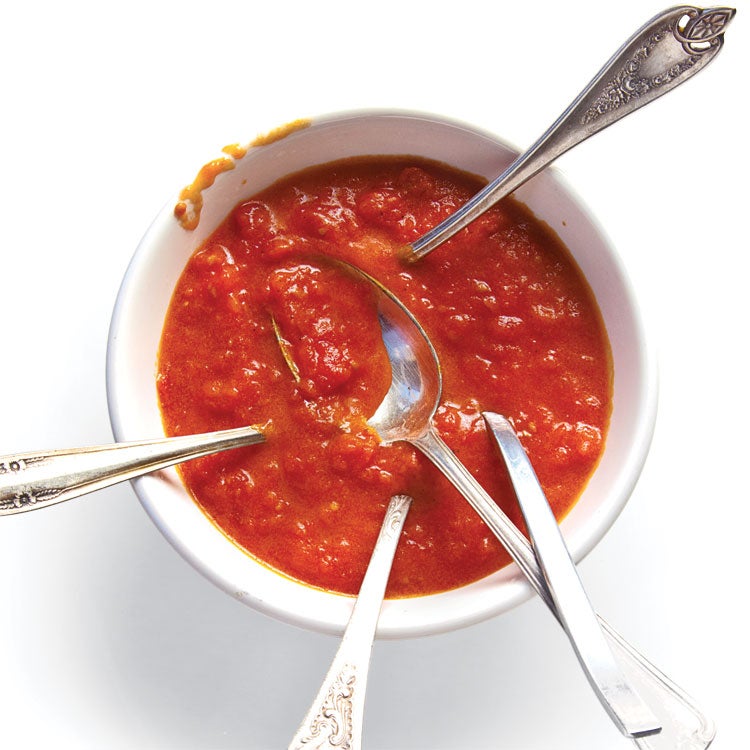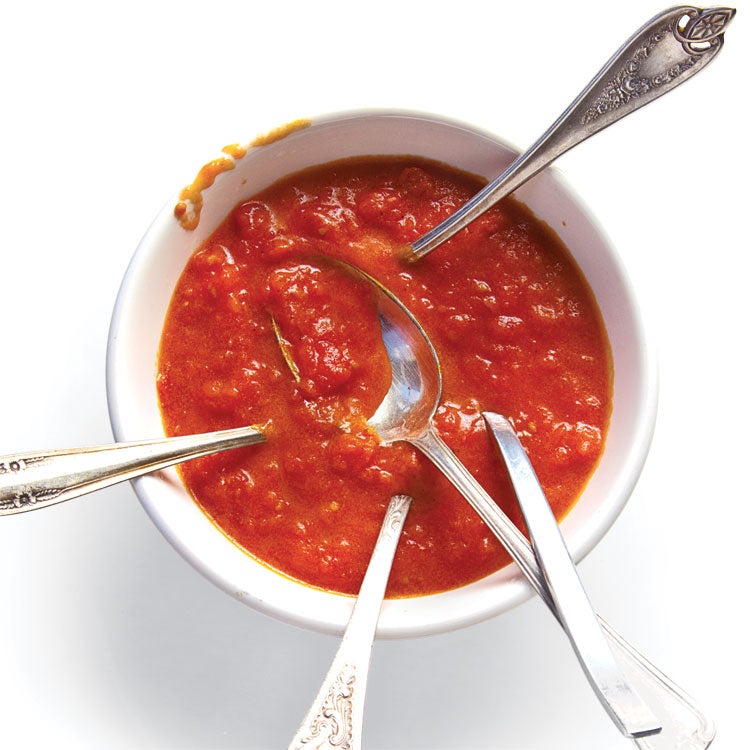 Tomato Sauce with Onion and Butter
Simply putting tomatoes, a peeled halved onion, butter, and salt in a pot and cooking them with barely an occasional stir until they are reduced produces a deliciously concentrated sauce.
The night that Marcella Hazan died, I didn't quite know what to do with myself, so I cooked her simple tomato sauce simmered with a halved onion, butter, and salt. It took longer than it should have because my dinky little stove broke that week and to get it to light I had to fiddle around with the gas pipe in the back using pliers, which was sort of terrifying. But the sauce turned out so beautifully, it was worth it. —Tejal Rao, Senior Editor
Hard question! I cook so much at home! But I will throw props at the coffee- and soy-marinated flank steak from our June/July 2013 grilling issue. It's a hilariously down-home recipe, in a totally Long Island way, but boy is it delicious! A deep, dark, sweet-spicy crust, and tender as ever. —Betsy Andrews, Executive Editor
I was hungry every minute I spent editing our December Palestine story, but the recipe I have made over and over again from that story is the sour lentil and eggplant stew that the women of the Gaza Kitchen cookbook shared with us. The lip-smacking sour notes, bursts of red pepper heat, hearty bite of lentils, and chunks of eggplant make it my new go-to winter comfort food. —Felicia Campbell, Associate Editor
I was pretty proud of how beautiful my take on the herb-stuffed, prosciutto-wrapped pork loin from issue no. 123 turned out, but the overall winner was definitely the extra-crispy fried chicken from this summer's Heartland Issue. Simple to throw together, and absolutely divine. —Cory Baldwin, Associate Digital Editor
SAVEUR's totally awesome vegetarian lasagne. I was cursing half-way through it as the dirty pots and pans accumulated—I could frankly not believe it was going to be worth the trouble. But it really was. —Karen Shimizu, Senior Editor
Definitely one of the loaves of bread I've made since I started keeping a sourdough starter. I took a class in sourdough at the King Arthur Flour Baking Center in Norwich, Vermont, and have been steadily baking my own bread since—I'm always surprised/a little frightened at how quickly I can go through a loaf. —Laura Sant, Assistant Digital Editor
These swiss chard and chipotle tacos completely changed my idea of what a vegetarian main course could be. I'm obsessed with them. —Helen Rosner, Executive Digital Editor
Plum preserves. Easy, I know. But I made it with damson plums picked from a tree in my own backyard in Brooklyn. I cooked them down, sweetening the tart purple fruit with sugar and two sticks of cinnamon. I spread it on my toast every morning. Heck, I'm eating it as I write this. Yes, it helps me savor the taste of summer and all that, but most of all, it's damn good, and I made it. —Keith Pandolfi, Senior Editor
The sausage-camembert spoon pudding from Ludivine restaurant featured in our August/September Heartland issue has become a go-to recipe for its ability to go from easy, satisfying weeknight main to entertaining superstar course. And bonus—it's gluten-free! —Judy Haubert, Associate Food Editor
See the Best Things We Ate in 2013 »
See the Best Places We Stayed in 2013 »
See the Best Places We Visited in 2013 »
See the Best Things We Drank in 2013 »
See Where We're Most Excited to Travel in 2014 »