Recipes
Pizza Montanara Starita (Fried Pizza with Marinara Sauce)
Serves

makes Four 10" Pizzas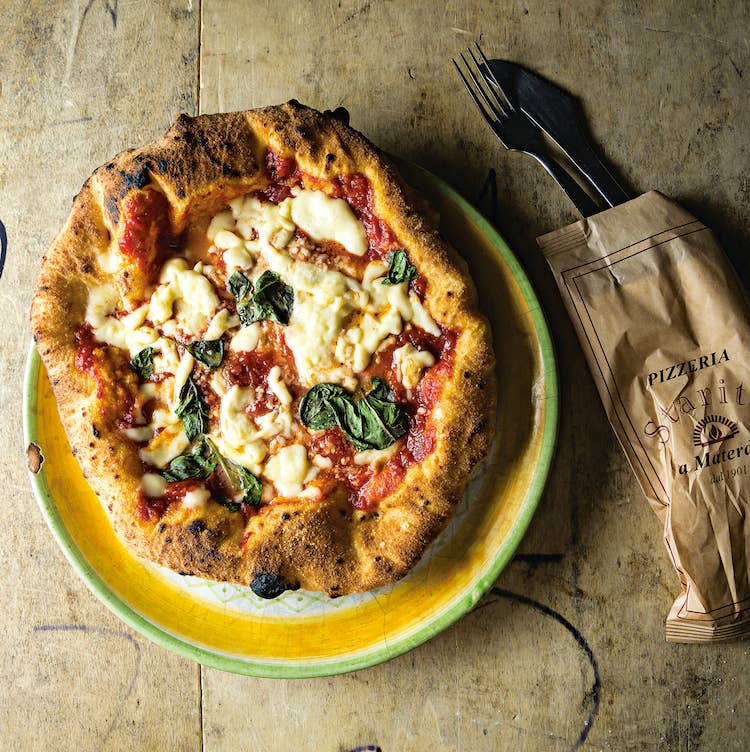 This signature pizza of both Naples' Starita and New York City's Don Antonio pizzerias is at first fried, then slathered in a rich marinara sauce before it is quickly baked to melt the mozzarella. This recipe first appeared in our May 2013 issue with Keith Pandolfi's article The Gold of Naples.
Ingredients
1⁄3 cup olive oil, plus more
1 tsp. crushed red chile flakes
8 cloves garlic, finely chopped
2 (28-oz.) cans whole peeled tomatoes packed in purée, crushed by hand
3 sprigs basil, plus 16-20 leaves
Kosher salt, to taste
Canola oil, for frying
1 recipe Naples-style pizza dough
Fine semolina, for dusting
1 lb. smoked mozzarella, shredded
1⁄4 cup grated pecorino romano
Instructions
Step 1
Heat olive oil, chile flakes, and garlic in a 4-qt. saucepan over medium-high heat; cook until garlic is golden, about 1 minute. Add tomatoes, basil sprigs, and salt; bring to a boil. Reduce heat to medium; cook, until sauce is slightly thick, 35-40 minutes. Discard basil.
Step 2
Place a pizza stone under the broiler; heat for 30 minutes. Pour enough canola oil into an 8-qt. saucepan to reach a depth of 2". Heat until a deep-fry thermometer reads 350°. Working in 4 batches, dust 1 ball dough with semolina. Using your fingertips, press dough into a 10" circle about ¼" thick, leaving a 1" crust around the edges. Hold dough straight up, and with fingertips circling crust, slide fingers around crust in a circular motion as you would turn a steering wheel until dough in the center is stretched to about ⅛" thick. Using a fork, poke holes all over the dough; gently lower into oil. Fry, flipping once, until golden and puffed, 1-2 minutes. Transfer to a pizza peel; spread ½ cup sauce over dough. Distribute a quarter each of the cheeses and basil leaves; drizzle with oil. Slide pizza onto stone; broil until cheese melts, about 1-1½ minutes. Serve hot.