Recipes
Pizza Pistacchio e Mortadella (Pistachio and Mortadella Pizza)
Serves

makes Four 10" Pizzas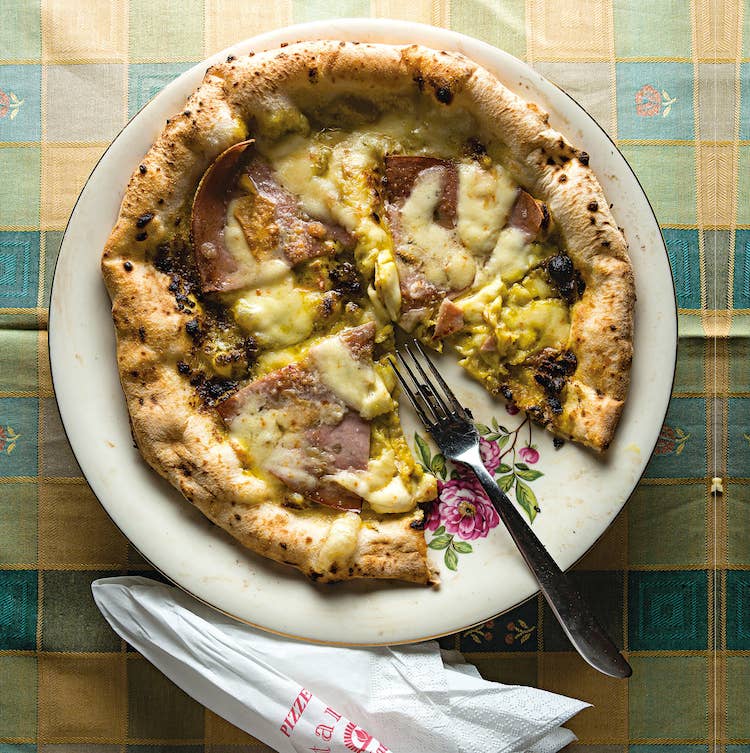 A buttery pistachio puree bolsters this mortadella and mozzarella pizza. This recipe first appeared in our May 2013 issue with Keith Pandolfi's article The Gold of Naples.
Ingredients
1 1⁄2 cups shelled pistachios
1⁄2 tbsp. grated Parmesan
1⁄2 cup olive oil, plus more to taste
3 tbsp. fresh lemon juice
Kosher salt, to taste
1 recipe Naples-style pizza dough
Fine semolina, for dusting
4 oz. thinly sliced mortadella, cut into quarters
1 lb. fresh mozzarella, thinly sliced
1 oz. grated pecorino romano
16 fresh basil leaves
Instructions
Step 1
Place a pizza stone under the broiler; heat for 30 minutes. Purée pistachios, Parmesan, oil, lemon juice, salt, and ¼ cup water in a food processor until smooth. Working in 4 batches, dust 1 ball dough with semolina. Using your fingertips, press dough into a 10" circle about ¼" thick, leaving a 1" crust around the edges. Hold dough straight up, and with fingertips circling crust, slide fingers around crust in a circular motion as you would turn a steering wheel until dough in the center is stretched to about ⅛" thick; transfer to a semolina-dusted pizza peel. Spread ½ cup pistachio purée over dough and distribute a quarter each of the mortadella, cheeses, and basil over the top; drizzle with oil. Slide pizza onto stone; broil until cheese melts and crust is puffed and charred in spots, 3-4 minutes. Serve hot.