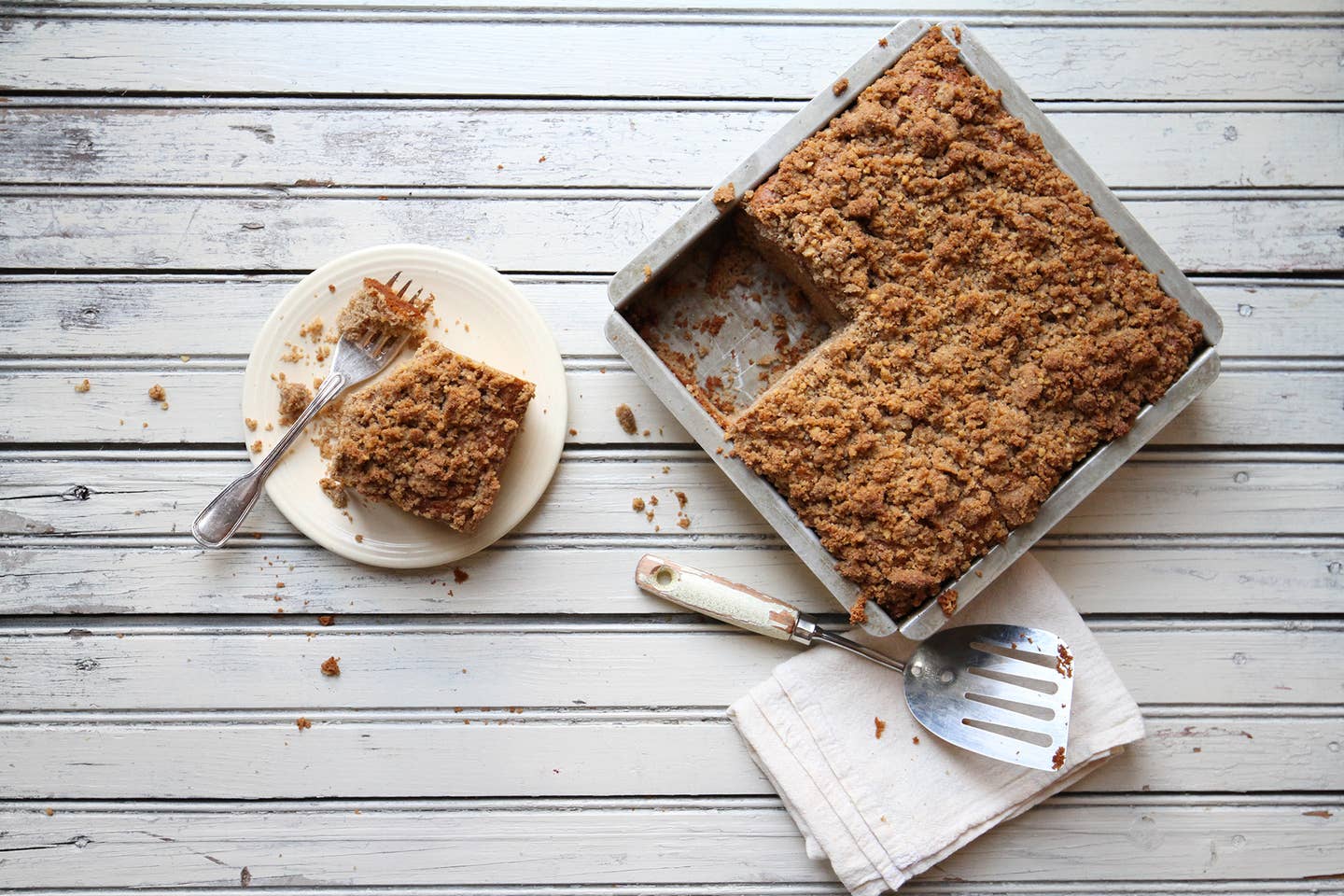 Techniques
The Perfect Gluten-Free Crumb Cake
A great gluten-free cookbook—like a great gluten-free snack cake—is a rare find
I've been living without gluten for nine years. In that time, I've witnessed the extraordinary evolution and expansion of the gluten-free universe, from a paltry selection of leaden baked goods and ho-hum recipes to a superabundance of grocery store products and an overwhelming number of cookbooks.
I'm picky when it comes to gluten-free cookbooks, and judge them on a stringent three-point system: Do the recipes come with beautiful, deeply appealing photos? Are the recipes intelligent and innovative enough to avoid the "duh" trap? (I don't need another cookbook toting raspberry sorbet or salmon with rice as—surprise!—gluten-free.) And finally, is it full of recipes that I can't wait to cook and eat?
Gluten-Free Baking (Weldon-Owen, December 2014), a collaboration between Williams-Sonoma and former Bon Appétit food editor Kristine Kidd, fills every requirement. Focusing on the somewhat finicky precision of GF baked goods without trying to be an exhaustive source on the topic, this book is a well-curated and sophisticated selection of classic favorites, like Apple Crumble Pie and Seeded Irish Soda Bread, alongside less traditional recipes like Buckwheat-Rosemary Scones and New England-style Indian Pudding. I haven't baked my way through all of its cakes, cookies, pies, or sweet and savory breads yet, but it's worked its way into the list of dependable, go-to books that I reach for when I need a sensational dessert or a crusty loaf of bread.
Flipping through my copy for the first time, I kept coming back to the recipe for Cinnamon Crumb Cake. I'm a sucker for anything with a layer of buttery, soft crumble thanks to fond memories of Sunday mornings spent with my grandparents and Entenmann's crumb cake. Sorghum flour and almond meal give this cake a soft, fine texture, while tangy yogurt balances its subtle sweetness. A dense crust of brown sugar-and-walnut crumble tops off the moist, cinnamon-and-vanilla-scented base, making for a substantial, satisfying breakfast or snack. I'm partial to a thick slab with my late-morning coffee and crossword on the weekends.