Shopping & Reviews
Books Worth Buying: June's Best Food and Drink Releases
The monthly guide to our favorite new cookbook releases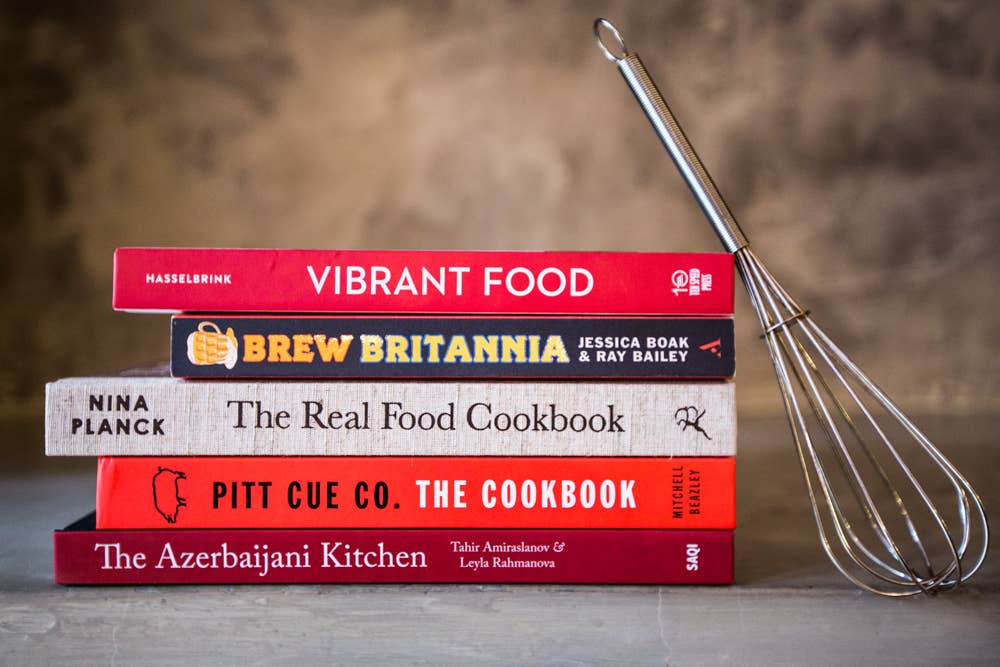 We get dozens of cookbooks each week at SAVEUR, and every month we share our favorite new releases—books that, through one avenue of greatness or another, have earned a place on our over-stuffed shelves. This month, we're getting a head start on summer with plenty of barbecue, beer, and lush, produce-driven dishes.
By Pitt Cue Co.
Though I haven't yet made it to London-based restaurant Pitt Cue Co., their very first cookbook—a wealth of recipes for drinks, sauces, rubs, snacks, sides, desserts, and of course meats, inspired from outdoor cooking traditions around the world—will keep me busy until I can make a trip over the pond. From lamb ribs with onion salad to smoked standing rib roast to brisket buns, it's full of dishes to keep your stomach and guests happy throughout the summer. And there are plenty of options for those who don't wish to partake in grilled meat; the sides and slaws offer a bounty of vegetarian options, including my personal favorite, a smashed cucumber and pickled watermelon salad. The drinks, which to my delight are almost entirely whiskey based, cover both the classics, like Manhattans and whiskey sours, and cocktails specific to the restaurant, like the Big Mac 'n' Rye (a mix of rye, vermouth, Pitt Cue Co.'s pickle brine, and bitters). One of the few non-whiskey drinks is the hair of the dog, which calls for bacon-infused vodka, tomato juice, and spices garnished with fennel-cured scratchings; it's a bloody mary done right. Like so many other recipes in the book, it's on its way to a permanent place in my repertoire. —Farideh Sadeghin
Available from Mitchell Beazley; $35
Buy on Amazon
By Nina Planck
Nina Planck's good-food manifesto Real Food was one of my key reads of 2007; her latest—the beautifully photographed Real Food Cookbook—is another essential addition to my collection. These are recipes that illustrate a tremendously appealing philosophy of a healthy diet being one that has an inherent regard for seasonality, quality, and wholeness: full-fat dairy, grass-fed beef, lush produce straight from the farmers market. But to be honest, you could disagree with Planck's ideology entirely and still find this book indispensable; the Summer Chili recipe alone (a transportive and dead-simple garlicky ragout of fresh tomatoes and fresh beans) is worth the price of admission. —Helen Rosner
Available from Bloomsbury USA; $32
Buy on Amazon
By Kimberley Hasselbrink
I've been a big fan of Kimberly Hasselbrink's lovely website, The Year in Food, since it came on my radar 3 years ago when we profiled the blog for our web column, Sites We Love; Kimberly's beautiful, colorful photographs of wholesome, real food regularly inspire farmers' market trips and Saturday afternoons spent in the kitchen. So of course I was pleased as punch to see her first cookbook, Vibrant Food. Organized by season, the book contains dozens of new recipes that echo the northern California produce-starring plates that made me fall in love with her blog. Dishes like grilled haloumi with strawberries and herbs, sweet corn and squash fritters with avocado crema, and grilled trout with green tomato relish will definitely be making appearances at my barbecues this summer, and despite the thrill of warm June sunshine, I'm already looking forward to shredded brussels sprouts with apples and mustard seeds, chile-roasted delicata squash with queso fresco, and quince cocktails in the fall. —Cory Baldwin
Available June 17 from Ten Speed Press; $25
Buy on Amazon
By Jessica Boak and Ray Bailey
In the 1960s, traditional British beer—served warm and in a wooden cask, and often brewed on the pub's premises—was disappearing. The "Big Six," a group of large, powerful breweries, was buying up smaller operations and closing them, making it increasingly difficult to find good ale in many British towns. Instead, there was only industrially produced keg beer: pale, heavily carbonated, and light on flavor and local ties.
Brew Britannia follows the enthusiasts who rose up in opposition to the "Big Six," fighting to restore choice and variety to the British beer scene. From protest groups (like the organization that hosted a mock funeral for real ale, dressing as vicars and burying a barrel of beer) to publicans and microbrewers, the book covers the resurgence of real ales and brewpubs, the popularity of American hops and Belgian- and German-style imports and imitations, and the 21st century experimentation with "unfined" beer, cloudy recipes and spontaneous fermentation.
Written by beer bloggers Jessica Boak and Ray Bailey, Brew Britannia is so thoroughly researched that it sometimes overdoes the minutiae, dutifully listing each character's birthplace, appearance, and education even when they aren't necessary. But for anyone interested in beer's modern renaissance, it's a quirky, comprehensive read, filled both with obscure information and more essential facts, like definitions and histories for IPAs, lagers, porters, and stouts, and interviews with the people behind them. —Kiley Bense
Available from Aurum Press Ltd; $20
Buy on Amazon
By Tahir Amiraslanov and Leyla Rahmanova
Flanked by Iran to the south, Georgia and Armenia to the west, Russia to the north, and the Caspian Sea to the east, Azerbaijan has a cuisine and culture formed from an eclectic mix of Eastern European, Persian, and Ottoman flavors. In this introductory cookbook by Chef Amiraslanov, the president of the country's National Culinary Association, and writer Leyla Rahmanova, they offer straightforward recipes for dishes ranging from dried fruit and saffron rice to unusual potato and pomegranate kebabs, fruit-stuffed trout, savory lamb dumplings, and pumpkin-stuffed flatbreads that showcase the delicious diversity of this ancient, but often overlooked Caucasus country. —Felicia Campbell
Available June 17 from Saqi Books; $30
[Buy](http://amzn.to/2FAIRXr}(rel=nofollow} on Amazon