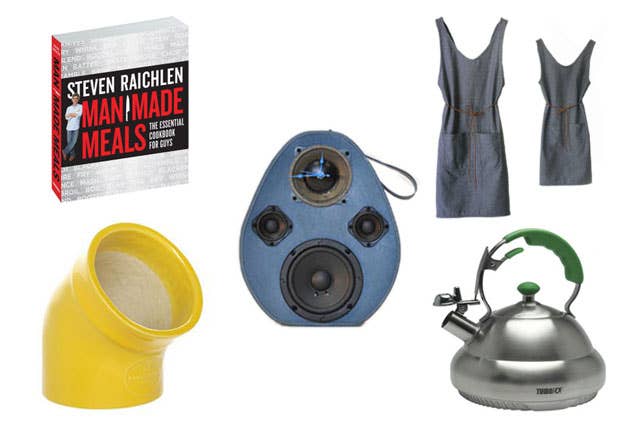 Shopping & Reviews
SAVEUR Selects: July 2014
We come across all sorts of great products in the SAVEUR office. Check out our favorites for July: a portable sound system, a smart tea kettle, and more selected by senior editor Karen Shimizu. Sign up for the monthly SAVEUR SELECTS e-mail newsletter »
I like to keep salt at my fingertips as I cook, but in humid weather it tends to clump up. The best solution? A darned cute French salt pig.
Salt pig, $40 at EmileHenryUSA.com
For days at the beach and barbecues, my favorite portable sound system is a customizeable, stylish, and lightweight vintage suitcase-turned-boombox.
Case of Base Boombox, $375 to $900 at CaseofBass.com
A tea kettle from Eneron captures 50% more heat from your gas stove, meaning more bang per BTU, and the shorter boil time is a mercy in the summer heat.
TurboPot Tea Kettle, $52 at BigTray.com
For catching the inevitable drips and splatters when I cook with my three-year-old daughter, I reach for these lightweight cotton aprons.
Mommy and Me aprons, $84 for the set at HonestFare.com
I'm not exactly part of the target readership for this cookbook, but I love it anyway. It's brimming with intelligent cooking advice and truly great recipes.
Man Made Meals: the Essential Cookbook for Guys by Steven Raichlen, $25 at Amazon.com
Mouthwateringly tart and insanely delicious, this grapefruit shrub, or drinking vinegar, makes a hell of a margarita.
_Sage and Sea Farms grapefruit shrub, $23 at__ MarxFoods.com_
KAREN SHIMIZU, Senior Editor
My all-time favorite cookbook: I'm very fickle when it comes to favorites, but right now I'm cooking a lot from Keepers, which looks frumpy (weeknight meals for busy moms) but is secretly rad (and authored by former Saveur editors).
The summer ingredient I'm looking forward to most: Shiso! I've got a bunch of it started on my back porch, and I can't wait to use it.
The best restaurant dish I've had lately: The kale and pork belly soup at Juni in New York City is criminally tasty. It looks like a strange juice bar concoction (green, thick, frothy) but tastes like the best ramen broth I've ever had times a thousand. I can't get it out of my head.