Recipes
Aloo aur Gosht ka Kaliya (Hyderabadi-Style Lamb with Potatoes)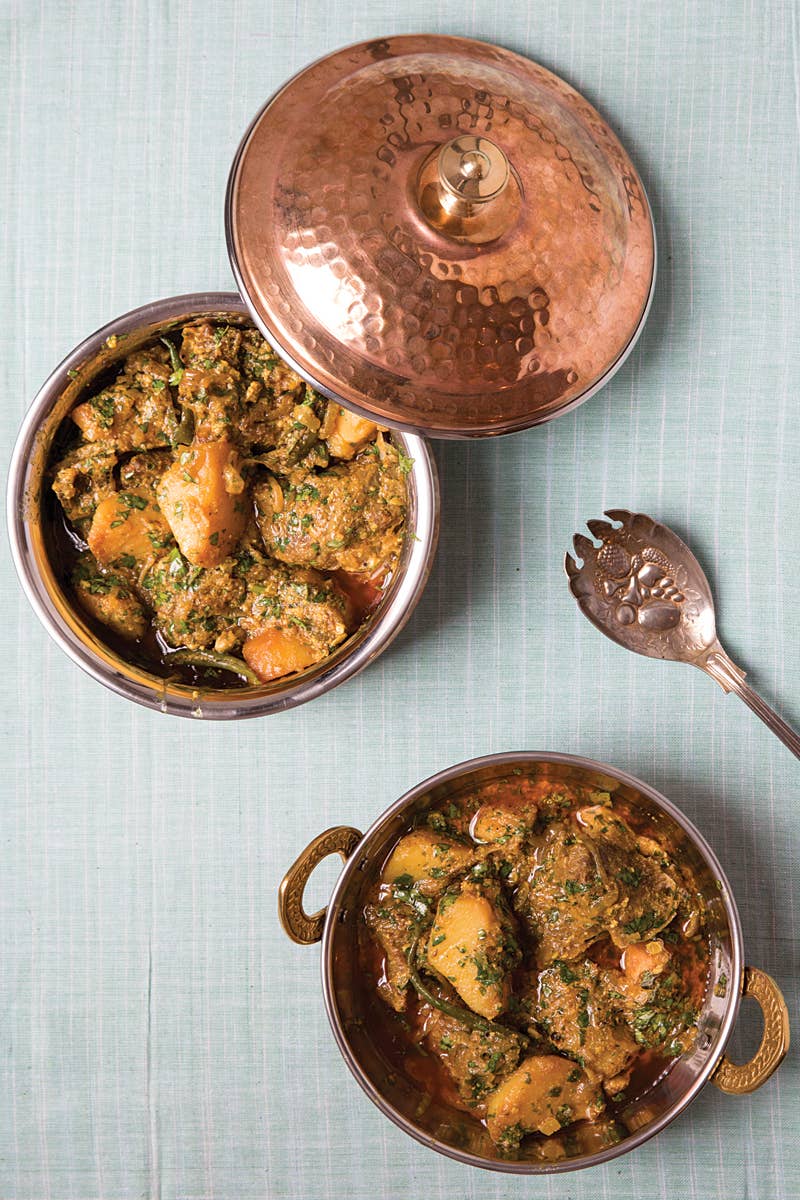 In the Indian city of Hyderabad, this dish is traditionally made using goat, but lamb makes an excellent substitute; including the bones adds an unmatched depth of flavor. While peeled muskmelon and watermelon seeds are usually used to thicken the dish, we've substituted pumpkin seeds in our version. This recipe first appeared as part of the digital edition of our August/September 2014 special India issue.
Ingredients
1⁄3 cup olive oil
1 lb. medium red potatoes, peeled and quartered
6 green cardamom pods
6 whole cloves
3 medium onions, halved and thinly sliced crosswise
2 lb. bone-in lamb shoulder, cut into 2" pieces (ask your butcher)
Kosher salt, to taste
1 tsp. red chile powder, preferably Kashmiri, or cayenne
3⁄4 tsp. ground turmeric
2 cloves garlic, mashed into a paste
1 (1") piece ginger, peeled and grated
1 cup plain, full-fat yogurt
3⁄4 cup minced cilantro
1 tbsp. pumpkin seeds, ground in a spice grinder
3 small green Thai chiles, or 1 serrano, halved
1⁄2 tsp. garam masala
Instructions
Step 1
Heat oil in an 8-qt. saucepan over medium-high. Cook potatoes until golden, 10–12 minutes; using a slotted spoon, transfer to a bowl. Add cardamom and cloves to pan; cook until fragrant, about 1 minute. Add onions; cook until slightly caramelized, about 20 minutes. Transfer onions to bowl with potatoes. Season lamb with salt; cook, turning as needed, until browned, 8–10 minutes. Add chile powder, turmeric, garlic, and ginger; cook 1 minute. Add yogurt ¼ cup at a time and stirring occasionally until lamb mixture is thick and slightly dry, 10–12 minutes. Add 2 cups water; boil. Reduce heat to medium-low; cook, covered, until lamb is tender, about 1 hour. Stir in reserved potatoes and onions, the cilantro, ground pumpkin seeds, chiles, and salt. Stir gently to mix and bring to a simmer again. Simmer until potatoes are tender, about 15 minutes more. Stir in garam masala just before serving.