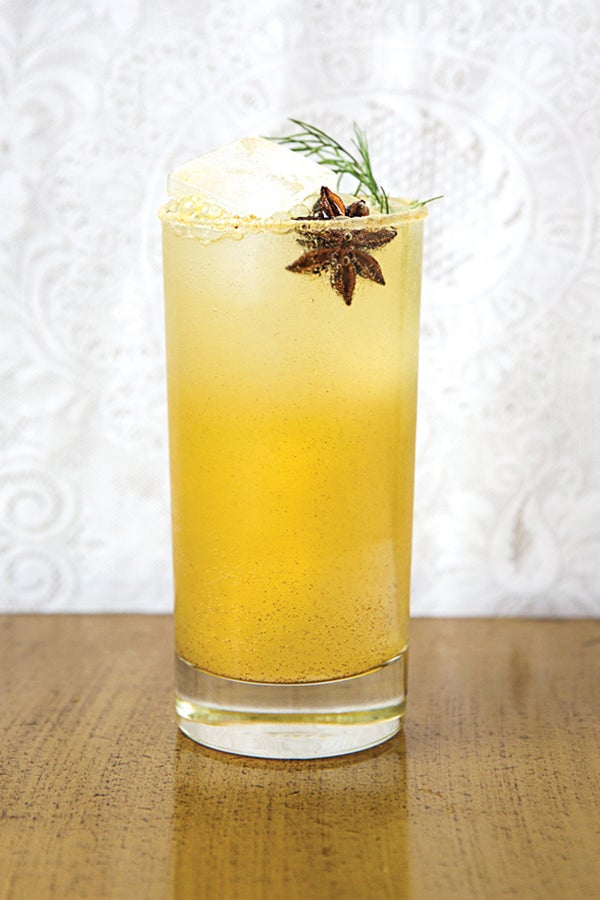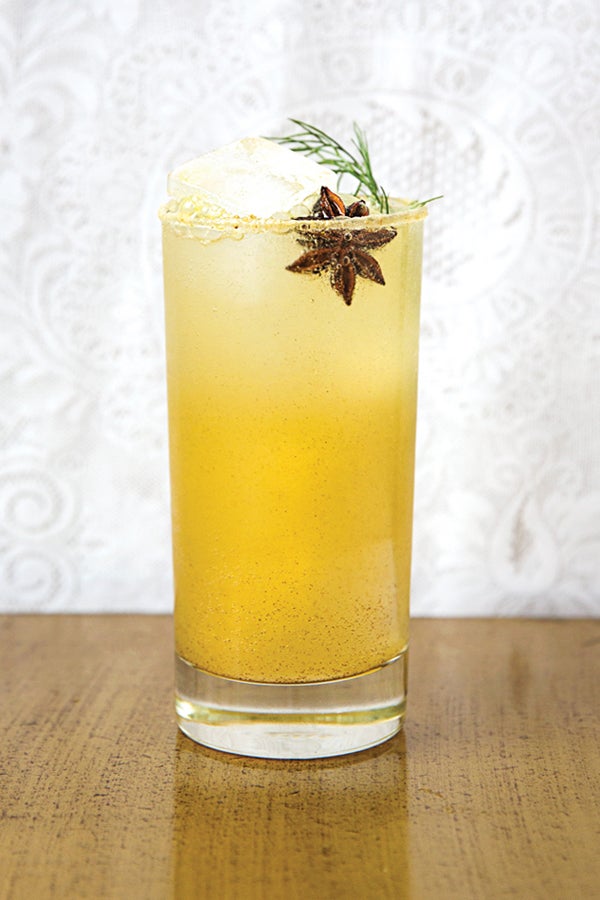 "Gin tonic" is a popular drink all over Spain. There, bartenders often serve the drink in enormous goblets, with a range of botanical garnishes from berries to spices to edible leaves. The trend has spilled over to Spanish restaurants in the States. At San Francisco's Coqueta restaurant, this fruity gin and tonic is mixed with a homemade citrus-and-fennel tonic and a spiced apple-celery juice, then garnished with fragrant fennel and star anise. It first appeared in our June/July 2014 issue with Camper English's story "Miracle Cure."
Conquistador
At San Francisco's Coqueta restaurant, this fruity gin and tonic is mixed with a homemade citrus-and-fennel tonic and a spiced apple-celery juice, then garnished with fragrant fennel and star anise.
For the Lemon Ice and Anise Tonic
2 tbsp. fresh lemon juice
2 tbsp. fresh grapefruit juice
1 1⁄2 tbsp. fennel seeds
1 tbsp. cinchona bark powder
4 star anise
Zest of 1 lime, plus 2 tbsp. juice
Zest of ½ orange
2 1⁄2 cups sugar
2 tbsp. citric acid
1⁄8 tsp. sea salt
For the Cocktail
2 tsp. fennel seeds
1⁄2 chile de árbol, stemmed
1 tbsp. sea salt
1⁄4 Granny Smith apple, cored
1⁄4 stalk celery
Lemon wedge
2 oz. gin
1 oz. anise tonic (see above)
1 oz. club soda
Fennel frond and star anise, for garnish
Instructions
Make the ice and tonic: Stir lemon juice and ½ cup water in a bowl; pour into ice cube tray and freeze. Simmer grapefruit juice, fennel seeds, cinchona bark powder, star anise, lime zest and juice, orange zest, and 4 cups water in a 2-qt. saucepan over medium heat until slightly reduced, about 45 minutes. Add sugar, citric acid, and salt; cook until sugar is dissolved, 1–2 minutes. Strain tonic; chill.
Make cocktail: In a spice grinder, grind fennel seeds and chile into a powder; transfer to plate and stir in salt. Purée apple and celery in a food processor into a pulp. Press over a sieve into a cocktail shaker to extract juice. Rub lemon wedge on rim of a rocks glass and dip in fennel salt; add lemon ice cubes. Squeeze wedge over shaker; add gin, tonic, and ice. Shake vigorously and strain into glass; garnish with fennel frond and star anise.