Recipes
Empanadas de Jamón y Queso (Ham and Cheese Empanadas)
A flaky pork fat dough enfolds Spanish-style ham, cheese, and olives in this savory, Argentinian pastry.
Serves

makes 1 Dozen

Cook

3 hours 30 minutes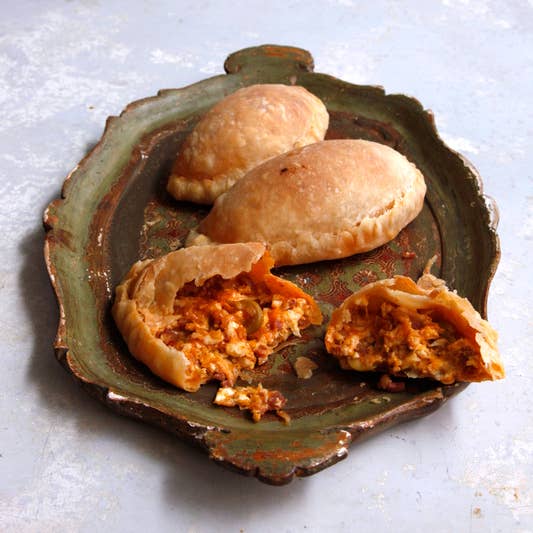 To please her hungry lunch crowds, Margarita Veron, owner of Maxi-Mir Rotiseria in Palermo, makes empanadas with many fillings, including cheese, meat and pepper, and the ham and cheese empanada filling that inspired the recipe below. It first appeared in the iPad edition of our October 2013 issue with the article Lunch at Your Leisure.
Ingredients
For the Dough
3⁄4 cup lard
2 3⁄4 cups flour, plus more for dusting
2 tsp. kosher salt, plus more to taste
For the Filling
3 Tbsp. olive oil
1 clove garlic, minced
1 small yellow onion, peeled and minced
1⁄2 tsp. ground cumin
1 tsp. sweet paprika
Kosher salt and freshly ground black pepper, plus more to taste
4 oz. cooked Spanish ham, finely diced
6 oz. queijo de coalho or queso fresco, crumbled
1 cup grated cheddar (about 4 oz.)
1⁄4 cup pimiento-stuffed olives, thinly sliced
1 Tbsp. butter, melted
2 hard-cooked eggs, peeled and chopped
2 tsp. flour
Instructions
Step 1
Make the dough: Heat 1 cup water and lard together in a medium saucepan over medium heat until the liquid is warm and the lard has melted. Meanwhile, mix together flour and salt in a large mixing bowl. Make a well in the center of the flour mixture; add a little of the warm liquid and stir with your fingertips to make a wet paste. Pour in remaining liquid while using your hand to work the flour in to the liquid. Continue to work dry ingredients into wet ingredients with your hands to form a wet, oily dough. Wrap dough in plastic and refrigerate until dough is chilled, about 2 hours.
Step 2
Make the filling: Heat oil in a 12" skillet over medium0high heat. Add garlic and onion; cook until golden, 8-10 minutes. Add cumin, paprika, salt, and pepper; cook until fragrant, about 2 minutes. Transfer garlic mixture to a bowl and set aside to cool. Stir in ham, cheeses, olives, butter, and egg. Sprinkle filling mixture with flour and toss to combine; cover with plastic wrap and set aside.
Step 3
Heat over to 400°. Divide dough into 12 golf-size balls. On a lightly floured surface and using a rolling pin, roll out dough balls into 5" circles. Place about 3 tbsp. of filling in the center of each dough circle. Fold over and press the edges firmly to seal, starting from the middle and working out to the edges. Curve the ends of the empanada to form a crescent. To make the "rope" around edge, pinch ½ of one corner edge between your thumb and index finger and fold edge over onto itself. Pinch and pull another ½" of the edge and fold again, making a rough triangle over the first fold. Repeat this folding around edge, pressing each fold tight. Fold both corners of dough behind uncrimped edge of empanada; brush ends of dough with water and press lightly to seal. Place empanadas on a baking sheet and bake until golden brown, about 40 minutes.