Recipes
Baked Macaroni with Goat Cheese, Spinach, and Tomatoes
In this stovetop-to-oven pasta, a cheesy, golden-brown crust gives way to a gloriously creamy sauce.
Serves

4

Cook

1 hour 20 minutes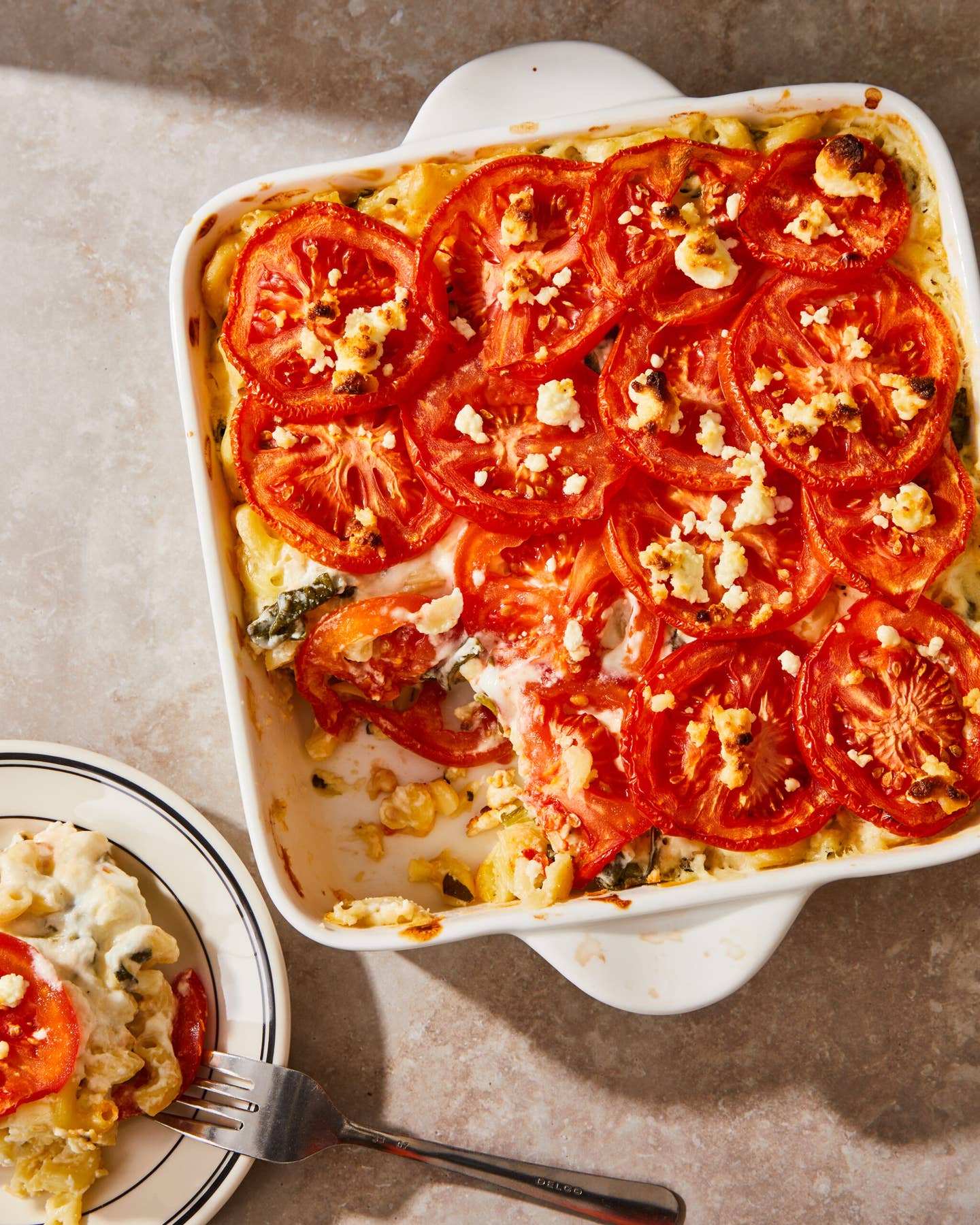 This baked macaroni and cheese recipe with fresh chèvre, spinach, and tomatoes starts on the stovetop and finishes in the oven. The creamy sauce stays gooey and velvety, while the cheese sprinkled on top turns crisp and golden-brown. Elbow macaroni is an optimal vessel for the sauce, but any hollow pasta shape will work.
Ingredients
Kosher salt
8 oz. elbow macaroni
3 Tbsp. unsalted butter
¼ cup all-purpose flour
3 cups whole milk
2 cups baby spinach
1¾ cups fresh goat cheese, divided
Freshly ground black pepper
4 medium plum tomatoes, thinly sliced
Instructions
Step 1
Preheat the oven to 375°F. Bring a large pot of lightly salted water to a boil. Add the macaroni and cook, stirring occasionally, until slightly softened but still firm, about 3 minutes. Drain the macaroni and set aside.
Step 2
Return the pot to medium heat, add the butter, and when it has nearly melted, whisk in the flour to make a smooth paste. Add the milk and cook, whisking frequently, until the sauce has thickened and coats the back of a spoon, about 10 minutes. Remove from the heat and stir in the spinach and 1½ cups of goat cheese. Season the sauce to taste with salt and black pepper, then stir in the reserved macaroni. Transfer to an 8-by-8-inch baking dish, layer the tomato slices evenly over the surface, then sprinkle over the remaining goat cheese.
Step 3
Place a baking sheet in the oven and set the baking dish on top. Bake until the pasta is golden-brown and bubbly, about 45 minutes. Cool for 10 minutes and serve hot.