Recipes
Nori Maki (Nori Rolls with Japanese Omelette, Shiitake Mushroom, and Halibut)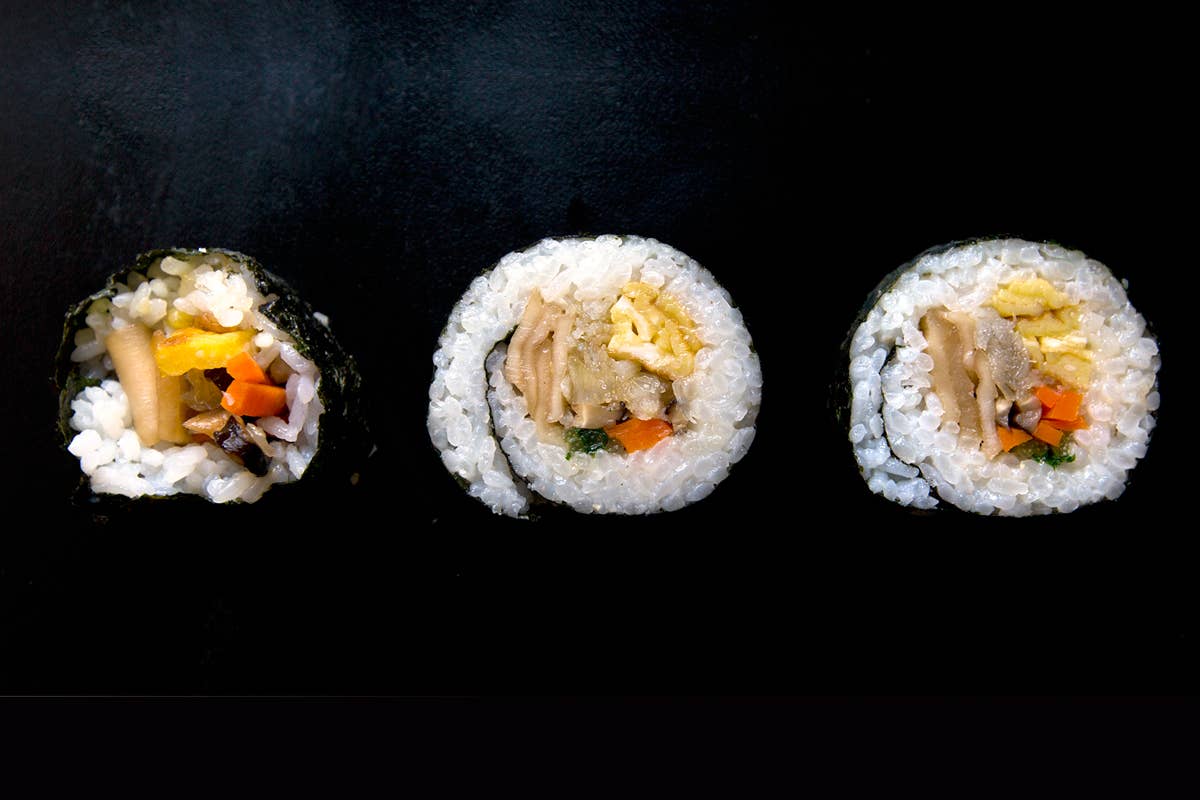 Senior editor Karen Shimizu learned to make these rolls from her California-born mom, who lived in Japan for a year while researching her college thesis on sumo wrestling. Perfect for special occasions, they're stuffed with flaky fish, sweet Japanese omelette, plump shiitake mushrooms, tender kampyo, or dried squash, and blanched carrots and mizuna. When rolling the maki, dip your fingers in water to which rice vinegar has been added; it helps to keep the rice from sticking.
Ingredients
3 strips kampyo (dried gourd strips), halved
1 tsp. kosher salt, plus more to taste
7 tbsp. granulated sugar
2 tbsp. soy sauce, plus more for serving
6 dried shiitake mushrooms, stemmed and hydrated
1 tbsp. mirin
1 (2-oz.) piece boneless, skinless halibut
1 1⁄2 tbsp. sake
16 sprigs mizuna, tough ends discarded
1 medium carrot, cut into ¼" matchsticks
1 1⁄2 cups sushi rice, rinsed until water runs clear
2 1⁄2 tbsp. rice vinegar
1 tbsp. confectioners' sugar
1 (2") square piece kombu
1 tsp. dried bonito flakes
2 eggs
Sushi mat, for rolling
3 sheets nori, lightly toasted over a gas burner or using a blowtorch
Pickled ginger and wasabi paste, for serving (optional)
Instructions
Step 1
Combine kampyo, 1 tsp. salt, and 3 cups water in a bowl; let sit 1 hour, then drain and transfer to an 8" non-stick skillet. Add 2 tbsp. granulated sugar and ½ tbsp. soy sauce; simmer over medium-high heat until soy sauce has been absorbed, about 5 minutes and transfer to a bowl.
Step 2
Combine mushrooms and 2 cups boiling water in a bowl; let sit until soft, 30 minutes, then drain and transfer to skillet. Add 1½ tbsp. granulated sugar, 1½ tbsp. soy sauce, the mirin, and 2 tbsp. water; simmer until liquid has been absorbed, 5 minutes. Thinly slice mushrooms and transfer to a bowl.
Step 3
Return skillet to medium-high heat; add 1 tsp. oil and cook halibut, flipping once, until cooked through, 2–3 minutes. Add 1½ tbsp. granulated sugar, the sake, and salt; reduce heat to medium-low and cook, stirring to break fish up into small flakes, until liquid has been absorbed, 8-10 minutes. Transfer fish to a bowl.
Step 4
Cook mizuna and carrots and in salted boiling water until tender, about 30 seconds for mizuna and 2 minutes for carrots; transfer to a bowl of ice water, then drain and pat dry using paper towels.
Step 5
Wipe skillet clean; add kombu and ¼ cup water. Simmer over medium heat for 2 minutes; remove from heat and stir in bonito flakes. Let cool, then strain into a bowl. Add remaining granulated sugar, the eggs, and salt; whisk to combine. Heat skillet over medium heat; cook ¼ egg mixture, stirring occasionally until just set, 1–2 minutes. Using a rubber spatula, roll eggs onto one side of the pan. Add another ¼ eggs; cook until just set and starting from initial egg roll, fold and roll eggs and push to side of pan. Repeat with remaining eggs; transfer 1 large roll to a cutting board and slice lengthwise into 3 strips.
Step 6
Bring rice and 2¼ cups water to a boil in a 2-qt. saucepan; reduce heat to low and cook, covered, until rice is tender, 15–20 minutes. Remove from heat and transfer to a bowl; immediately stir in vinegar, confectioners' sugar, and salt; fan rice while stirring until rice is cool enough to handle.
Step 7
Assemble maki rolls: Working with 1 sheet nori at a time, place nori on sushi mat, shiny side down. Using wet fingers, press ⅓ rice onto nori in an even layer, leaving a ½" border on the side furthest from you. Working from the side closest to you, arrange 2 pieces kampyo and ⅓ each fish, mushrooms, egg mixture, mizuna, and carrots. Using the mat as a guide, lift edge of mat closest to you to roll nori up and over ingredients, forming a tight cylinder. Take care to pull back the edge of the sushi mat so as to not roll it into the sushi. Transfer sushi roll to a cutting board and slice crosswise into 8 pieces; serve with soy sauce, and if you like, pickled ginger and wasabi paste.