Nutty Chocolate Bark with Cardamom and Coffee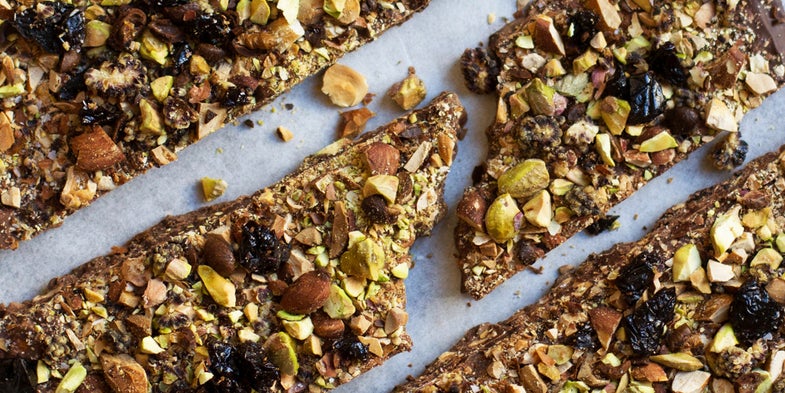 A flavorful combination of cardamom, dried mulberries, tart cherries, almonds, pistachios, and coffee beans tops dark chocolate in a crunchy, gorgeously layered bark adapted from Louisa Shafia's The New Persian Kitchen. If you don't have dried mulberries on hand, finely chopped figs are a fine substitute.
Yield: makes about 1 1/2 pounds
Ingredients
2 cups semisweet chocolate chips
1 tsp. ground cardamom
3⁄4 cup almonds, lightly toasted and roughly chopped
1⁄2 cup pistachios, lightly toasted and roughly chopped
1⁄4 cup dried mulberries, chopped
1⁄4 cup dried tart cherries, chopped
2 tsp. coffee beans, roughly chopped
1⁄8 tsp. kosher salt
Instructions
Place chocolate in a heatproof bowl set over a saucepan of simmering water. Cook, stirring occasionally, until melted, 8 minutes. Remove bowl from pan and stir in cardamom and half each the almonds, pistachios, mulberries, and cherries. Spread mixture onto a parchment paper-lined baking sheet into a 10" x 7" rectangle, about ¼" thick. Sprinkle evenly with remaining almonds, pistachios, mulberries, cherries, the coffee beans, and salt. Chill, uncovered, until bark hardens, about 2 hours. Break into pieces to serve.