Pizza with Ramps, Morels, and Eggs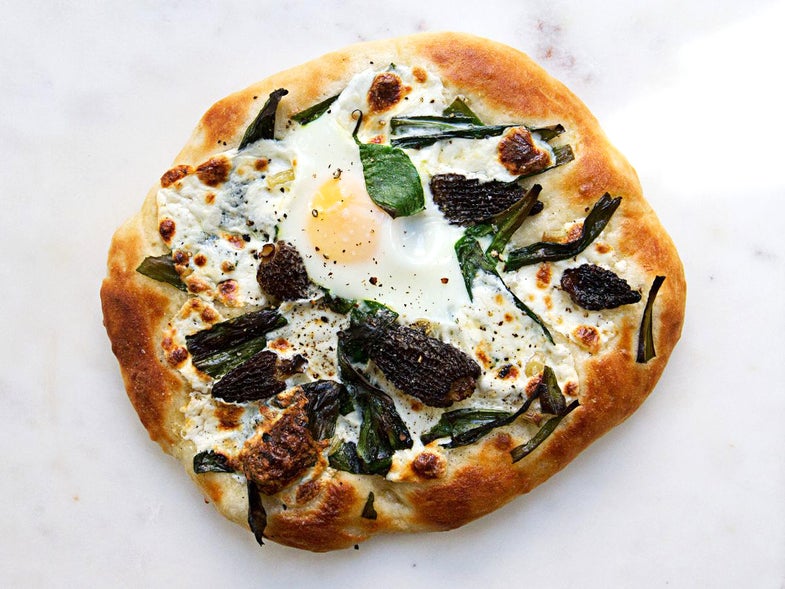 Despite their ubiquity on restaurant menus and Instagram every spring, I haven't gotten tired of ramps. When they're in season I sub them for onions and leeks in all kinds of dishes. One of my favorite creations is this pizza, which pairs them with mellow, earthy morels, sharp Parmesan cheese, and just-set eggs. The runny yolks act almost like a sauce that you can sop up with your crust—but feel free to add the eggs as soon as the pizza goes in the oven if you prefer harder yolks. The best part? The dough is super fast to pull together, so you can top this with whatever bits and pieces you have lying around in your fridge for a quick dinner. —Farideh Sadeghin, test kitchen director
Pizza with Ramps and Morels
This super-simple spring pizza is topped with ramps, mellow, earthy morels, sharp parmesan cheese, and perfectly-runny eggs.
Time: 1 hour
Ingredients
1 packet active dry yeast
1⁄2 tsp. sugar
1 3⁄4 cups flour, plus more for dusting
1⁄2 tsp. kosher salt
1 tbsp. unsalted butter
1 oz. ramps (about 5), trimmed, stems diced and leaves cut into 2″ pieces
1⁄8 oz. morels (about 10)
1 tbsp. olive oil
4 oz. mozzarella cheese
2 eggs
Freshly ground black pepper, to taste
Grated Parmesan, for serving
Instructions
In the bowl of a stand mixer fitted with a hook, combine yeast, sugar, and ¾ cups water heated to 115°; let sit until foamy, about 10 minutes. Add flour and salt and mix on medium speed until dough forms. Increase speed to medium-high and knead until dough is smooth, about 5 minutes. Cover bowl with plastic wrap and let rise 30 minutes.
Heat oven to 450°. Melt butter in a small skillet over medium-high; cook ramp stems and morels until ramps are soft, 2 minutes, and set aside. Divide dough into 2 balls. On a lightly floured surface and working with one ball of dough at a time, roll dough into an 8″ circle about ¾" thick. Place onto a parchment paper-lined baking sheet. Divide oil between dough, then top with cheese, ramp stems, morels, and ramp leaves. Bake 15 minutes, rotating pans halfway through; remove from oven and top each with an egg. Cook 5 minutes more, or until egg is lightly set. Finish with black pepper and Parmesan and serve immediately.