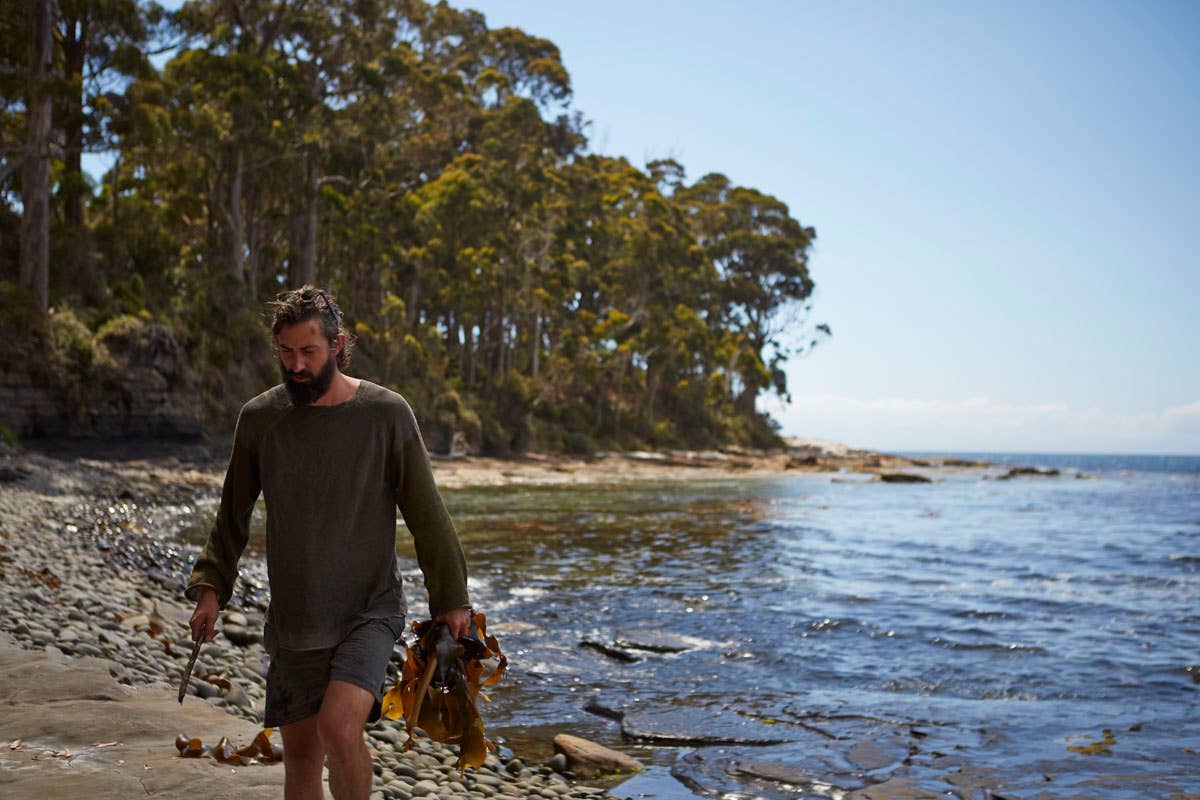 Travel
Wild at Heart
Beautiful, bountiful, food-obsessed Tasmania is worth the (30-hour) detour way down under Down Under.
"This is Mermaid's Necklace," says James Ashmore, handing over a delicate strand of emerald beads he just plucked from the cold depths of the Tasman Sea at the southern end of Australia's island state. "Try it," he says.
The seaweed pops like caviar on the tongue. It's unexpectedly sweet. The faint scent of algae hangs in the air and sea eagles circle overhead.
Ashmore is, by trade, a purveyor of seafood, but his true passion is foraging for seaweed. Using an oxygen compressor, he swims for hours through underwater forests where urchins and abalone cling between waving strands of bull kelp. On a good day he'll gather 500 pounds of wakame, kombu, and more exotic seaweeds in his mesh bag.
A friend of mine from Sydney described Tasmania as "Vermont with bigger sharks." The climate is similarly suited for apple orchards and apple-cheeked dairymaids. A certain stubborn independence about the citizens is also characteristic of the Northeast Kingdom—but comparisons come to a screeching halt the minute a wallaby or koala appears out of the peppermint gums to cross the road. (And here be devils, too.) Almost half the island is protected wilderness. It has the cleanest air recorded on earth. Tap water tastes faintly of the peaty central highlands; whiskey distilled from it concentrates the flavor. Converging on the waterfront at Hobart, the southern capital city, are a Royal Australian Navy submarine, a Chinese icebreaker, a radical activist Sea Shepherd cruiser, and a fishing trawler christened Suicidal Dream. South from here is Bruny Island, the pristine outpost of oyster cultivators and cheese makers, colloquially known as "the island off the island off the island." Below that: Antarctica. I'm far from home, and mermaid's necklace may be the most truly wild thing I've ever eaten.
Greater Hobart sprawls on both sides of the Derwent estuary, but the original harbor front, with its Victorian pubs and sandstone warehouses, retains its provincial roots and pedestrian-friendly vibe. Signs of conversion are everywhere as developers are repurposing much of the commercial architecture. Franklin, a new downtown restaurant, occupies a barely converted automobile showroom. The bar is poured concrete, the windows are industrial, and at the center of the open kitchen, the lanky chef David Moyle wrestles with a fire-breathing Scotch oven he's nicknamed "The Beast."
Scotch ovens, common in 19th-century Australia, were wood-fired monsters designed for commercial bread baking. Moyle's custom-forged version pulls radiant heat through an arched brick chamber where he can roast a whole pig at full blast or slowly dry oysters and baby octopus on cool-down days.
"Even when resting, the oven's residual heat suffices to do this," Moyle says, handing me a mysterious little gray chip. The oyster rehydrates in my mouth, releasing an intense, forgotten brine.
The oysters are added to a sauce for slivered abalone, plated in its pearlescent shell and wrapped with the bull kelp Moyle gathers on his days off surfing at Bruny Island's Coal Point. Menu descriptors are deceptively lo-fi at Franklin. This disdain for pretension is the mark of a guy who sports the gnarly beard of pirates and Portland baristas. He lives in a geodesic dome between an oyster farm and a biodynamic vineyard. Doesn't wear a watch. Moyle favors lesser-loved ingredients like periwinkles and whiting, grilled beef hearts and smoked bone marrow, bitter leaves and medicinal herbs. The mermaid's necklace from Ashmore appears on a raw-fish plate. A humble bowl of squid broth paired with sweet white Hakurei turnips and garlic greens turns out to be not so simple. It speaks of underworlds both oceanic and earthy.
Why come all this way to eat seaweed and soup? Because Ashmore and Moyle belong to a tight-knit community of chefs, farmers, and foragers who've chosen this remote place, and its access to fiercely fresh ingredients, to create a rule-breaking food scene of their own. (And there's the added benefit of surfing and unpopulated white sand beaches.) To discover this happening on the fringe, where everyone goes about experimenting with such outlandish bounty, is unquestionably worth the 30-plus hours I've spent in transit getting here. Tagging along with these same mavericks to the source of their inspiration appeals even more to someone who loves places wild at heart.
On his day off, Moyle and I head south to Bruny Island in his Renault Clio junker. The front grill is missing. Frank, his black kelpie puppy, shares the backseat with a surfboard. The ferry pulls away from its dock in Kettering, an eastern shore suburb 30 minutes outside Hobart, and crosses the D'Entrecasteaux Channel. Today, no wind kicks up a chop. We pull over for Cokes and hot sausage rolls at the newsagent close to the ferry terminal—not far from the spot where explorers James Cook and William Bligh once anchored to resupply fresh water and shoot possums. Frank eats most of my sausage roll and then we're off toward Ross O'Meara's farm.
In a state populated by back-to-the-landers, incomer and native alike, pristine Bruny may just be its true capital. We meet O'Meara at his family's property, which rises from the road to open fields, stream-fed ponds, and a stand of eucalyptus on a lower slope of Mount Mangana. Frank jumps an electric fence to chase sheep. The rest of us hike up the hill to see where Berkshire, Wessex Saddleback, and Tamworth pigs are rooting. O'Meara climbs into their five-acre bush paddock and bends low to greet one of his favorite swine. The beast is surprisingly coy but allows the burly farmer close enough to briefly touch his snout. Sows Juanita and Desiree arrive from a mud bath in a watering hole to rub against us. "They love a good wallow," says O'Meara.
Back in O'Meara's tin-roof farmhouse, his wife, Emma, sets the table as Ross pan-fries some of his chubby pork sausages for lunch. We sit down to rustic rillettes, homemade pickles, and a creamy mustard he makes with apple cider vinegar aging in oak barrels out in the yard. O'Meara talks about a reclusive neighbor who breeds the squabs served at Franklin. "He's total Tasmanian," says O'Meara, by which he means he has an innate disregard for anything beyond the immediate locale.
O'Meara hands me a pot of mustard and a slab of newly cured bacon as parting gifts. Digging in my bag, I hand over a bottle of pinot noir and a bag of Ashmore's dried wakame. I call that a fair trade.
Luke Burgess is agitated about a tiny worm that showed up one night at his restaurant Garagistes in Hobart. It's not the fact that it hid inside a little flower on a diner's plate that has him worked up, but rather the attitude of the offended customer, who called him on the carpet for it. "She didn't understand that Paulette's produce is completely organic and barely handled," Burgess says. Paulette Whitney and her husband, Matt, run Provenance Growers in the Huon Valley. One afternoon, Burgess and I drive out to meet the Whitneys so I can appreciate the delicacy of their produce for myself. Protected from prevailing southerly winds by a eucalyptus rainforest, their greenhouses and raised beds are crowded with sweet cicely, lovage, oxalis, angelica, nettles, and Tasmanian yellow tomatoes.
Burgess apprenticed with Tetsuya Wakuda in Sydney, then worked at noma in Copenhagen, before opening his own place in Hobart about five years ago. Despite the global résumé, however, his food is as fleetingly seasonal as a spring bloom, changing as he fetches ingredients from the Whitneys as well as from his close friend Rodney Dunn, another farmer farther out of town in the Derwent Valley. Where Moyle is raw and gutsy, Burgess is refined and hyper-focused, down to the flower blossoms artfully upended on his plates.
I suggest Burgess charge extra for the presence of worms, given the vogue for lemon ants in another hemisphere. The Whitneys are potting herbs to sell at their Farm Gate Market stall but pause long enough to discuss the value of Kubota versus John Deere tractors.
A sun-bleached blonde in denim and worn Blundstone brogues, Paulette has a deep knowledge of indigenous plants—kangaroo apple, sagg, murnong—used for traditional remedies. She admits to seed catalog lust; Quarantine Tasmania harshly restricts the import of new varieties to prevent a fruit fly incursion. But the limitations also led Paulette to focus on local plants, like her pots of sheep's sorrel, peppery shepherd's purse, and sow thistle. A jar filled with genuinely ugly yellow-and-black dent corn kernels sits on a garden table, where we drink verbena tea and eat shortbread cookies she baked for the occasion. Paulette mentions that their youngest daughter, Heidi, is participating in the Huon Agricultural Society Show's floral contest for the first time—her entry is a huge euphorbia bloom atop a headless teddy bear. Older sister Elsie has bought a clutch of quail by raising and selling her own radishes. A hen and her brood scatter as we leave the yard. Matt, who worked for Burgess before becoming a full-time farmer, hands him plastic containers of radish flowers and baby red orach leaves, which later ride on my lap back into town, lighter than a baby chick. It occurs to me that if a young couple is willing to crawl in the dirt on their hands and knees to pick chickweed and shungiku chrysanthemum, then the worms are come by honorably.
In a former garage, Garagistes has a pared down, monastic aesthetic—rows of blond oak refectory tables, exposed beams, rough-glaze ceramics, waitstaff and kitchen crew in somber black. A dry-age cellar with a peek hole tempts devotees of house-cured charcuterie. Burgess is bent over plates in a galley kitchen where one commis works a flaming steel contraption that is equals parts rotisserie and parilla grill. His set menu is an indulgent tour of Tasmania itself: from tartare of Wagyu from a ranch on Robbins Island in the north to hapuka (wreckfish) caught off the southeast coast. Apart from that, Garagistes is harder to define. It's not Asian or Nordic or Mediterranean, although the cheeky sake pairings raised wine-snob eyebrows when first introduced, and Burgess serves a bowl of Manila clams in anise hyssop dashi next to a plate of Wessex Saddleback guanciale. Tiny pink-eye potatoes are smoked with native kunzea (a myrtle cousin) and topped with those fragile radish flowers from the Whitneys. A glazed wood pigeon with curled feet intact lands on the table. This is nature, red in tooth and claw; someone who flinches over a worm isn't going to relish game presented properly. On an island at the bottom of the world, with a half-million residents whose collective ancestry ranges from Canton to Cornwall, food of this caliber and originality proves Tasmania's self-reliance in the most delectable way. My waiter uncorks a darkly complex, biodynamic pinot noir from a vineyard so small that its output rarely reaches the Australian mainland. Touché, I think, to quarantines.
The taste is ferociously floral, with unfamiliar berries and herbs lurking: total Tasmanian.