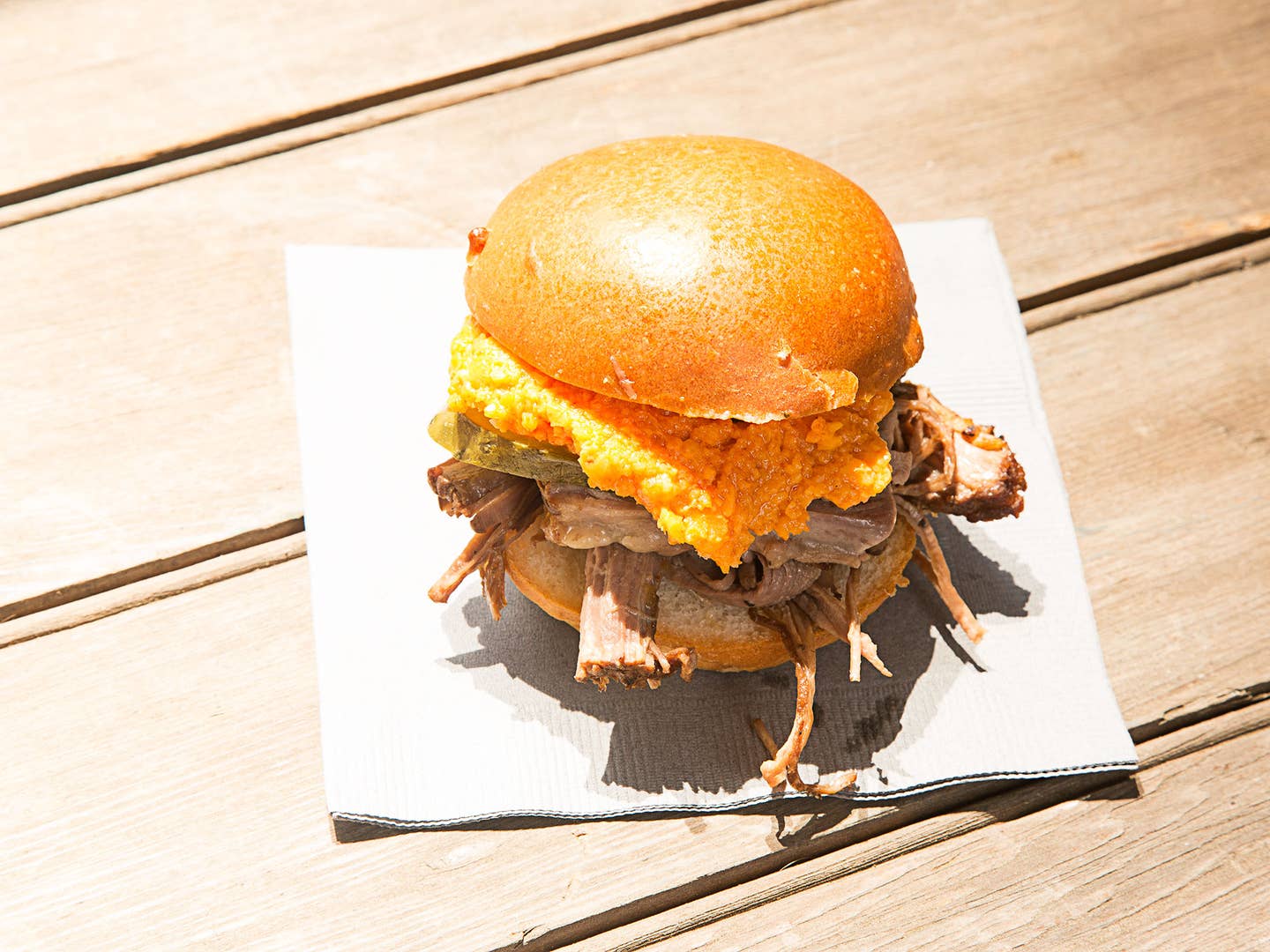 Culture
Behind the Recipe: Brisket & Pimento Cheese Sliders
Chef Edward Lee discusses his inspiration behind his "overboard-decadent" take on a cheeseburger
"Good cooking is always simple but never convenient," says Edward Lee. The straight-shooting chef of 610 Magnolia in Louisville, Kentucky is talking about his damn good brisket and pimento cheese slider, which he turned out for the 2015 SAVEUR cookout, and he's not mincing words. "You're not going to get a deeply flavored brisket in two hours," he says. "You have to commit time." At his restaurant, he puts that time into smoking the brisket, but this recipe was engineered to be foolproof for the home cook: All the low-and-slow cooking is done in the oven "so you can go do something else," he says. "And it's even better the next day."
Lee's recipe contains a long scroll of ingredients: paprika, garlic, tomatoes, soy sauce, balsamic, bourbon, beer, and on and on. "Every time I approach a new recipe, I throw the kitchen sink at it," he says. One taste of the rich, juicy brisket, however, and the wisdom of his kitchen-sink approach is obvious. And for his topping, the pimento cheese, he has a twist: He mixes gochujang into it, the spicy-sweet Korean fermented bean condiment that he also uses on pretty much everything—grilled cheese, chicken wings, vinaigrettes, and more. "Anything you add it to gets this seductive heat in the background," he says.
But, when it comes to the mayonnaise, Lee sticks with generations of Southern chefs and uses Duke's, claiming it has more fat and whips up more smoothly. Slathering pimento cheese inside a brisket sandwich isn't exactly traditional, but for Lee, it's a "going-overboard-decadent" take on a cheeseburger.