Recipes
Braised Brisket Sandwiches with Pimento Cheese
Serves

serves 8 to 10

Cook

6 hours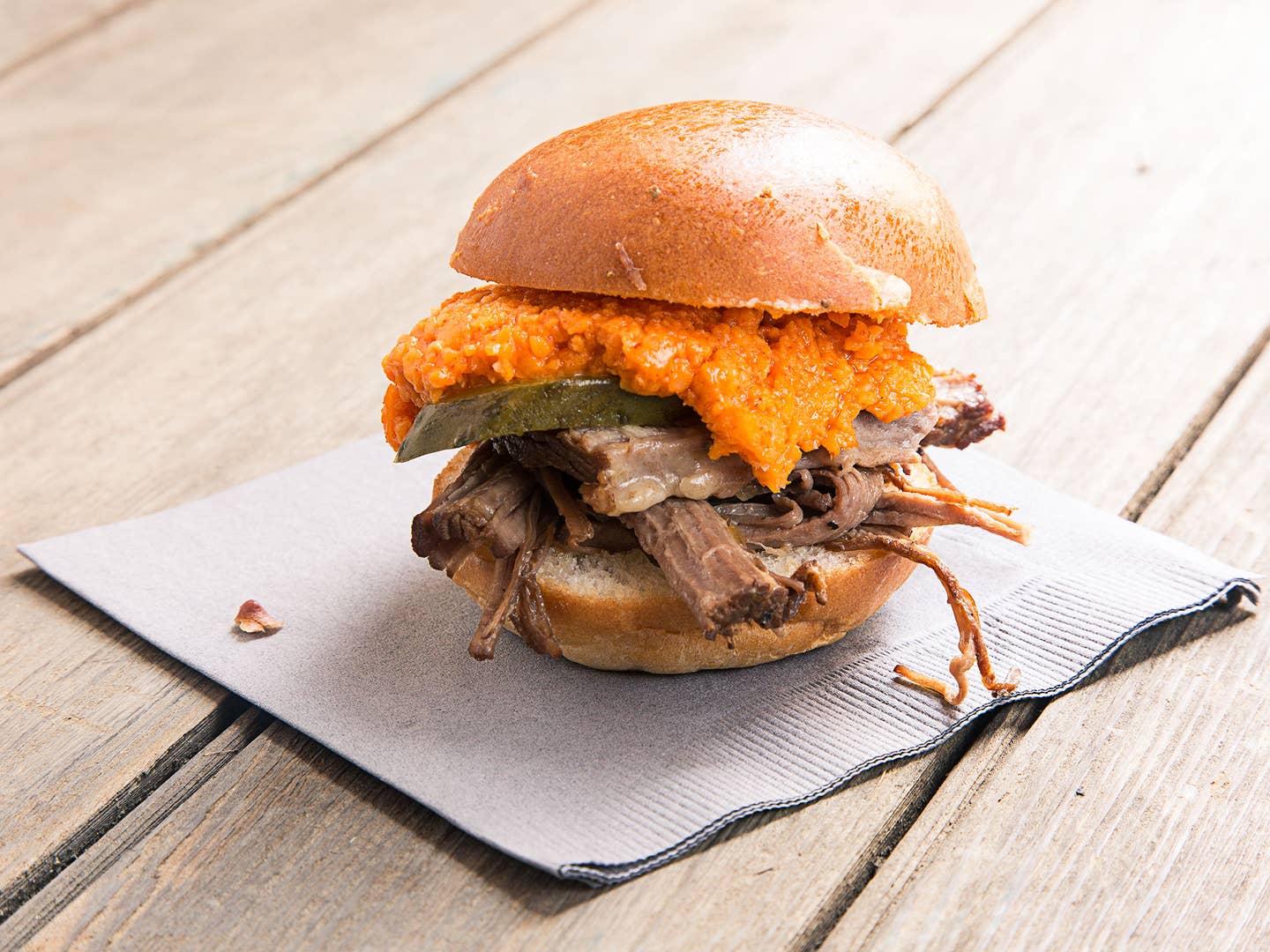 Stout, bourbon, and soy sauce create a potent umami braise for the brisket in these delicious sliders, from Chef Edward Lee of 610 Magnolia in Louisville, Kentucky, which are then topped with spicy pimiento cheese spiked with a Korean red chile paste called gochujang.
Ingredients
1 1⁄2 tsp. kosher salt, plus more
1 tsp. freshly ground black pepper, plus more
1⁄4 tsp. sweet paprika
1 (3 1/2-lb.) brisket
1 1⁄2 tbsp. vegetable oil
1 medium yellow onion, roughly chopped
3 garlic cloves, minced
2 plum tomatoes, cored and roughly chopped
2 celery stalks, roughly chopped
1 carrot, roughly chopped
1 (12-oz.) bottle stout beer
4 cups beef stock
1⁄2 cup bourbon
1⁄4 cup soy sauce
1⁄4 cup packed light brown sugar
1 tbsp. balsamic vinegar
1 small bunch thyme
8 oz. sharp cheddar cheese, grated
4 oz. white cheddar cheese, grated
3⁄4 cup mayonnaise, preferably Duke's
1⁄4 cup gochujang
2 tbsp. grated parmesan cheese
1⁄2 tsp. Worcestershire sauce
1 (4-oz.) jar pimiento peppers, finely chopped
2 dozen slider buns, halved lengthwise
6 whole dill pickles, thinly sliced
Instructions
Step 1
Heat the oven to 325°. In a small bowl, combine the 1 1⁄2 tsp. salt and 1 tsp. pepper with the paprika and then rub completely over the brisket. Let stand at room temperature for 1 hour.
Step 2
Heat the oil in a large enameled cast iron pot over medium-high. Add the brisket, and cook, turning, until browned on all sides, about 8 minutes. Transfer the brisket to a plate and return the pot to the heat. Add the onions and 2 garlic cloves, and cook, stirring, for 2 minutes. Stir in the tomatoes, celery, and carrots, and cook, stirring, until the vegetables are soft, 6 to 8 minutes. Stir in the stout, stock, bourbon, soy sauce, brown sugar, balsamic, and thyme, and bring to a boil. Reduce the heat to maintain a simmer, and then return the brisket to the pot and cover. Place the brisket in the oven, and cook until the meat is very tender, about 3 1⁄2 hours.
Step 3
Meanwhile, in a food processor, combine the remaining 1 garlic clove with both cheddars, the mayonnaise, gochujang, parmesan, and Worcestershire sauce, and pulse until combined. Stir in the pimientos, and season with salt and pepper. Refrigerate the pimiento cheese until ready to serve.
Step 4
Remove the brisket from the oven, and transfer the meat to a cutting board. Pour the cooking liquid through a fine sieve set over a bowl, and discard the solids. Pour the liquid back into the pot, and bring to a boil over high heat. Cook the liquid, stirring, until reduced to 2 cups, about 20 minutes. Remove the sauce from the heat and keep warm.