9 Mother's Day Breakfast in Bed Recipes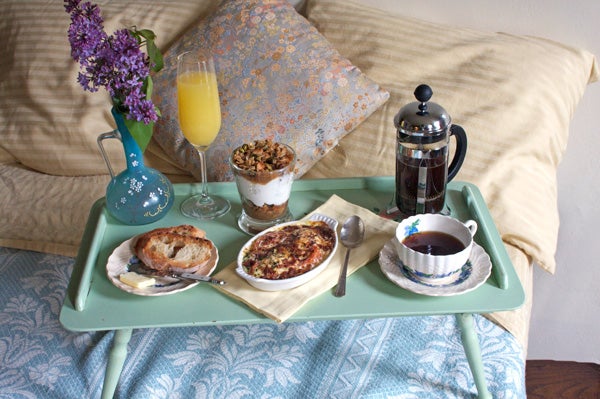 A steaming cup of coffee, a bubbling flute of mimosa, a slice of warm buttered toast, a cheese-crusted dish of baked eggs, and a parfait layered with sweet rhubarb compote, tart Greek yogurt, and crunchy salty granola. When you're making breakfast for someone special, you want it to be just right, and for Mother's Day this Sunday, we don't think it could get much better than this breakfast menu.
Eating breakfast in bed requires a certain amount of technique: you don't want to have to worry about spilling sticky sauces and syrups on the sheets, and complicated, two-handed fork-and-knife slicing can be difficult on the irregular surface (even if you use a breakfast tray — one of our all-time favorite dining accessories). With that in mind, everything on this elegant menu is easy to eat — eggs baked and served in a petite ceramic baker, yogurt parfait layered in a tumbler. With a fizzy mimosa and a sprig of lilac (just now in season, a perfect pop of spring), go ahead and indulge mom with our springtime breakfast in bed menu.
Layered and rolled with sweet amber sugar and syrup, these make an indulgent breakfast or dessert. Get the recipe for Crêpes with Maple Sugar and Syrup »
Baked eggs (sometimes called shirred eggs) are a simple, hearty breakfast. This recipe, which appeared in our special Breakfast issue (October 2008), produces firm whites and velvety yolks. Get the recipe for Baked Eggs »
In Denmark, the regional rye bread, called rugbrød, is debatably sacred. Many bakeries stock upwards of five or six varieties of the nutty, rich, nutritious loaves. And when crumbs fall off while slicing it for smørrebrød, they're not tossed. They're saved (and soaked in beer) for this tangy, earthy breakfast treat. Get the recipe for Danish Rye Bread Porridge (Øllebrød) »
A childhood breakfast treat gets an upgrade with strawberry jam and tangy goat cheese. Get the recipe for Goat Cheese and Strawberry Breakfast Tarts »
Bostock is a sweet and crunchy breakfast pastry with roots in Normandy. Our version honors Calvados country with a schmear of apple butter and a splash of apple brandy added to the traditional frangipane cream. A generous layer of toasty almonds balances the soft and squishy filling below. Get the recipe for Cinnamon Apple Bostock »
Spreading cream cheese into the layers of dough enhances the richness and moistness of these rolls. This dough may be prepared a day in advance and left to rise in the refrigerator overnight. Get the recipe for Cream Cheese Cinnamon Rolls »
A last-minute addition of baking soda to the batter makes these classic waffles especially airy and crisp. Get the recipe for Yeast-Raised Waffles »
Fresh strawberries turn ordinary pancakes into something scrumptious; wild blueberries, or any other kind of berry, make an excellent substitute. Get the recipe for Strawberry Griddle Cakes »
Alvin Cailan of Los Angeles' cultish Eggslut goes pancetta-crazy in this sandwich, using eight slices on top of his gorgeously marbleized egg and cooking the collard greens in pancetta fat. Get the recipe for Biscuits with Pancetta, Collard Greens, Marbleized Eggs, and Espresso Aïoli »