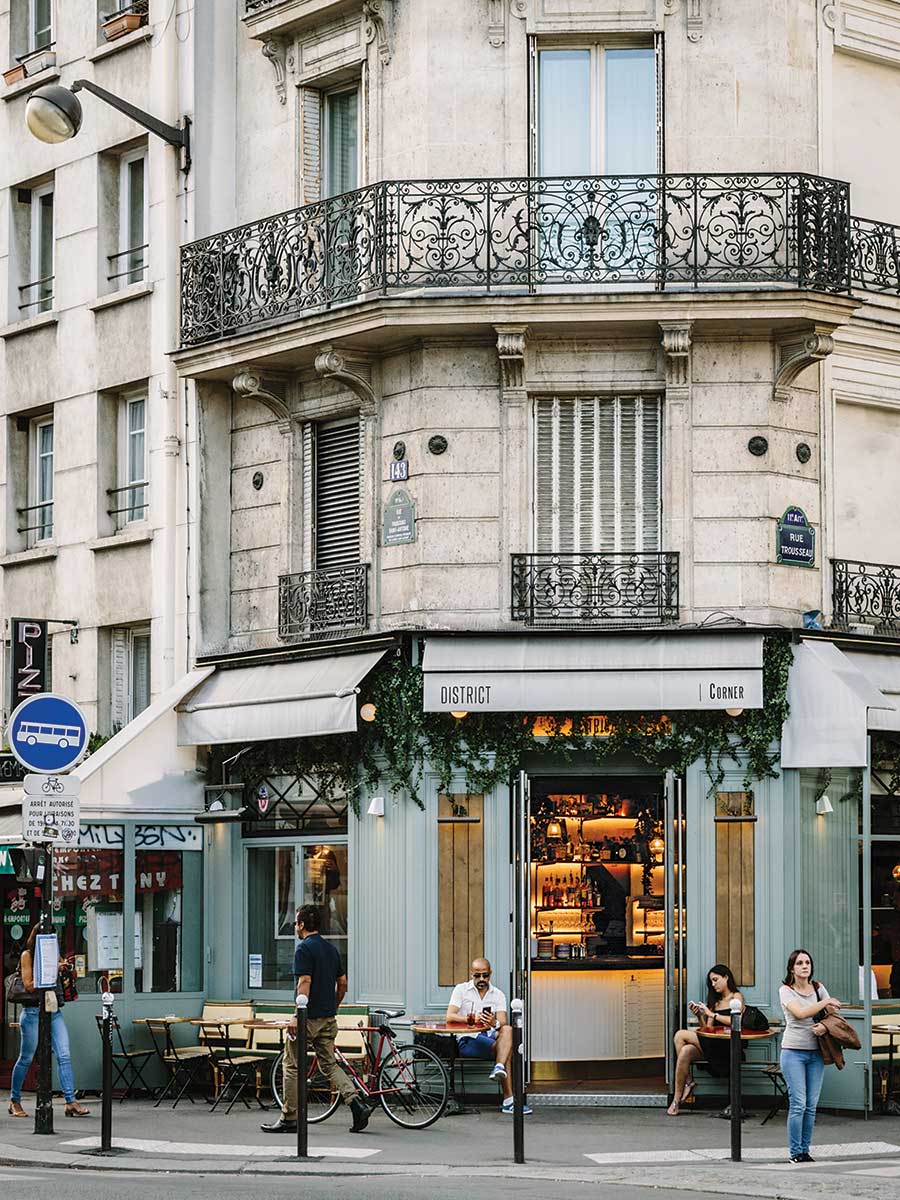 Travel
Here's Where to Eat Paris' Best Cookies
The owners of Mokonuts have redefined what it means to be a Parisian bakery and cafe
Down six winding flights of stairs, across the street, and onto rue Faidherbe, the quartier's main thoroughfare—with its poppy-themed florist, organic and biodynamic market, local post office, and neighborhood record shop—I take a quick left on the narrow, cobblestoned rue du Dahomey and another onto rue Saint-Bernard. I could do the four-minute walk in this far east section of the 11th arrondissement—my home for the past two years—with my eyes closed and still land precisely on the chocolate-meets-caramelizing-onions-scented doorstop of 5 rue Saint-Bernard. It's 8:30 a.m., and the gate in front of the seafoam green facade of Mokonuts is only halfway lifted, but that doesn't stop passersby from ducking under it to see about some coffee or a cookie. This 24-seat local favorite calls itself a "café and bakery" on its sign, but it is so much more than that. Almost immediately, I'm welcomed by a familiar call: "Hiieeeee, Sara."
Run by husband-and-wife team Moko Hirayama and Omar Koreitem, Mokonuts is the quirkily named, out-of-the-way spot in Paris—ahead of even the established French bread bakeries like Du Pain et Des Idées or praised macaron meccas like Pierre Hermé— where I tell everyone who visits the city to go. "But don't be picky," I encourage them. The menu, influenced by Middle Eastern, French, and American cooking, is delicious, but it's no steak frites joint, and the options are limited. "Oh, and make reservations for lunch." The tiny, sunlit dining room does only one formal seating, from noon to 3 p.m. Monday through Friday. (Though rumor has it they might be opening for dinner soon.)
Moko and Omar are among Paris' growing community of international chefs laying claim to the City of Light. Moko, 46, who was born in Japan and raised in the United States, was a labor negotiator before getting into the restaurant business 10 years ago. And Lebanon-born, France-raised Omar, 44, was a liaison for the Yankees who claims that, up until the year 2000, he "couldn't even cook an egg."
"It's just because I had exposure," says Moko, quick to come to Omar's defense about his late-blooming kitchen skills. She grew up in San Francisco with a mother whose passion was French pastry, and Moko was, therefore, "making cream puffs at, like, 10." Today, her crispy-on-the-outside, doughy-on-the-inside cookies, hand-rolled with deeply flavorful ingredients such as Italian hazelnuts or 70 percent German dark chocolate, are gaining a reputation for being the best in town, while Omar's savory dishes—like creamy labneh whipped with minerally, fruity olive oil from Puglia and sprinkled with za'atar—cause even the French to put down their utensils and clean the bowl with their fingers.
"Filter?" Moko asks, motioning to the drip-coffee machine—a rarity in the city's classic sidewalk cafés. Typically, she will have the coffee brewed before I get there, but because it's still early, she flips the switch as soon as I give her the go-ahead. My stomach is growling, too, but a lack of urgency is perhaps the place's only typically Parisian element—one I remember every time I come in under-caffeinated or very hungry. While it's usually quiet this early on a weekday—there are generally a few people parked behind a laptop, a business meeting or two taking place, and, increasingly, a table of tourists photographing their egg on a sourdough waffle—today, Moko is furiously frothing noisettes and mixing batter, while Omar is preparing his mise en place. I feel bad about interrupting them, but I eye someone eating what looks like a bowl of granola with yogurt and point it out to Moko across the room.
"What's that?" I ask in English. While they both speak fluent French, my native tongue is spoken widely at Mokonuts.
"Oooh. You've never had it? Hold on," she says, pulling down plastic containers from shelves and mason jars from cabinets.
And so I hold on, for a while, and when it comes, it's heaven in a raw, misshapen ceramic bowl (by local potter Judith Lasry, who is known for that deliberately unfinished style). The homemade yogurt is not too sour and not too sweet, and it's topped with handfuls of Moko's so-called freestyle granola that "changes based on ingredient availability and mood," she says. The crunch I get today comes from toasted oats, glossy hazelnuts, and sunflower seeds, held together by rice syrup and melted brown sugar. She has topped it with chopped segments of tart, refreshing grapefruit, and torn pieces of fresh mint.
"The idea was that there was no idea," says Omar of opening their first collaboration as a couple, in 2015. "That's the thing. We had no concept in mind. We knew Moko made good cookies, and we thought we'd do some sandwiches and serve good coffee." Fifteen years prior, Moko still had her nose in law books when Omar began spending hours at bookshops drooling over classic cooking tomes. "I've always loved to eat," Omar says. "I grew up in a Lebanese family where food was always very important. But it was really books, especially Thomas Keller's French Laundry Cookbook, that gave me the desire to just drop everything and learn to cook."
After a traditional culinary-school experience back in New York, where the couple met, Omar landed at the canapé station at Daniel. Moko's company transferred her to London, and Omar followed shortly after, eventually finding himself on the line at the Gordon Ramsay Group's Savoy Grill.
It was not long before Moko wanted in on the pots-and-pans action. Ladurée had just opened inside Harrods, so she called them up and asked if she could come in as an unpaid apprentice on weekends. The couple soon found themselves wearing aprons until the wee hours, but Moko was reluctantly still in a suit while the sun shone. Convinced the only place to legitimately bake was Paris, in 2008, Moko quit law and the pair moved back to Omar's hometown. ("Moko, you're nuts!" her colleagues told her, and thus, the name of their future café was born.)
After weeks of trying to talk pastry chefs into taking her on without any formal training, Blé Sucré's Fabrice Le Bourdat (formerly of the luxurious restaurant at the Hôtel Le Bristol, now baker of the city's fluffiest, sugar-glazed madeleines) gave her a shot as an unpaid intern. "He said, 'If you want to come in and work at four in the morning for free, sure!'" says Moko, laughing. Folding temperature-­controlled dough over and over again to make croissants wasn't for her, though, so she decided to try restaurant pastry instead, and went to apprentice at Alain Senderens' two-Michelin-starred Lucas Carton.
"You still had to follow traditional protocol," she says. "We were allowed to propose things, but my ideas were always too weird. Out of the norm. 'Nobody is going to eat that,' they'd say. Then I went to Yam'Tcha, and that was like, 'Wow.'"
She's speaking of Chef's Table France personality Adeline Grattard's Michelin-​starred restaurant in the 1st arrondissement, which she walked into with the intention of asking for a job. Grattard's concoctions often mingle contradictory flavors, like an airy Chinese bun filled with Stilton and Amarena cherry, and Moko felt that the two of them spoke the same language. "She plays around with herbs and spices in her desserts, and our sweet levels were in sync," Moko says. Grattard created a position for her, and while it didn't last long (Moko became pregnant), much of Moko's baking philosophy stems from her time there. "I do not like sweet pastry crust, or pâte sucrée," which is almost always present in Parisian pastry-shop tarts," says Moko. "I like desserts to accentuate the sweetness of natural fruits, so I try to accomplish that by using honey or light fruit jam." While the rotating confections on display at Mokonuts can't rival traditional patisseries when it comes to quantity—this is not where you come to grab a dozen cookies for a picnic at Place des Vosges or a whole tarte to take to a soirée at a friend's apartment—the individual slices of moist halvah cake with bits of cinnamon-coated pecans, or a fresh fig tarte oozing with sugary juices and topped with light-as-air mascarpone cream might make you think twice about popping yet another macaron. Wooden crates filled with just-received fresh produce—yellow heirloom tomatoes, shiny violet eggplants, leafy "chou" kale—are stacked on top of each other like Jenga pieces, making the passageway between the dining room and kitchen (not to mention the closet-size bathroom) a tad tight. What Omar isn't using generally remains there in boxes, acting as decor. Bottles of natural wine are lined up along a plant-scattered shelf against the white, exposed brick wall. Edison bulbs hang over the wooden tables for two. By the time Omar gets in, Guillaume the fish guy—a built, black-bearded man who looks more like he belongs on the cover of GQ than in gaiters—has already let himself in to drop off today's supply.
"You don't know what you're going to get until the day before, because whatever he catches, he catches," Omar tells me, as he carefully cleans live scallops. These were sourced from another purveyor, a fisherman named Laurent, from Northern Brittany, "who scuba-dives to pick them by hand."
"When we get them, they are barely out of the water 24 hours," says Omar, placing the shells aside to reuse for plating. He'll do little else to the round, fleshy pearls but cut them into chunks, toss them with olive oil and flaky salt, and gently splash them with water. Then he'll top them with clarified butter and a bergamot-scented sabayon that he vigorously whisks by hand for 20 to 25 minutes. "You have to stop it at the right point," he says while spooning the bubbly sauce onto the glossy shellfish. "Not cooked enough, and it will fall and separate; too cooked, and you get scrambled eggs."
This near-perfect execution of a creative scallop tartare is a far cry from classic café fare. At barely two weeks old, Mokonuts evolved into a full-fledged, reservations-required restaurant where, contrary to the formulaic Michelin-starred spots he worked at prior, Omar now prefers to make things up as he goes. And since he prioritizes sourcing his ingredients straight from local French farmers, he has little choice. Aside from the seasonality aspect—cepes in September, asparagus in April—he must contend with his neighbors' selections, too.
"This guy Vincent from Chablis in Burgundy, who supplies some of our vegetables, comes to Paris only on Wednesdays," explains Omar. "I do my shopping from his truck outside the restaurant and then he moves on. Sometimes I'll ask, 'Do you have the same turnips you had last week? Because they were beautiful.' And he'll be like, 'Sorry, Giovanni [Passerini, chef at the eponymous Italian restaurant on nearby rue Traversiere] took everything.' It happens a lot."
There are only a handful of chefs and restaurants in Paris that function this way, according to Omar. "Bertrand [Grébaut of nearby restaurant Septime] and Taku [Dersou of Dersou] are two more," he says, "and coincidentally most of these are located in the onzième [11th arrondissement]." It's a friendly, close-knit chef crew who are all a part of a community WhatsApp group. "We work with the same produce because we demand high quality and high standards, but at the end, what shows up on the plate is completely different."
During the lunch rush, when Moko acts as server, sommelier, and hostess—complete with her own hand-drawn seating chart—the menu generally features a choice of three appetizers (and always the za'atar-sprinkled labneh), two mains (maybe a pan-cooked Guinea fowl with crispy skin served with apples and cabbage, or flaky but moist line-caught hake topped with anchovy-based salsa verde). And, of course, there's a choice of sweet seasonal treats, which might include anything from a rhubarb galette with buckwheat crust to a strawberry tarte with mascarpone and black pepper cream. I often recommend at least one cookie—if not to have with a cup of Moko's weekly-steeped hibiscus tea, made from dehydrated flowers that she picked up in Puebla Mexico, then to indulge in later after, say, arriving back up those six flights of stairs.
Following goûter—French for afternoon snack time, when much of the country stops for a sweet—the 80 or 90 cookies Moko bakes twice daily, in varying types from miso and sesame to black olive and white chocolate, are usually all gone. But just before she rolls up her sleeves and starts shaping tomorrow's batch, she realizes the time: Their daughters, Aly, 4, and Mia, 7, need to be picked up from school around the block, which Moko zips out the door to do with flour-coated hands and her apron still on. Once back at the café, they settle in to color and watch videos while Mom and Dad prep for the next day—or, in some cases, that night, when Omar stays alone to cook for a private dinner party.
Moko is resolute about not having a nanny—"Why do I have to pay someone to raise our kids?" she asks—so the two keep the café closed on weekends and late nights. The girls have become a fixture for regulars, who they'll often engage. Today, Mia is pointing out her sparkly new shoes.
"See you tomorrow?" Moko asks me, as Aly clings to her hip.
"Exactement," I say. Because, really, they will.
Get The Recipes From Mokonuts