Recipes
Veal Tartare with Trout Roe, Capers, and Fiore Sardo Dressing
Serves

serves 4

Cook

25 minutes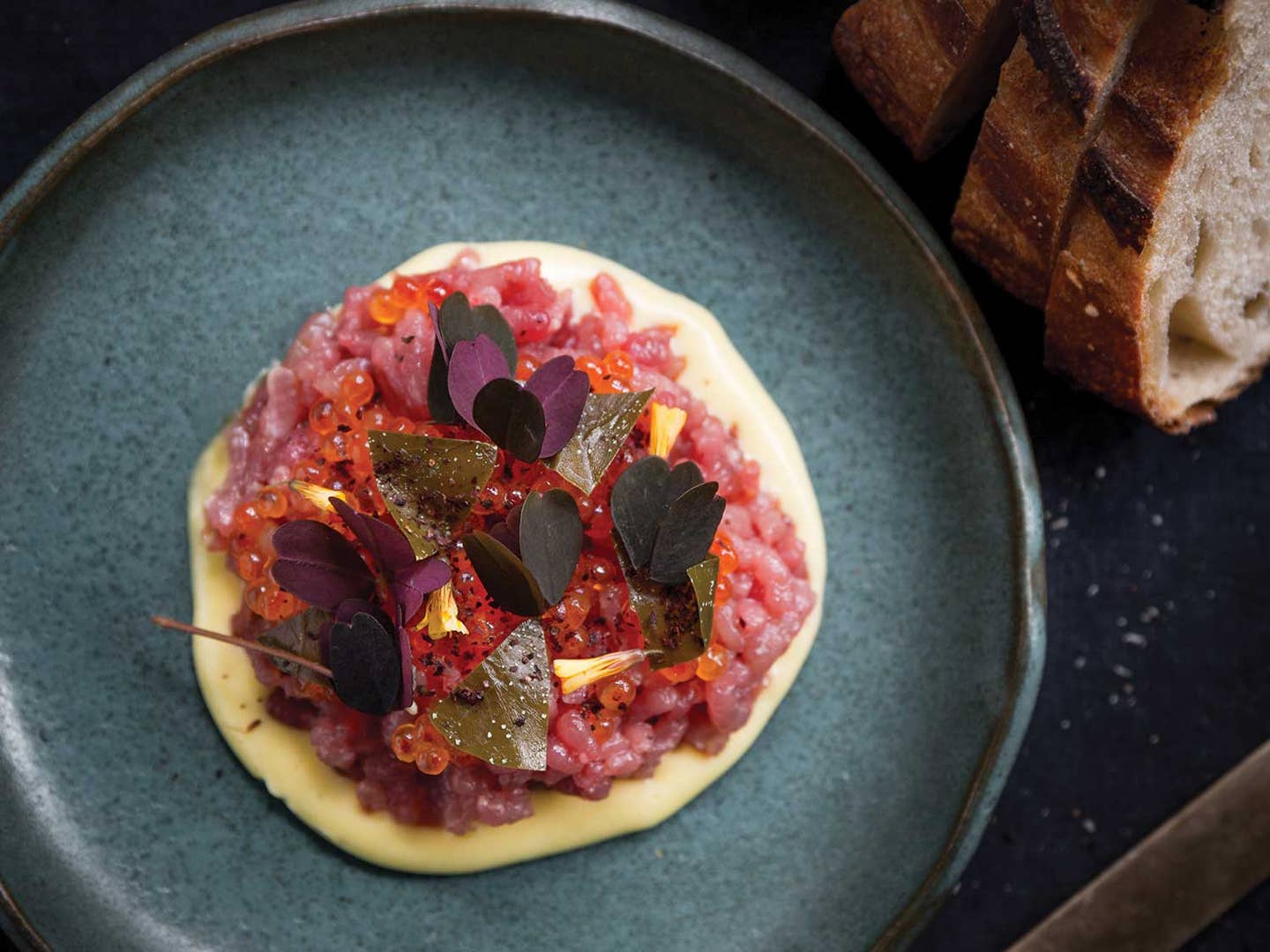 The delicate flavor of freshly ground veal is enhanced by a smoky, punchy dressing made from Italy's pecorino fiore sardo and colatura, a fermented anchovy sauce. Buy the freshest high-quality veal and grind it yourself, or have your butcher do it for you.
Ingredients
1 large egg
1 tbsp. finely grated pecorino fiore sardo
1 tsp. colatura or anchovy paste
1 tbsp. fresh lemon juice, divided
1⁄3 cup plus 1 Tbsp. grapeseed or canola oil
Kosher salt
7 oz. (1 1/3 cups) ground veal tenderloin or sirloin
1 tbsp. extra-virgin olive oil
1 tsp. soy sauce
1⁄2 tsp. finely grated lemon zest
Pinch of dried sumac
Pinch of togarashi pepper (optional)
3 tbsp. (2 oz.) trout or salmon roe
1 tbsp. drained capers in brine
Instructions
Step 1
Make the dressing: In a small pot, add the egg and enough cold water to cover by 1 inch. Bring to a boil over medium-high heat. Once boiling, cook for an additional 6 minutes, then immediately remove the egg and cool completely under cold running water. Peel the egg (the white should be set and the yolk still runny).
Step 2
In a blender, add the egg, cheese, colatura, 2 teaspoons lemon juice, and 1 tablespoon plus 1½ teaspoons cold water. Blend, slowly trickling in the grapeseed oil to emulsify. (Mixture should thicken to the consistency of mayonnaise.) Season with kosher salt, and set the dressing aside.
Step 3
Right before you plan to serve the tartare, prepare the meat: In a medium bowl, add the veal, olive oil, soy sauce, remaining 1 teaspoon lemon juice, zest, sumac, and togarashi pepper, if using; use a spatula to gently fold (avoid mixing too vigorously or the tartare will become clumpy and pasty). Season with kosher salt to taste.
Step 4
Divide the dressing among 4 small plates, then carefully spoon the tartare mixture over it. Top with the roe and the capers, and serve immediately.