Sip More Than Just Champagne in the Best Coupe Glasses
Martinis, for one.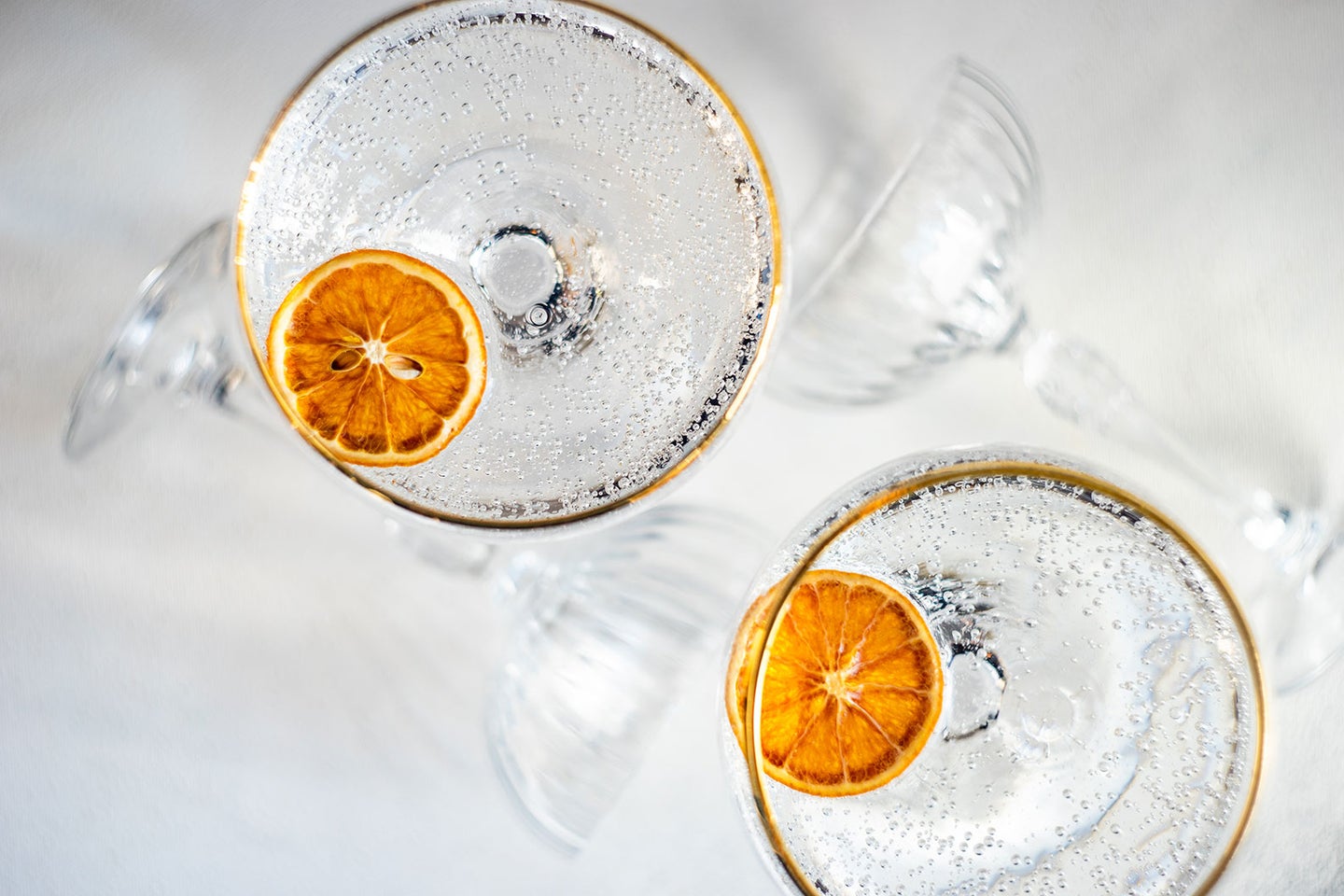 We may earn revenue from the products available on this page and participate in affiliate programs.
Meet your new favorite glassware: the coupe. You may already know the myth about the rounded glass' origin: Rumor has it that it was invented in homage to Marie Antoinette's bosom. (It isn't true.) But did you know that this delicate, beautiful glass is optimal for everything from Champagne to a well-chilled martini? 
"A well-designed coupe class may provide the optimal tasting experience for the consumer," says Jessica "Rabbit" King, owner and operator of Knoxville's Brother Wolf and Osteria Stella. With help from experts, we've rounded up a list that we feel are the stars of the category. These best coupes deserve to grace your home bar—let's lift a glass to them. 
Features to Keep in Mind
Material 
Look for coupes made from crystal, says Amy Racine, beverage director for JF Restaurants. "It reflects light in a beautiful way and makes the Champagne or cocktail sparkle," she says. "It can also be spun thinner than soda-lime glass, but has just as much strength."
Design
The design of your coupe will determine what you drink out of it, says Jessica King. "When drinking Champagne, the bubbles should have plenty of vertical height to rise up through the wine, while a wide bowl shape with a curved rim allows the aromatics in the Champagne to blossom," she says. 
Maintenance
Coupes—particularly ones made from crystal—should be hand-washed, King says. "Although crystal is much more durable than glass overall, hand-washing is the best route to protect your investment," she says. "A quick polish and storing them upside down will ensure that your coupes are clean and safely kept for their next adventure."
Our Top Picks
With a stem long enough to wrap your hand around—no more hand-warmed Champagne for you!—this stunning piece of glassware is made from lead-free crystal. Use it for Champagne, of course, or for your favorite classic cocktail. This adaptable glass looks good with whatever you fill it with. 
These dishwasher-safe coupes are not only one of the best value glasses on the market; they're also reinforced with Titanium for an extra strong, snap-proof stem. The tapered lip keeps nuanced aromas contained, and the wide bowl allows anything in it to breathe (especially Champagne). 
Erecting a Champagne fountain at your next party? You need a glass that's sturdy, inexpensive, and pleasant enough to look at. Ikea's coupe collection is elegant—but it won't break the bank. At $16 a 4-pack, you can afford to make a fountain. Salud! 
These hand-blown, Polish glasses come in blush, smoke, mint, and a variety pack featuring all three. Inspired by the maker's grandmother, they bring visual interest and whimsy to the table (or the bar, depending on where you happen to find yourself). Although they're new, these beauties look just like vintage coupe glasses, in a good way. 
The Nick & Nora is a stemmed glass used for cocktailing—and this version of the coupe is just as flexible as its more traditionally bowled cousin. The eight-ounce, dishwasher safe, Polish-made glasses are excellent for cold martinis, especially, since a smaller bowl helps direct strong aromas away. 
You may not know exactly what you're getting with these vintage coupe glasses, but that's part of the fun. Sets of two include the choice between classic coupes or etched coupes and come right from France. Glasses are sourced one by one, for a look that's decidedly curated. 
These substantial crystal glasses are the kind of investment you pass down to future generations. Hand-cut lines are inspired by the Brooklyn Bridge's cables (the glass set is named after the bridge's engineer, John A. Roebling). Made exclusively for Soho Home's DUMBO House outlet, these glasses are one-of-a-kind.
Long-stemmed and elegant, these crystalline glass coupes can accommodate the fete of your dreams. Available in affordable sets of six, these are a great option if you're looking to stock up on festive glassware. 
Just one glass will set you back a pretty penny, but if you're looking for a glass with pedigree, this is it. This stemware comes from Austria, has a pencil-thin stem that's timeless, and looks great on any bar cart. Give a set as a gift, or, better yet, give yourself the gift of glass. 
Ask the Experts
Q: What is the best size for a coupe glass?
Ideally, says Racine, a coupe glass should hold about six ounces. "You can fill a five-ounce pour and leave the rest of the Champagne on ice," she says. A six-ounce glass "leaves a little wiggle room at the top." 
Q: What are the best drinks to serve in coupe glasses?
Coupes are great for Champagne, of course, Racine says, but you can do far more than bubbles in them. "For cocktails, I find sours with egg whites are great to showcase the layer," she says. "Also, "up" drinks that have a juice or other base element with aromatics, so the nose can hover over the wide surface of the drink." Martinis, she says, are best in a Nick and Nora-style coupe. 
Our Take
The coupe may be the most flexible piece of glassware on the market. Use it for Champagne, use it for cocktails, or use it for an expertly mixed martini: the opportunities are endless. No matter your drinking preference, there is a coupe out there that will amplify your home bar. Now you just have to decide which one you want—and that may be the hard part.