The Fall Cookbooks We're Reading Right Now
The best new reads of the season, just in time to jump back into the kitchen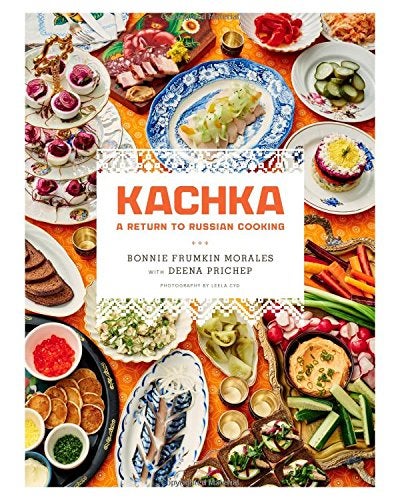 We may earn revenue from the products available on this page and participate in affiliate programs.
We like to think of fall as a time to take on new passion projects in the kitchen, whether that's learning how to make the perfect stuffed pasta, mastering the art of the dumpling, or whipping up a batch of homemade amaro. To inspire us, we've sifted through a stack of season's newest cookbooks and compiled the ones that jumped out at us. From a fantastically researched collection of Turkish recipes to a look back at America's most iconic desserts and one chef's deeply personal cooking-as-a-journey reflection, here are the fall cookbooks that are transporting us across borders, through ingredients, and into minds.
Want more cookbook recommendations from SAVEUR? Check out our cookbook club series to see what we're cooking through that month.
If your parents or grandparents hailed from anywhere other than the place you live now—which, of course they did—you might relate to authors Bonnie Frumkin Morales and Deena Prichep's endearing beautiful new cookbook, Kachka. Sharing a name with Morales' Russian-ish restaurant in Portland, Oregon, the book gives background on her Belarusian heritage and how she rediscovered and belatedly embraced it in the kitchen. Detective work in the form of long talks with her mom helped Morales deeply delve into her childhood dishes and uncover some family recipe she had never seen before. Though technically, they are dishes from all over the former Soviet Union, Morales uses the word Russian in the way it was used to encompass all of these former territories. The chef puts her own special touches on many of them, bedazzling otherwise rustic or monotone dishes with a signature cheekiness, prettiness, and pop of color Kachka has become known for.
Among the many recipes that call to me (but that I cannot yet accurately pronounce) are the Achichuk Salad, a tangle of tomatoes, onion, and sweet peppers in a Turkish hot pepper paste, and Buzhenina, a roasted pork loin served chilled with shaved celery in caraway vinaigrette. But before and beyond that, Morales teaches how to broadly navigate a Russian market—looking for specialty foods like basturma, an air-dried beef loin, or okhotnichya kolbasa, little dried hunter's sausages—and that, well, you might be interested in going to more Russian markets. —Stacy Adimando, Test Kitchen Director
This month, I've been baking my way through Stella Parks's new BraveTart cookbook for our monthly Cookbook Club and I have to say, I haven't been this excited about a pastry book since the original Tartine book came out.
Parks's meticulously tested "iconic American desserts" are set alongside antique advertising memorabilia and loads of in-depth anthropological essays on the nature and origins of North America's pastry heritage. It is loaded with clever tricks to give your homemade Lil' Debbies their signature chew or your DIY Twinkies a fluffy filling just like you remember it, using only real, natural ingredients. — Kat Craddock, test kitchen associate
Olia Hercules' "Kaukasis," her second cookbook after Mamushka, an ode to her Ukrainain upbringing, is an attempt to unite a geographically similar but geopolitically disparate group of nations: Georgia, Armenia, and Azerbaijan. While the region has been defined by its cultural conflicts over the past few decades, Olia's story is a hopeful one, filled with the conviction that the borders that divide us are not as insurmountable as they seem. When most of us think of Eastern Europe, it's regrettable that we usually think first of the dark and difficult times; Olia paints a different picture, one filled with vibrant plums and beetroots, crimson tomatoes and red currants, a saturated spectrum of color set into relief by the grey mountain landscapes.
I consider Olia a friend, and I knew I had to get my hands on this book as soon as it came out. She has a gift for story-telling, and the humble, traditional recipes like Georgian khinkali dumplings and cheese-filled khachapuri are balanced with moments of inspiration straight from the markets of Tbilisi, like a simple salad of summer tomatoes and fresh raspberries, or a savory pastry pie filled with tarragon and spring onions. There is an entire chapter dedicated to the nourishing breakfasts and life-giving broths meant to revitalize you after a night of drinking at a Georgian feast. The first dish I plan to make is the dyushbara, petite Azeri dumplings stuffed with lamb and pork and served in a chicken broth scattered with a handful of assorted herbs. I'm certain it won't be my last. — Alex Testere, associate editor
It's been years since I've tasted Kris Yenbamroong's hor mok—a Thai fish custard that's like a cross between gefilte fish and a tamal, but ethereal and elegant and rippling with herbs and heat—and I still can't stop thinking about it. I've never even been to LA, but I still consider Yenbamroong one of the most important chefs of his generation. To me he represents the best of this country: bridging his Thai heritage with his American identity, drawing influences from everywhere for a wildly creative project that's uniquely his own. He can cook, of course, but he's also a chef of color who's changing the way journalists and eaters talk about food. It's Thai but it's also not Thai and it's LA but it's also hyper-specifically Kris. It's American cooking, with everything that connotes.
And boy does his book with co-author Garrett Snyder live up to my expectations. The recipes pull no punches and take no shortcuts, but what really gets me excited is the generous space allotted for headnotes that bring you into Yenbamroong's thought process, which is an elaborate interpolation of cooking styles and personal history and behind-the-line discovery. And beyond the headnotes, there's loads of standalone essays on blood soup and Bangkok malls and the marvelous hangover-healing properties of fried rice that deserve publication in a collection all their own. —Max Falkowitz, executive digital editor
There's a razor sharp precision that's defined Kristen Kish's cooking since her days competing on, and winning, Top Chef season 10. In her entirely personal debut cookbook, the chef details how an early affinity for cooking—she had a particular love of knives at age 5—would make its way back into her life during her darkest hour, giving her purpose, control, and renewed confidence in chaos.
And confidence you'll need if you want to tackle the not-for-the-faint-of-heart recipes in Kish's canon—I've got my heart set on a classically comforting braised beef cheeks and her take on an egg-yolk–filled raviolo that, when cut, oozes Délice de Bourgogne cream cheese into a surrounding savory broth for a singular, silky sauce. Not an emulsification expert just yet? Thankfully, the chef and her co-writer Meredith Erickson lead the book with a glossary of essential techniques—everything from properly reducing sauces to making confit—that she says she teaches to new cooks in her kitchen. The book centers heavily on these techniques, which admittedly, may require some independent research (and in my case, a few missteps) to master.
Shot entirely from overhead, Kristen Kish Cooking: Recipes and Techniques a beautiful, easy-to-read text that can serve both as a Bible for Kish super-fans (guilty as charged) and an aspirational manual of recipes for more advanced home cooks. — Dan Q. Dao, deputy digital editor
Chef Jeremy Pang's new cookbook is an incredibly thorough exploration of what he calls the "epitome of Chinese comfort food: the Hong Kong diner." Pang notes that these are the places where the food culture is unaffected by trends, and you can find the staples of Chinese food that have endured decade after decade. If you're able to go to Hong Kong, he gives tips for how to eat like a local, but if you prefer to replicate it at home, there are tons of recipes, tips, and tricks to bring the Hong Kong diner experience into your own kitchen. When I get some time, I'm planning to try out the claypot rice and (fingers crossed) master at least one bao technique. — Katie Whittaker, associate digital editor
I'm standing on a noisy street of Jerusalem, just outside the Old Town, the smells of fresh bread, and spices wafting by from one direction, roasted chicken from another, or maybe it's a lamb skewer? Drippings of sugar syrup on my shirt remind me of the sweet filo cheese pie I had with the cardamom coffee earlier, but I'm getting hungry again.
It's all in my head, though. I'm sitting by my kitchen table in the Bronx, but yes, getting hungry as I thumb the pages of The Palestinian Table. It's been over ten years since I've last stood on that street where first-time author Reem Kassis' cookbook is taking me. It's an ode to her culinary heritage and family, covering the cornerstones of home cooking, street food, and celebrations—from rice dishes and lamb to yoghurt sauces, kubbehs, pies and salads. But it also spotlights less familiar recipes that I'm keen to try like fish with tahini and onion sauce with pine nuts, fried baba ghanouj, and a toasted bread pudding with cream and pistachios.
Each of the recipes fit on one page, and you don't need to have a Palestinian grandma to pull them off. One of my favorite parts? A guide to making the essential flatbread without a clay oven. Hint: All you need is pebbles in a tray, in a hot oven. — Pauliina Siniauer, digital editorial intern
Journalist Robyn Eckhardt and her travel photographer husband David Hagerman (both SAVEUR contributors) aim to prove that there's more to Turkish cuisine than baklava and kebabs. In this extensively researched text, the globe-trotting duo present a veritable tome of recipes—some of which have never been printed in English—for dishes like pumpkin-flavored meatballs, fava and bulgar-stuffed grape leaves, and köfte meatballs.
True to their storytelling backgrounds, however, Eckhardt and Hagerman don't stop with the recipes. They tell the story of life in all regions of Turkey. We don't just see the mouthwatering dishes, or just read about how to stock a Turkish pantry; we engage with the people who make the recipes significant. We meet pasta-makers, goat milkers, farmers and families, everywhere from bustling Istanbul to tiny towns that are hard to spot on a map.
Each page allows us to understand the diversity of Turkish cuisine and travel through different geographic regions without ever leaving the comfort of our own kitchen. I'll be cooking my way through the staples, but one recipe in particular stood out to me: I'm a sucker for cheese and chocolate, but I would have associated that pairing with Turkish cuisine. Naturally, I'll be making the cheese fondue with corn flour and chocolate crescents this weekend. — Madison Roberts, digital editorial intern