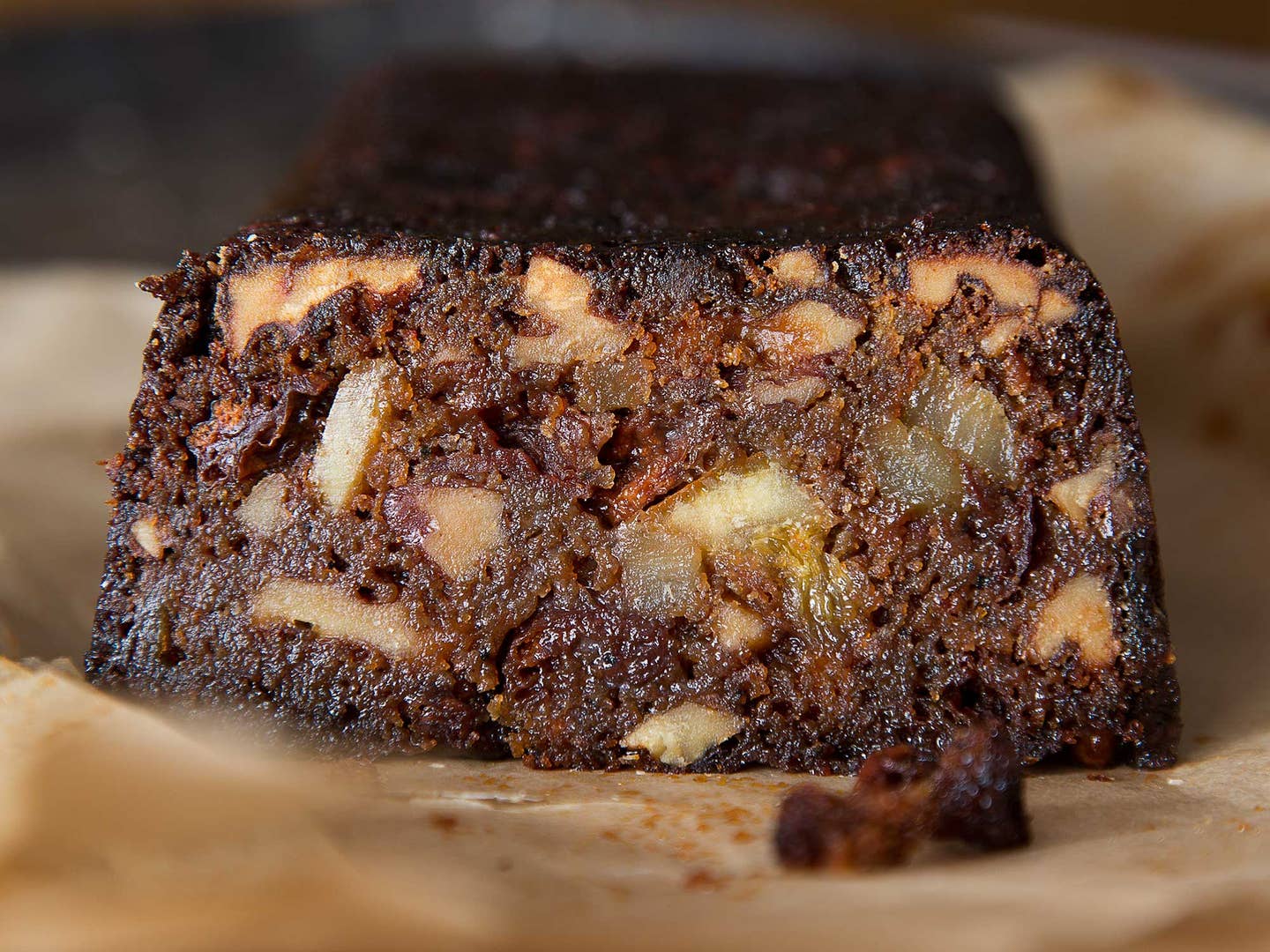 Recipes
The Fruitcake You'll Actually Want to Devour
Chef Ned Baldwin of Houseman restaurant shares the secrets of a fruitcake that only takes days, not weeks
Poor fruitcake, the vilified staple of holiday spreads around the world. Booze-bolstered relatives will boisterously request its presence after Christmas dinner again this year. It'll be pulled from its reserved spot on a lightless shelf and placed as the table's centerpiece. It'll show no sign of wear, emotional or otherwise, from last year. It's there to be ridiculed. Again.
This may be your fruitcake. But it doesn't have to be. Because here is a fruitcake so good that the only laughing stock will be the fools who didn't indulge. A fruitcake three days, not three years, old, a generous gift of crackly edges, crunchy nuts and chewy, sticky, candied fruits, all of which soaked in enough rum to get grandma talking about FDR's run as president.
Cue Ned Baldwin. "I was unlike every other kid with fruitcakes," Baldwin says. "I actually loved the flavor, the bright colors and the weird textures." Baldwin is the chef-owner of Houseman restaurant in Manhattan. "I like making stuff that people think is terrible," he says, "and turns out to be delicious." Cue the Houseman fruitcake, which may be the greatest fruit cake you'll ever eat.
Where other fruitcakes are dry, this one is gooey and moist. Its edges have crisp substance, its core a deep rum backbone full of dark fruit (no nuclear maraschino cherries here), toasted nuts, and warm spice. It eats more like a brownie than the dry old reliable ones we know and loathe.
Baldwin started making fruitcakes during the holidays three years ago. It was his wife Jordana's idea. They were on the North Fork of Long Island, in Orient. It was early December, and it was the morning after the last night of service at Baldwin's then-pop-up restaurant Houseman at Latham's. Baldwin was hungover. "Jord asked if we should send a holiday email to our growing mailing list," he remembers. "We wanted to thank everyone for making the pop-up experience so wonderful," Jordana says. "So we did," Baldwin remembers, "and I carelessly offered to sell them fruitcake."
"It's almost all stuff," says Baldwin. "It's not just flour and sugar like a lot of cakes. Really," he says, "the batter's function is to hold the stuff together." That stuff is candied oranges and ginger, rum-soaked cherries, and oven-roasted walnuts. Once baked, Houseman's fruitcake weighs close to two pounds, which for us well justifies its $42 price. You can, and should, order it here. Baldwin will ship to you, but if you pick it up at the restaurant there will be complimentary warm, spiked, spiced cider waiting for you.
The earliest fruitcake rendition was made with "beautiful Italian preserves from Dean & Deluca," Baldwin says. But it wasn't a sustainable approach. "Now we candy the oranges and ginger ourselves," he says. "We toast the walnuts and drown dried cherries in Gosling's rum." Those cherries are removed from the rum after they've soaked up as much as they can. Sugar is added to the rum and it's brought to a boil. That syrup gets painted onto all sides of the cakes once it's out of the oven. So that, and eighty grams of molasses per cake, gives each one heft, sweetness, and the most enchanting of deep brown hues.
The sweet side of the fruitcake is balanced with savory spices like nutmeg, black pepper, cinnamon, and allspice. "It owes as much to a Caribbean spice cake as it does an American or European fruitcake," Baldwin says.
But perhaps the best part is how little time it takes. "There's this myth of fruitcake sitting on the shelf in the closet for years. It can happen," Baldwin says, "but I don't subscribe to that." This fruitcake doesn't need to age—"I think it's most delicious after a couple of days"—so you don't have to buy—or make—yours now for next year.
Yes, make. If you're interested in making this fruitcake on your own, follow Houseman's recipe below. Just appreciate the freshness. Make it for eating later in the week, and make it to be eaten as a cherished confection, not a punching bag for your sauced relatives. "I'm so proud of this fruitcake," Baldwin admits. "It makes me feel for the holidays in a deep way, and also always makes me laugh a little."