A Utensil Holder for All Kitchens
We've got a crock for any aesthetic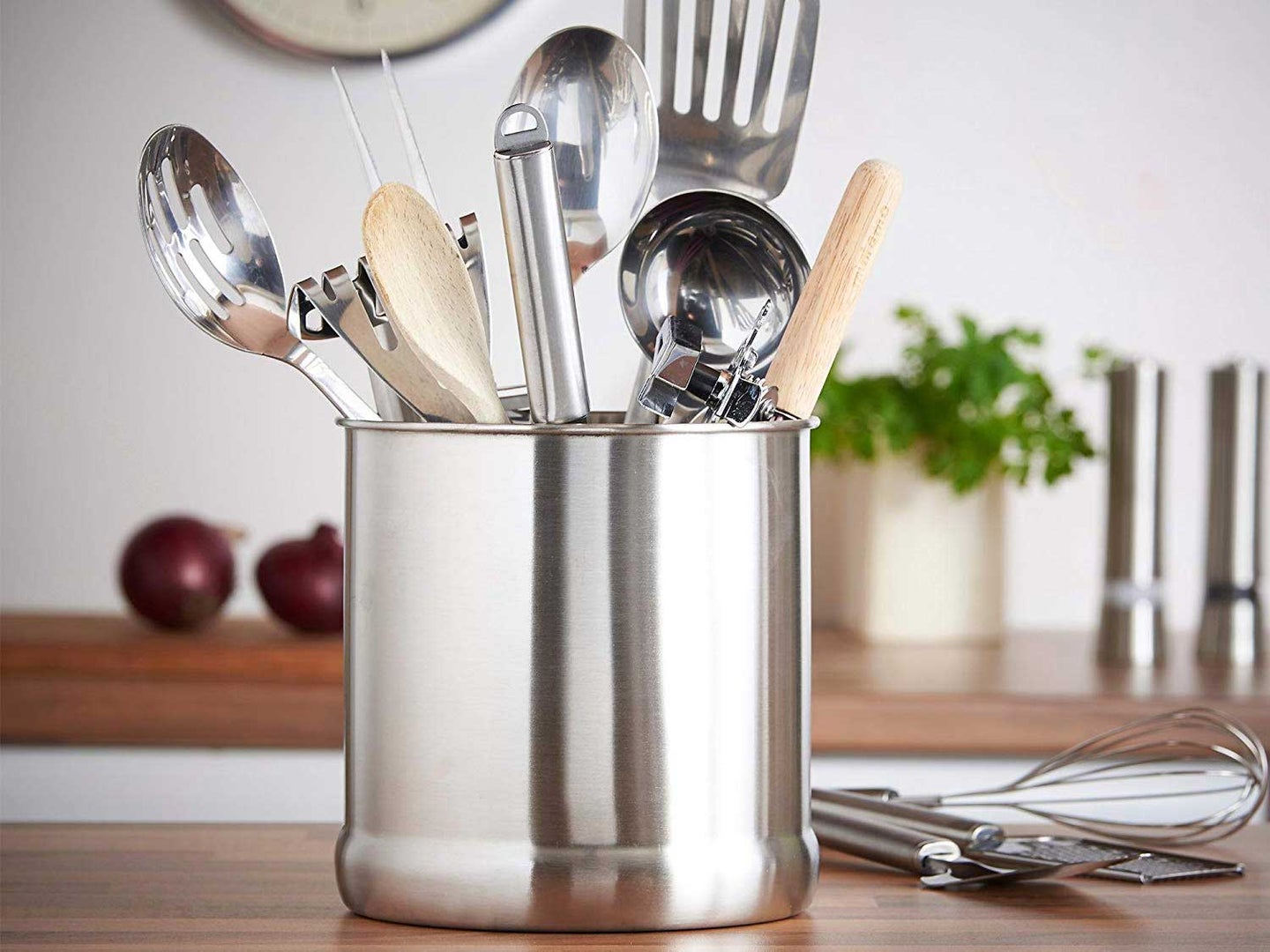 Ample storage is a luxury in any kitchen, but no matter how much space you might have, every home cook seems to have that one frustrating drawer overflowing with cooking tools they can never quite manage to close. I find magnet strips ideal for discreetly and safely storing knives, and hanging units for larger utensils, but when space is really limited, look to the counter crock. Here's a list of our favorites.
This modern geometric ceramic crock is as versatile as it is eye-catching. Its original purpose might be to house your slotted spoon collection, but it can do so much more than that. Doubling as a wine cooler, vase for flowers, or herb planter, this glossy vessel makes a creative addition to any home.
Add a colorful touch to your home with this mango wood utensil holder. With its bright-blue shibori pattern, it's both a useful kitchen accessory and a piece of decorative art. The tapered shape and rubber base help stabilize the container, so you don't have to worry about it tipping over when it's packed to full capacity.
For a sophisticated look, marble is always a classic choice. Available in three neutral tones—white, champagne, and black—this crock is on the heavier side and feels luxurious. The smooth stone is nonporous, so it won't absorb odors and is very easy to wipe down should grease splatters occur.
Get the ambiance of a restaurant kitchen in your home with this traditional stainless-steel canister. This crock boasts some really great features, but we really love its rotating ability. Spinning it helps you locate the tool you need without pulling everything out if you've got it packed to the brim. It's a bit larger than your average crock and has three compartments. Bonus: it's also dishwasher-safe to boot.
Highlight your countertop with this hammered copper crock. The interior is made of durable stainless steel, and the exterior is coated with an outer protective lacquer to prevent wear and tear of its shimmery surface.
This versatile red crock has a weighted base to avoid tipping and a handy removable divider that instantly transforms one utensil area into three organized compartments. Constructed of sturdy plastic, this container is dishwasher-safe and comes with a gripped insert to gain further control of your tools.
For country-farmhouse or old-world kitchens, this light gray crock will bring the charm to your countertop. Elegantly embossed, it's perfect for showcasing your prettiest serveware, but it's also refrigerator-, dishwasher-, and microwave- safe—making it a truly multifunctional asset suitable anywhere in your home.
Go completely natural and store your utensils in this environmentally friendly bamboo crock. The simple lattice design means it's sure to look attractive on any countertop. No need for oiling or staining, this holder requires little maintenance and is easily washable with soap and warm water.