Techniques
The Best Knife Storage Solutions
Keep your sharpest kitchen tools in order with these sleek knife blocks and strips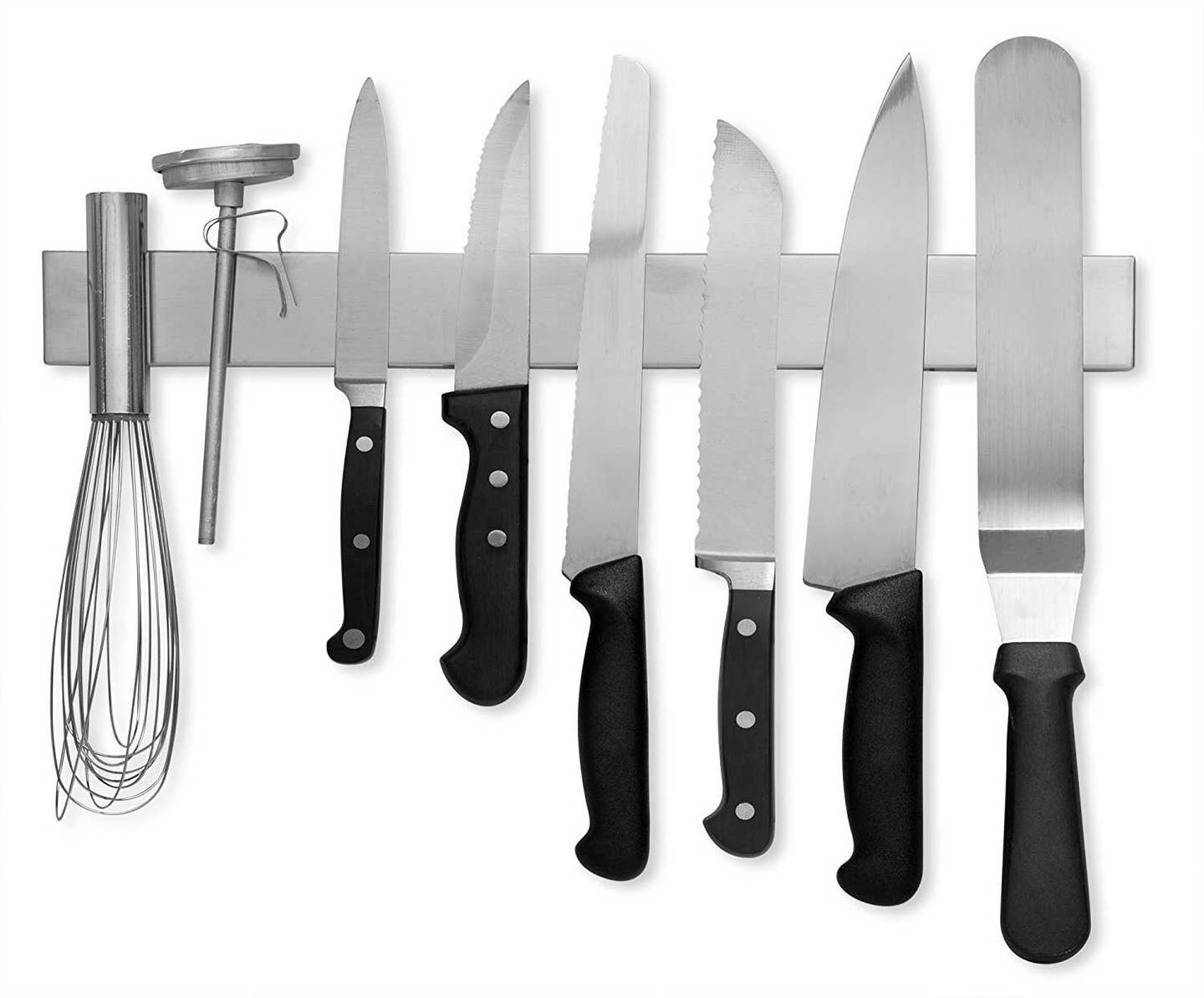 While everyone knows quality knives are an indispensable part of any chef or home cook's kitchen arsenal, there's not nearly enough importance placed on taking care of these tools. Proper storage is essential, as it helps the blades stay as sharp and effective as when they were first purchased. The design and placement of your knife storage can also affect the whole flow of your kitchen, not to mention how you cook. Here, four stylish yet functional knife storage options that cater to different kitchen needs.
Modern Innovations Stainless-Steel Magnetic Knife Bar
This simple, multi-purpose magnetic strip can be used to hang any metal tools, but is especially handy in the kitchen. Unlike a bulky knife block, it takes up zero counter space and can hold not just your knives, but whisks, kitchen shears, and more. It can be mounted just above your kitchen counter for easy access, and there's no need to worry about knives falling, as the magnetic surface is strong enough to hold even your largest cleaver. Just make sure that the strip itself is securely installed on whatever surface it's affixed to.
Universal Knife Block by KITCHENDAO
KITCHENDAO's knife block teams a transparent barrel with parallel slots that prevent the blades from making contact and damaging one another's edges. The see-through design also saves you the trouble of pulling out the wrong knife by mistake. It can hold 8 to 12 knives of any shape (up to 8.9 inches in length and 2.5 millimeters in thickness).
Coninx Magnetic Knife Holder
If stainless steel doesn't work for the aesthetic in your kitchen, try this bamboo knife holder instead. Not only is the exterior sustainable and easy to clean, but it also contains a powerful magnet inside that makes storing your knives a breeze. There are also anti-skid felt pads on the bottom, to prevent the knife block from slipping off the kitchen counter.
Noble Home & Chef In-Drawer Bamboo Knife Block
If you prefer to keep your knives out of sight and reach, this in-drawer bamboo knife block by Noble Home & Chef gets the job done beautifully. Available in two sizes, it can fit either 12 or 16 knives. The secure slots carved into the block ensure that the knives don't slide or point up, even if you accidentally slam your kitchen drawer.