Shopping & Reviews
Break Your Plastic Habit and Switch to These Reusable Produce Bags
Keep the disposables out of the landfill with these reusable options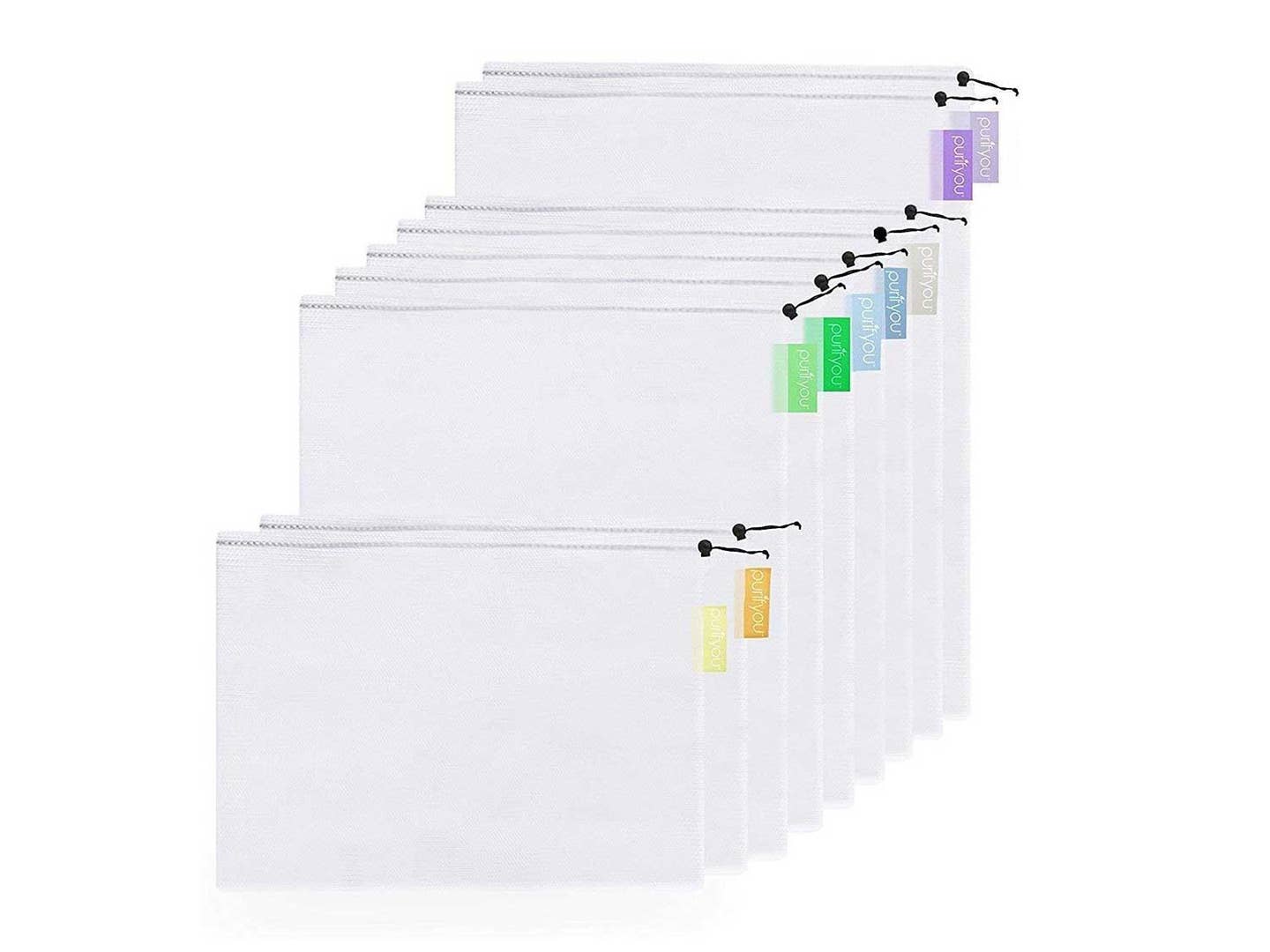 Looking for a way to load up your grocery haul that doesn't involve a handful of plastic bags? We've got your answer. Now that you're using your own trendy coffee mug and switching out your plastic straws, let's ditch the plastic produce bag and haul your fruit and vegetable bounty home in these reusable options.
Storing your produce in these reusable materials will not only help save the planet, but it can also save you money by extending the amount of time your food stays fresh. Fruits give off an ethylene gas that acts like a ripening hormone. Surrounding your food in plastic keeps these gases locked in and can speed up spoilage. Your veggies need to breathe to stay fresh, so storing them in these mesh bags will extend their lifetime.
Purifyou Reusable Mesh Produce Bags
These mesh produce bags are transparent, light-weight, strong (they can hold up to eleven pounds) and crafted in your choice of polyester or raw organic cotton. They come with vibrant tare tags (aka the weight of an empty bag) so you or the cashier can subtract the total when weighing the produce. This set comes with three different sizes, ranging from 12x8 inches to 12x17 inches, so you can fit bigger items (for when you're loading up with three heads of kale).
Long gone are the days of unpacking produce from their individual plastic bags when you return home. Placing these breathable produce bags straight into the fridge can actually extend the life of your produce.
Headed to the farmers market? This bundle covers your every eco-friendly shopping need with totes, mesh over the shoulder satchels, and produce bags in a range of materials and sizes. The mesh may look fragile, but don't let this deceive you, it will hold as much heavy butternut squash as you can fit inside! When shopping the bulk bins, ensure you have the cotton muslin bags in your trunk because their fabric has no holes, so they can hold smaller foods like grains, nuts, seeds, or even flour and sugar.
This set of five mesh produce bags is made for strength and durability (woven to be tear-proof) preventing literal tons of plastic bags from ending up in the ocean. They are product tested to be free of scary chemicals such as BPA, mercury, and lead; the safe way to ditch the disposable plastics. Shopping at the local farmers market means your veggies may still have some dirt on them, but not to worry if your satchels get dirty, as they're machine washable. These bags are workhorses that can even be used strain homemade nut milk or yogurt.
Not only does Vejibag provide an eco-friendly alternative to plastic, but it also stores and preserves your vegetables in the refrigerator. Moisture-loving vegetables such as greens, celery, and carrots keep best in a cool, damp environment. The French terry knit organic cotton was designed to mimic the decades-old habit wrapping veggies in moistened tea towels or burlap to keep them fresh, crisp and delicious for longer. To use them, you wet the bag, wring it so it is just damp, then place your produce (washed or not) inside; the key to success is sprinkling them with water every few days to ensure they stay damp. Their largest size can hold an immense amount of beets, countless bunches of carrots, or mix and match your veggies in the bag for a week of mighty salads.