Waste Not, Stick Not: The Best Silicone Baking Mats Are Reusable Kitchen Game-Changers
Easy clean-up and reliable non-stick results are guaranteed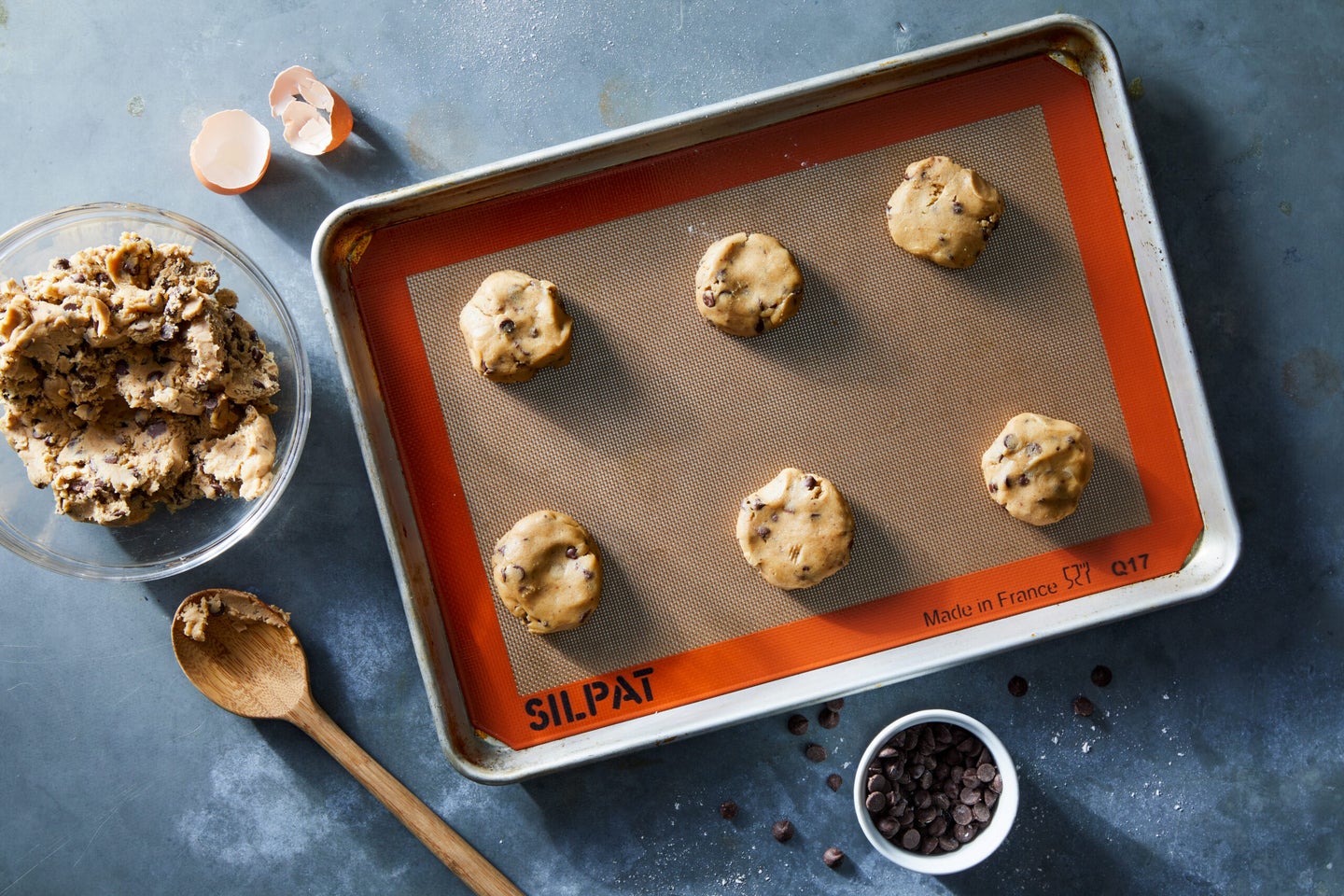 We've come a long way from clumsily greasing baking sheets with remnants of butter wrappers or misting them with nonstick spray. While many bakers and cooks agree that parchment paper is an essential kitchen go-to, it goes in the trash after one or two uses. Enter the multi-use, multi-tasking game changer: the silicone baking mat. Flexible, nonstick, and reusable, silicone baking mats are fashioned out of fiberglass and food-grade silicone, a non-toxic polymer mostly made from silica (sand). According to the FDA, silicone doesn't react with other materials or release hazardous compounds when heated, thus making it non-toxic and food safe. These close-to-magic mats prevent dough from sticking while optimizing even heat distribution and easy clean-up. The best silicone baking mat also handily stores away rolled up or lying flat.
Although many companies produce baking mats, they are most commonly referred to by one brand name: Silpats.  Experienced French baker and engineer Guy Demarle is credited with the invention of this baking mat in 1965 as a way to better prepare and bake baguettes. But you needn't be turning out baguettes to appreciate the benefits of Demarle's invention. 
 "I've been using the same Silpat mats for 20 years at least," says Gail Dosik, formerly of One Tough Cookie, Inc. "If you treat them right, they'll last a lifetime."
While our hearts (and our kitchen pantries) will always reserve a soft spot for parchment paper, the best silicone baking mats can dramatically enhance baking tasks. Any accessory that promotes an eco-friendly kitchen with an eye towards efficiency and uncomplicated clean-up is a kitchen tool well worth adding to your arsenal.
Our Top Picks
Dimensions: 11 5/8″ x 16.5″ (made for a 13″ x 18″ pan | BPA-Free: Yes  | Maximum Temperature: 480 degrees F  | Dishwasher-Safe: Not recommended
Why we chose it: The original nonstick baking liner has earned its place at the top of the baking mat pedestal. This high-quality silicone liner is freezer, microwave, and oven safe. It's capable of handling sweet and savory bakes with ease. 
The gold standard of silicone baking mats remains many bakers' go-to for a reason. Made of woven fiberglass and food-grade silicone, this dependable, well-crafted mat is ideal for sticky confections, yeast-driven bread doughs, buttery pie shells, delicate meringues, macarons, and dozens (and dozens) of cookies. To claim it is non-stick is an understatement; it releases baked goods like a dream and requires minimal clean-up. SIlpat is also a perfect surface for reheating or roasting vegetables, baking pizzas, crisping fish or chicken, making it an ideal companion for sheet pan suppers. We love the quality, ease of storage, and longevity of the Silpat brand. Investing in a Silpat will not only pay for itself, but will dramatically diminish your need for single-use parchment paper. This sturdy mat is best washed by hand, which can be a little challenging to maneuver in the sink, but taking good care of your investment will increase the mat's lifespan. 
Pros
---
Mats are available in more than a dozen sizes
Withstands temperatures from -40 degrees F to 480 degrees F
Well respected French brand with longevity
Cons
---
Expensive investment
Unable to cut to size
Not recommended for dishwasher, a little unwieldy to wash in the sink
Dimensions: Approximately 11.6″ x 16.5″ (LxW) | BPA-Free: Yes  | Maximum Temperature: 480 degrees F | Dishwasher-Safe: Yes
Why we chose it: A pair of comfortably priced silicone mats with easy-to-grab blunt edged corners that embrace high heat and clean up easily. 
Some lower-priced silicone baking mats are a disappointment, but not this one. Amazon's set of two comfortably priced half-sheet-sized baking mats allow for multiple bakes without waiting impatiently for one sheet to cool. The mats are oven safe up to 480 degrees Fahrenheit and are designed with easy-to-grab corners to slide a mat of roasted vegetables from pan to plate with little fuss. Surprisingly enough, the mats aren't flimsy, measuring 1/16 of an inch in thickness. Made by Amazon's private label brand, the manufacturer claims these are top-rack dishwasher safe, but our testers suggest a quick wash in the sink to lengthen their lifespan.
Pros
---
Easy-to-grab corners
Oven safe up to 480 degrees F
Top-rack dishwasher safe
Cons
---
Dimensions don't fit all baking sheets
Retains some odors
Sticky residue can be stubborn to clean
Dimensions: 16" x 20"  | BPA-Free: Yes | Maximum Temperature: 450 degrees F | Dishwasher-Safe: Yes 
Why we chose it: This mat serves as a fine assistant in the kitchen for anyone who prefers a built-in measurement guide when rolling out or shaping dough. 
This mat comes with built-in measurement markings, a nonstick finish, and an underside that capably holds onto countertops, making it convenient to roll pie dough or sticky fondant into specific sizes. We also appreciate its 0.6mm thickness, which is nearly double that of many other similar silicone mats. Take note: The small mat indicates markings that measure 13-inches wide by 21-inches long. If a larger surface is preferred, order one size up. It's also easy to clean and rolls up handily for storage.
Pros
---
Measurements in inches and centimeters
Versatile. Good for many types of baked goods, fondant, and candies
Hugs the countertop – doesn't slip
Cons
---
Available in two sizes; make sure to order per your needs
Oven suitable but primarily used for countertop rolling, candy making
Not suitable for cutting out cookies
Dimensions: Half Sheets x 2 (16.5″ x 11.5"), and Quarter Sheet x 1 (11.5″ x 8.5") BPA-Free: Yes | Maximum Temperature: 400 degrees F | Dishwasher-Safe: No
Why we chose it: Edged in brightly colored bands, these high-quality mats make designating specific mats for specific purposes a cinch. Made of professional food grade silicone with a fiberglass core, they distribute heat evenly. 
Kitzini Professional Grade Silicone Baking Mats have a loyal fan base. In a home kitchen, we found the mats best suited for making sticky candies or for even heat distribution with leisurely, low-heat bakes such as granola. Their standout feature is their brightly colored bands which make them ideal for designating specific mats for specific uses. They're less durable and heat resistant than our top pick, but still make a fine kitchen addition without breaking the bank.
Pros
---
Comfortably priced
Color coded
Great for sticky items such as candies
Cons
---
Oven safe up to 400 degrees F
Wash by hand
Some users describe the mats as having a slightly greasy feel
Dimensions: 11-5/8″ x 16-1/2″ | BPA-Free: Yes | Maximum Temperature: 500 degrees F | Dishwasher-Safe: Not recommended
Why we chose it: Premium quality is evident in this mat which is reusable, durable, and oven safe up to 460 degrees Fahrenheit. This bestseller releases cookies with ease and cleans up with little fuss.
There's no doubt that Silpat brand silicone baking sheets reign supreme in professional and home kitchens. That said, there is some division amongst pros when debating the use of Silpats over parchment paper when baking cookies. Some bakers totally embrace the Silpat for its slick, easy-release surface and even heat distribution. Others claim the surface causes certain cookies to spread causing a denser end result. (In testing, our classic peanut butter cookies did spread a bit more.) However, for those who muscle through trays and trays of holiday cookies or simply bake cookies regularly, the Silpat helps keep your cookies neatly in a row and your clean-up minimal. 
Pros
---
Non-stick surface releases cookies easily
Diagonally cut corners make the mat easy to maneuver
High quality and extremely durable
Cons
---
Encourages spread
May crisp certain cookies more than desired
The surface is less breathable than parchment
Dimensions: Half Sheets x 2 (16.5″ x 11.6"), and Quarter Sheet x 1 (11.6″ x 8.3") BPA-Free: Yes | Maximum Temperature: 480 degrees F | Dishwasher-Safe: Yes
Why We Chose It: This set of three receives high marks from macaron makers and bakers looking for a compact set with easy to read markings. 
There's a reason these feel thicker than some other mats; they are double woven and feature coated fiberglass making these 30-40 percent thicker than standard mats. Easy to clean and to store, bakers applaud their clear markings for piping macarons, cream puffs, or meringues. For those who prefer smaller bakes and sheet pan meals for one, the quarter-sheet sized mat is a handy addition.
Pros
---
Easy maintenance
Double weaving makes them durable
Clear markings
Cons
---
Cookies may spread slightly
Best suited to macarons
Sold as a set – somewhat restrictive
Dimensions: 16.5" L x 11.5" W | BPA-Free: Yes | Maximum Temperature: 550 degrees F | Dishwasher-Safe: Not recommended
Why we chose  it: This flexible baking mat with convenient grid markings cleans up effortlessly in the top rack of the dishwasher. 
There are many things to like about the Five Two Silicone Baking Mat. It's sturdy yet flexible, grips a countertop easily, and features  a grid pattern to help anyone challenged by cookie spatial relations). But the ease in clean-up alone makes this one worthy of a place in your kitchen. Take a moment to roll it up (loosely) and secure it on the top rack of the dishwasher. Let the machine do the lathering and rinsing. Remove the cleaned mat from the machine, dry it, roll it up, and tuck it inside a drawer for safe-keeping.
How We Chose These Products
Our testers unanimously appreciated the eco-friendly, waste-free, non-stick capabilities of all of our picks. Mats were tested in two separate home ovens by professional bakers making strictly-from-scratch granola, classic peanut butter cookies, and oven roasted sweet potatoes. In all cases, clean-up was far easier than battling with a greasy, burnt-on baking sheet. We did note that cookies tended to spread out more than when baked on parchment paper, as the slick surface of a silicone baking mat encourages spread.
The best picks were determined based on price, ease in clean-up, durability, reviews from passionate bakers (pros and home cooks), and availability. (A combination of supply chain issues coupled with seasonal popularity made certain items timely to track down.) In a perfect kitchen world, sweet and savory silicone baking mats would work independently, sharing an oven but not sharing odors.
Features to Keep in Mind When Shopping for Silicone Baking Mats
Size 
Silicone baking mats must sit on top of a baking vessel, so it is important to make sure you have the appropriate bakeware/sheet pans to pair with your mat. Look for a durable mat that is at least 1/2 to 3/4 millimeters thick and can accommodate the items you bake most frequently. For example, half sheet pans will accommodate approximately a dozen cookies; if you are a serious cookie baker producing large batches, pair each baking pan with a silicone mat measuring 16.5 inches x 11.6 inches.
Heat Tolerance 
Many silicone baking mats claim to be heat safe up to 500 degrees Fahrenheit. However, check your mat(s) before using, as we found wide discrepancies in our research. Most mats will tolerate temperatures as low as -40 degrees Fahrenheit, making them freezer safe as well.  
Cleaning and Maintenance 
Silicone mats should be cleaned promptly after use; the longer it sits without washing, the more apt it is to hold on to odors and stains. In fact, you're setting up an opportunity for residue to "re-bake" onto the mat the next time you use it, making it difficult to remove. Most mats will respond well to hot water and dish detergent applied with a soft cloth or sponge. Always use unscented dish soap to clean silicone mats as they tend to retain fragrance. Cascade's Free and Clear is a good choice because it is formulated without bleach, perfume, and dyes.
Stubborn stains require a little more TLC. Sprinkle about 1/4-inch layer of baking soda on the areas that are stained, rub with a wet, non abrasive cloth or sponge and let the paste dry completely. Wash and rinse again. For lingering odors, soak briefly in a solution of baking soda and water; let it set for 10 minutes before rinsing and wiping clean. 
Truly stubborn odors may respond well to serious intervention: either a soak in lemon juice and very hot water, or in extreme cases, placing the mat on a wire rack in a pre-heated 450 degree Fahrenheit oven for 20 minutes, then using kitchen tongs to transfer to the sink for a gentle scrub using a non-abrasive sponge and grease-fighting dish soap or a non-abrasive cleanser such as Bar Keepers Friend. 
Being proactive is kinder to the mat than cleaning up after the fact. The best way to avoid crossover (savory odors contaminating sweet bakes), when budget allows, is to designate specific baking mats for specific uses. Color-coded silicone mats make this easy to do. And just because a mat is dishwasher safe doesn't mean you should just toss it in willy-nilly. Gently position the silicone mat over two racks, creating a "U" shape, or roll it loosely and tuck it into a secure spot on the top rack. 
Ask the Experts
Q: Can a silicone baking mat start melting? 
Silicone will not melt until exposed to 500 degrees Fahrenheit or higher. To play it safe and avoid damaging the baking mat, your bakes, and your oven, silicone mats should not be used at temperatures above 475 degrees Fahrenheit, unless otherwise noted (e.g. Five Two's platinum-grade silicone baking mat that can be heated to 550 degrees Fahrenheit). Silicone mats should not be used under the broiler, directly on oven racks, and unless specified, in toaster ovens. Mats vary on their maximum heat tolerance; always follow manufacturer's guidelines before use. 
Q: Do silicone baking mats contain toxic substances? 
Always use high quality, food-grade silicone baking mats purchased from a reputable source. These should be made from BPA-free silicone which is non-toxic and entirely safe to use for cooking and baking. Silicone is made primarily from silica, which won't create any toxic or dangerous fumes, even when inadvertently burned or damaged. While some baking mats are made solely of silicone, some high-quality models are made with the addition of fiberglass. The flexible woven fiberglass core coupled with a transparent silicone covering creates a durable and safe baking mat.
Q: How long can a silicone baking mat last?
With proper care, a high quality silicone baking mat can be used for a minimum of a year, generally for several years. Top of the line mats that are treated carefully have been known to last more than a decade. Avoid cutting directly on the mat, which can destroy the surface. Be sure to clean a mat before storing it, then either lay it flat or roll it up. Never store them in close proximity to sharp objects which can pierce and damage the mat.
Our Take
Silicone baking mats offer a nonstick surface that provides even heat distribution, cleans up handily, and can be used over and over again, thus making them a worthy addition to any kitchen. The gold standard of silicone baking mats is the Silpat. Always look for BPA-free materials when purchasing a silicone baking mat and follow manufacturer's recommendations to extend the longevity of your purchase. 
Every product is independently selected and vetted by editors. Things you buy through our links may earn us a commission.