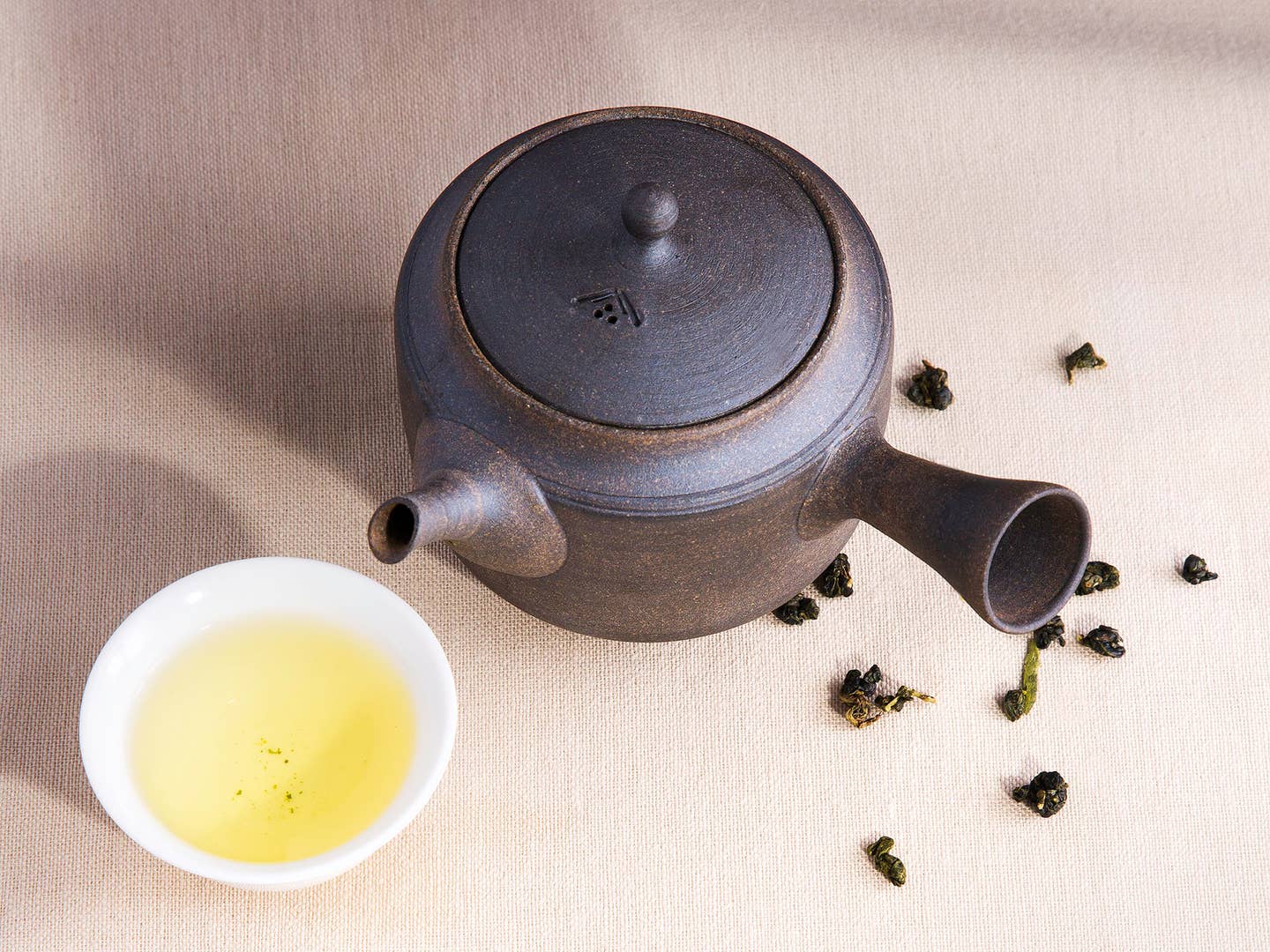 Drinks
Why Tea Lovers Go Crazy for Spring Harvests, the First Fresh Tea of the Year
Tea is a perennial pleasure, but some of the most prized stuff comes once a year. Now's the time tea lovers snap up the season's earliest harvests for the year's boldest brews
When the email came from my dealer, I moved fast. "The first tea of the year is on its way," the message read. It was an implicit warning that we hopeless tea addicts know so well: Get this early taste of spring before it's gone.
As the weather turns warmer from March through May, tea bushes awaken from their winter slumber and shoot up new buds, yielding thick, luscious brews with powerful flavors—jolts of freshness that chase away the creaky ghosts of the cold.
For tea obsessives, the spring months are a time of anticipation and, once we get our hands on the new stuff, delight. I immediately placed an order, and when my shipment of shincha arrived from Japan, I wasted no time. Opening the canister, I stuck my nose in and took a deep whiff. I'm pretty sure tea isn't actually made from snow-dusted pine needles glazed with sweet melon sap, but the aroma from that container almost convinced me otherwise. The brew tasted as potent as it smelled, and its fresh flavor lingered in my mouth long after I'd drained the last drop from my teapot.
"The bushes are putting everything into this early growth," says Sebastian Beckwith, owner of In Pursuit of Tea, a 17-year-old company that sells teas from all over Asia to some of New York's best restaurants, including Eleven Madison Park and Daniel. "It's higher in certain flavor compounds and can make for better tea than if you wait two months until the rain comes." Once summer heat hits, the bushes shoot up faster, and their flavors are less concentrated; in the relative coolness of early spring, yields are lower and the tea has a bolder character.
Growers take special care of their first harvests, picking, rolling, and firing the leaves with particular precision. Considering the limited supply and high demand, this can be some of the most valuable tea they'll make all year. In China and Japan, where tea isn't just a commodity but also a cultural icon, a pound of select early spring harvests can run you hundreds, even thousands, of dollars.
"When it's so early in the season, everybody's waiting around for the first tea to come in," Beckwith points out. "So it's like gold, and if growers treat it carefully, they can use the sales to help subsidize their production for the rest of the year."
Beckwith is also the first to say that in the world of fine tea, nothing's straightforward, and few generalizations hold up across the board. Not every tea tastes best in the spring; winter, fall, and even some summer harvests, carefully processed, can be just as good, to the point where even trained palates can't necessarily spot the difference. Some experts argue that roasted teas, such as traditional tieguanyin, work better with the mellower character of winter harvests, and fermented styles, such as pu-erh and liu bao, may not reach their peak until after years or even decades of aging.
As such, the spring tea rush makes the most sense for crisp, fragrant varieties, like green Japanese sencha (the first harvest of which is called shincha) and Chinese longjing, as well as Taiwan's airy high-mountain oolongs and India's first-flush Darjeelings.
"Spring teas let you know what they're about right away," says Theresa Wong, owner of New York's T Shop and a folk hero among the nerdy tea-drinking set who chat on tea-themed message boards and share photos of their conquests on Instagram. And there's certainly nothing subtle about the tropical fruit accents and fresh-from-the-mountaintop qualities of her spring harvest shan lin xi oolong, which exemplifies the real reason I love the season's teas: They embody the freshness of spring, the excitement and uncertainty about what's to come. There's plenty of time for old comforts when the weather turns cold again. Now it's time to embrace the new.
Buying Guide: Where to Get the Best of Spring
1. Longjing: China's most famous green tea is full of fresh spring vegetable flavors and a kick of chestnut. Early spring pluckings can reach astronomical prices in Asia, but affordable ones do make it to the Western market. For Chinese green tea, including longjing: Song Tea.
2. Shincha: This first plucking of sencha, a common style of Japanese green tea, is sold and drunk in the first few weeks of the harvest. Brew it right away for the full rush of grassy, fruity, and delicately savory flavors. For Japanese green tea, including shincha: Ippodo.
3. High-Mountain Oolongs: Taiwan grows excellent partially oxidized teas at high elevations for a potent brew that's thick and buttery but as fresh as a breath of mountain air. For Taiwanese high-mountain oolongs: T Shop.
4. First-Flush Darjeeling: The early harvests of this distinctive Indian black tea are full of nuance, with citrus and floral accents and a spark of astringency. For Darjeeling and other Indian black teas: In Pursuit of Tea.