How to Cook With Leftover Tea Leaves
Have your brew and eat it too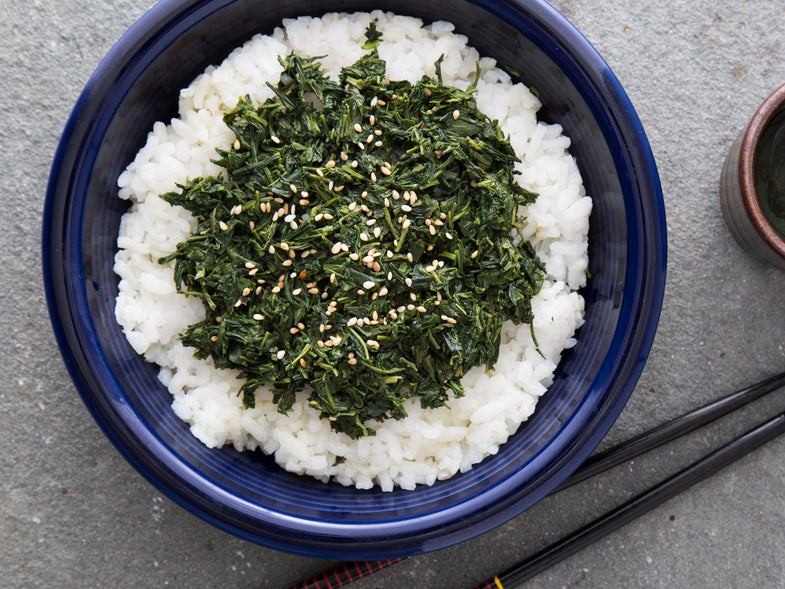 Sure, you've seen plenty of recipes for cooking with matcha. But that's only the tip of the tea-meets-food iceberg. If you're buying up leaves from the early spring harvest, one of the most prized pluckings of the year, don't just drink your tea; eat it too.
In Hangzhou, where Chinese longjing is the crop of choice, cooks make a simple stir fry of baby shrimp and rice wine, then toss in a few tablespoons of green tea (longjing natch) at the end for a touch of fresh, green sweetness. Try steeping your high mountain oolong or Darjeeling leaves in hot dairy to make a delicate tea-flavored custard, perfect for a pie crust or the ice cream churn. Or swap a brew of tea for espresso for a unique spin on the affogato.
You can also eat some tea leaves on their own, and while matcha may be the go-to, I'm especially fond of cooking with Japanese gyokuro (try Ippodo's kanro variety). It's a premium green tea that, like sencha, is steamed during processing to enhance its grassy and savory qualities. But unlike sencha, gyokuro is grown in the shade during the final weeks of harvest, which helps it develop an especially sweet and complex brothy flavor that lingers even after three or four steepings.
Turn your leftover gyokuro leaves into a snack by tossing them with some soy sauce, rice vinegar, and sesame oil. The salad's seaweed-like bite is perfect over rice or for folding into an omelette or scrambled eggs. Matcha, you've met your match.
Read more about one of spring's best teas »
Get the recipe for Japanese Tea Leaf Salad »