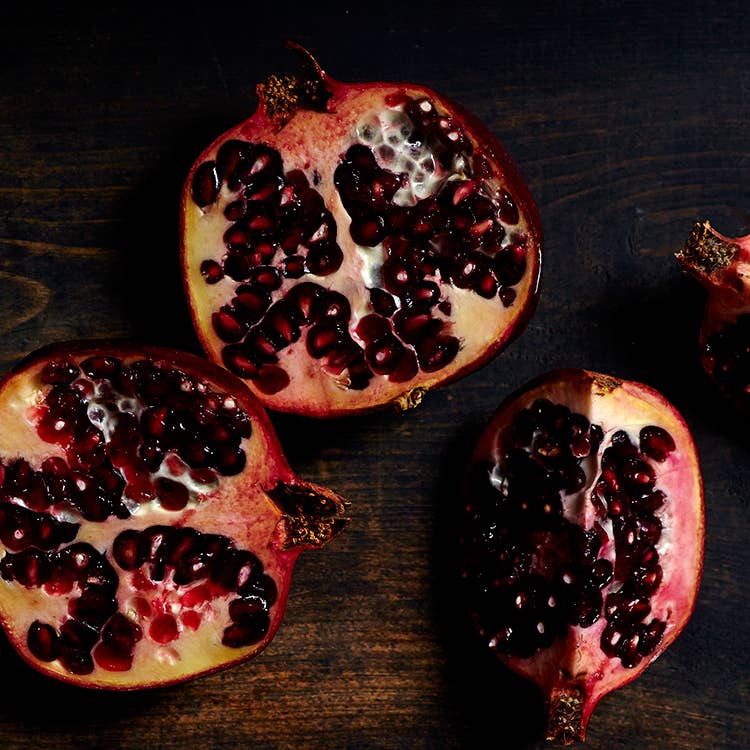 Techniques
Ditch Your Cheap Balsamic for Turkish Pomegranate Molasses
Why we're in love with the sweet and sour hero syrup of Turkish cuisine
On a warm afternoon in late September I sat on a low stool in a courtyard in southeastern Turkey's Hatay province, beating a halved pomegranate with a 12-inch section of narrow plastic pipe. The fruit, which I held cut- side- down in one palm, released its seeds through my splayed fingers into a tub wedged between my ankles. The hollow 'tap, tap, tap' of my whacks formed a chorus with the six women working alongside me.
By the end of that day we (okay, they, mostly) had seeded at least a hundred kilos of pomegranates, the first step to making nar eksisi—Turkish pomegranate molasses—the traditional way. After being processed to mush, the seeds were transferred to a net bag and pressed for juice which, boiled over a wood fire for four hours or so, became a thick purple-black syrup.
Turkey isn't the only country to incorporate pomegranate into its cuisine; the ingredient flavors dishes in Azerbaijan and Georgia, Iran and Iraq, Israel and the Levant. With a subtle sweetness and rounded, fruity tartness pomegranate molasses plays well with earthy grains, fatty meats and cooked vegetables; its honey-like viscosity lends heft to salad dresssings, marinades and sauces. In Turkey, one of the world's largest growers of pomegranates, the fruit concentrate is embraced by home cooks in a swathe of territory that stretches from the inland south east west, to include provinces along the Mediterranean and Aegean coasts. Every name chef in Istanbul has his or her own favorite artisan producer.
In Turkey, where I hunt down specialty ingredients the way some visitors shop for rugs, I've purchased unlabeled bottles of nar eksisi directly from small producers in Hatay, Diyarbakir, and Sanliurfa provinces, as well as in Turkey's southwestern corner where the Mediterranean meets the Aegean and on the Cesme peninsula, which juts westward to towards Chios.
Each of the concentrates in my pantry lie at a different place along the sweet-to-sour continuum, a reflection of the variety of pomegranate used. (Some are more viscous than others, a result of how long a producer cooks the pomegranate juice ). Hatay nar eksisi, most of which is made from large, pale citron- and blush-colored katir basi ('mule head') pomegranates, is favored by Istanbul chefs for its complexity, a not-quite-sour tartness combined with a sweetness that doesn't really suggest sugar. My Marmaris nar eksisi is less syrupy and more sour (though not as sour as lemon juice).
In Turkey, pomegranate molasses is a common sweet-and-sour thread running through widely disparate regional cuisines. In the inland provinces of Diyarbakir and Sanliurfa, its subtle sweetness complements the area's dominant seasonings of Urfa pepper, sumac and dried spices like fenugreek, coriander, allspice and cinnamon in lamb dishes, bulgur kofte, the tomatoey tart-spicy dip called ezme and an onion relish served alongside the provinces' ubiquitous grilled liver kebabs. In Mediterranean Hatay, where fiery chilies, olive oil and fresh herbs like parsley and mint define the province's dishes, its honeyed qualities tames spicy Levantine dips like muhammara and the heat of the local 'deer antler' chilies that are added to salads and made into vegetable dolma, while its fruity character lifts the earthiness of pumpkin dishes. In Turkey's Aegean region, where meals revolve around the fresh flavors of seafood, sea grasses, and otlar, foraged herbs and greens like nettles, lily stems, and purslane, it is used to dress salads, including the tabbouleh-like bulgur dish kisir (which is also big in Hatay).
The Trouble With Sourcing
As a still largely agricultural country Turkey has a ridiculous wealth of small producers, so finding quality pomegranate molasses is as easy as visiting your corner spice shop (which may stock a few bottles of koy, or 'village' nar eksisi, beneath the counter for customers who know to ask for it) or a farmer's market. In the cities, home cooks and chefs often mail-order from foragers and artisans in the country's pomegranate-growing regions. But what is an American cook to do?
Know first that the most important sign of a quality pomegranate molasses is purity. Good nar eksisi is made from nothing other than pomegranate juice. Unfortunately many syrups sold as 'pomegranate molasses,' 'pomegranate syrup,' or 'pomegranate sos,' contain glucose, citric acid, and/or other additives. (Even if you're shopping at a farmer's market in Turkey, you should ask to taste before you buy, and observe the molasses as it is poured from bottle to spoon: when the mouth of the bottle is tilted up the flow of molasses should break cleanly. If the stream 'stretches' like honey the molasses contains added sugar.) The pure stuff boasts a rich plummy balance of sweet and sour that adulterated alternatives can't match. As for price, my afternoon as a pomegranate molasses maker left me with lingering neck and shoulder aches, as well as a profound appreciation for what a labor-intensive endeavor it is. Expect to pay as much for a quality product as you would for good olive oil.
NAR Gourmet: The Turkish company sources its products from small producers all over Turkey. It calls it pomegranate molasses "pomegranate condiment."
Cortas: This pomegranate molasses from Lebanon is on the tart side but has a good round fruitiness.
More From The Sugar Files