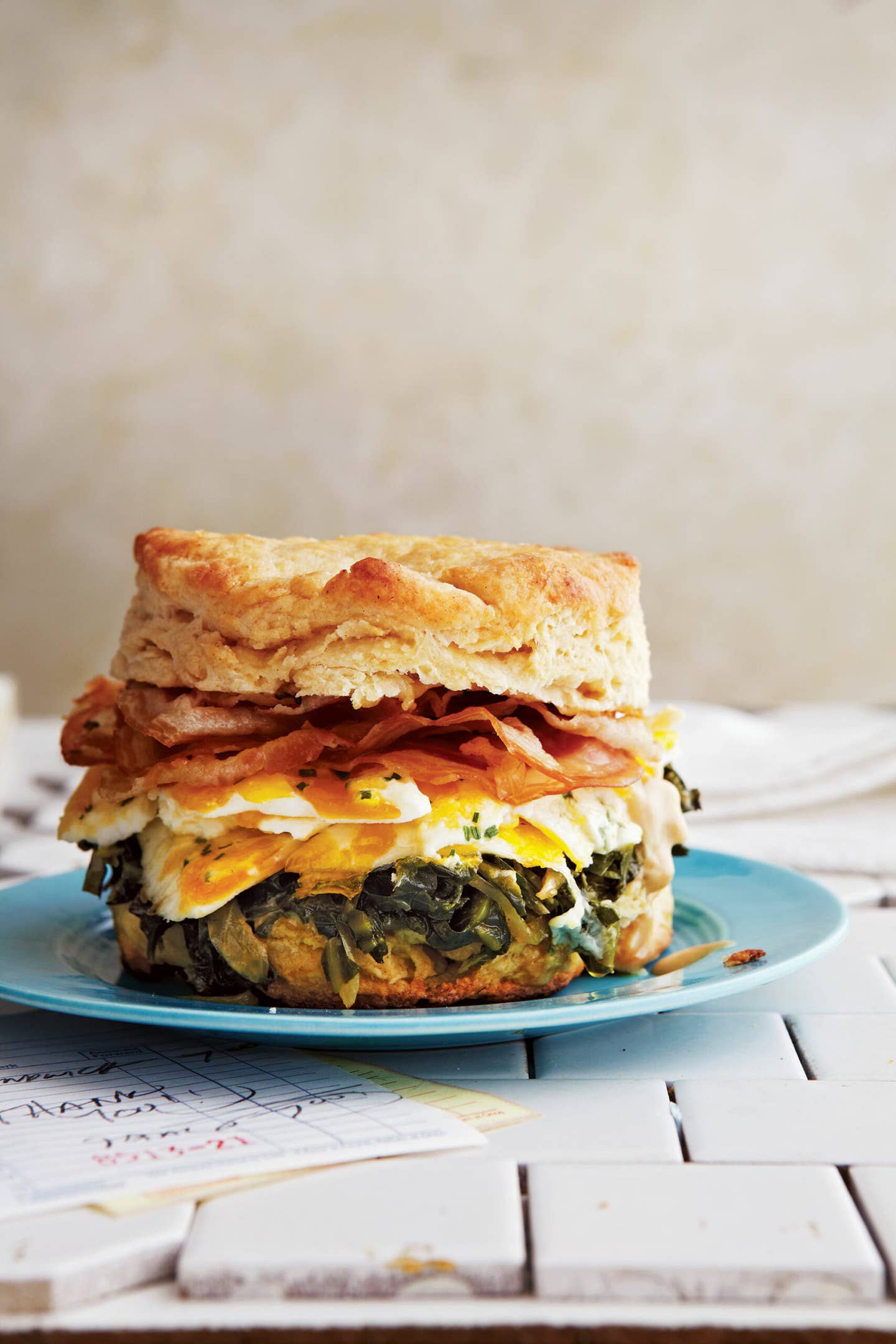 Techniques
How to Win Friends and Influence People With Beautiful Breakfast Sandwiches
Biscuits and eggs worlds better than your typical breakfast sandwich.
This Cadillac of breakfast sandwiches comes to you from Alvin Cailan of Los Angeles' hugely popular Eggslut, where the breakfast sandwich reaches god-like status. If you can't make it over to LA any time soon, you can always try making your own rendition of their biscuits with pancetta, collard greens, marbleized eggs, and espresso aioli. It sounds super fancy—and to be sure, it takes a bit more time and consideration than just throwing an egg on a reheated English muffin—but it's not as complicated as it sounds. You can do it, we believe in you! The payoff is worth the effort.
Start out by making your biscuits. Whisk flour, sugar, baking powder, and salt in a bowl, then grate frozen butter into flour and mix to combine. Add buttermilk and, using your hands, mix until a soft dough forms and just holds together. Transfer to a lightly floured surface and form into a rectangle; use a 4" round biscuit cutter to cut out 4 biscuits. Place on parchment paper and bake at 400 degrees, about 18-20 minutes. Brush with melted butter and honey and return to oven for an additional 5 minutes. Once the biscuits are finished, you can start compiling the other components.
Bake pancetta slices until crisp, reserving the fat from the pan. Braise collard greens in a pot of salted boiling water, then cook with onions, pancetta fat, and stock in a pan until the stock has evaporated. For the espresso aioli, whisk mustard, egg yolk, and salt in a bowl, then slowly pour in oil and espresso while whisking to emulsify the aioli. To make the marbleized eggs, crack two eggs into a buttered pan and gently swirl yolks into whites, taking care not to scramble them. Add chives and salt, then assemble the sandwiches, spreading aioli onto the biscuits and dividing pancetta, collard greens, and eggs between them.