Recipes
Cannellini Bean Salad with Radicchio and Celery
Serves

serves 6-8

Cook

1 hour 20 minutes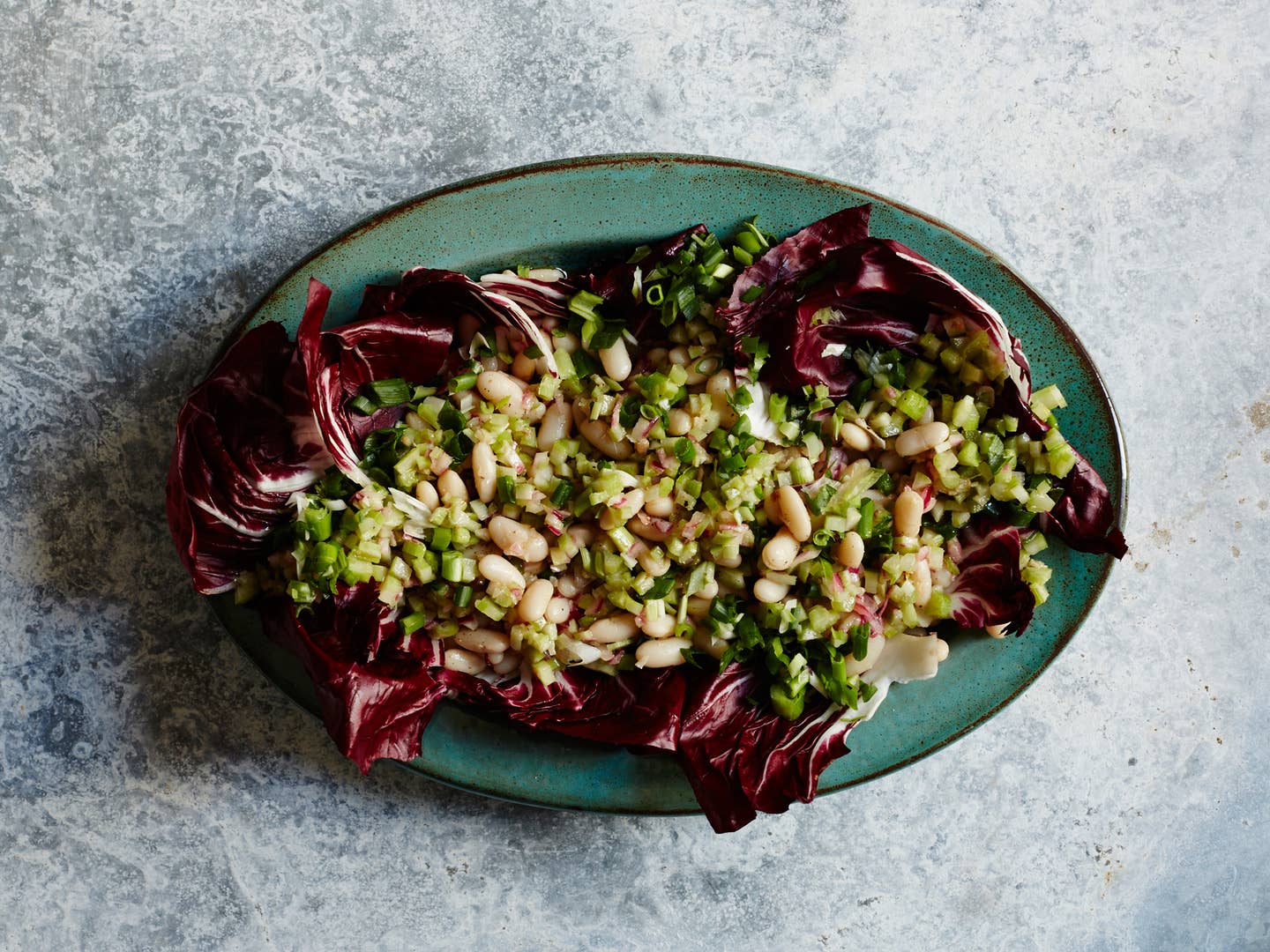 A bean salad can be wonderful, particularly when dressed with a bright vinaigrette. For this winter version, radicchio and celery add crunch and texture. In summer, replace them with briefly blanched haricots verts and halved cherry tomatoes.
Ingredients
1 1⁄2 cups dried cannellini beans, soaked overnight and drained
Kosher salt and freshly ground black pepper
2 cloves garlic, minced
1⁄4 cup red wine vinegar
1⁄2 red onion, finely chopped
2 tsp. Dijon mustard
2 anchovy fillets in oil, drained and finely chopped
1⁄2 cup extra-virgin olive oil
3 tbsp. roughly chopped flat-leaf parsley
6 scallions, thinly sliced
4 stalks celery
1 head radicchio, quartered and cored, leaves separated and torn in half
Instructions
Step 1
In a 4-qt. saucepan, combine the beans with 6 cups water and bring to a boil. Reduce the heat to maintain a simmer and cook the beans until tender, about 45 minutes. Drain the beans, transfer to a bowl, and season with salt and pepper.
Step 2
On a cutting board, using the side of your knife, press and smash the garlic with a pinch of salt until it forms a smooth paste. Scrape the paste into a bowl and stir in the vinegar and onion. Let the onions stand for 10 minutes and then whisk in the mustard and anchovies. While whisking, slowly drizzle in the olive oil until the dressing emulsifies and then season with salt and pepper. Reserve 1⁄4 cup of the dressing and pour the remaining over the beans and toss to coat evenly.
Step 3
In a small bowl, toss the reserved 1⁄4 cup dressing with the parsley, scallions, and celery and season with salt and pepper. On a large serving platter, arrange the radicchio in a single layer and top with the beans. Spoon the celery and scallions on top and serve immediately.