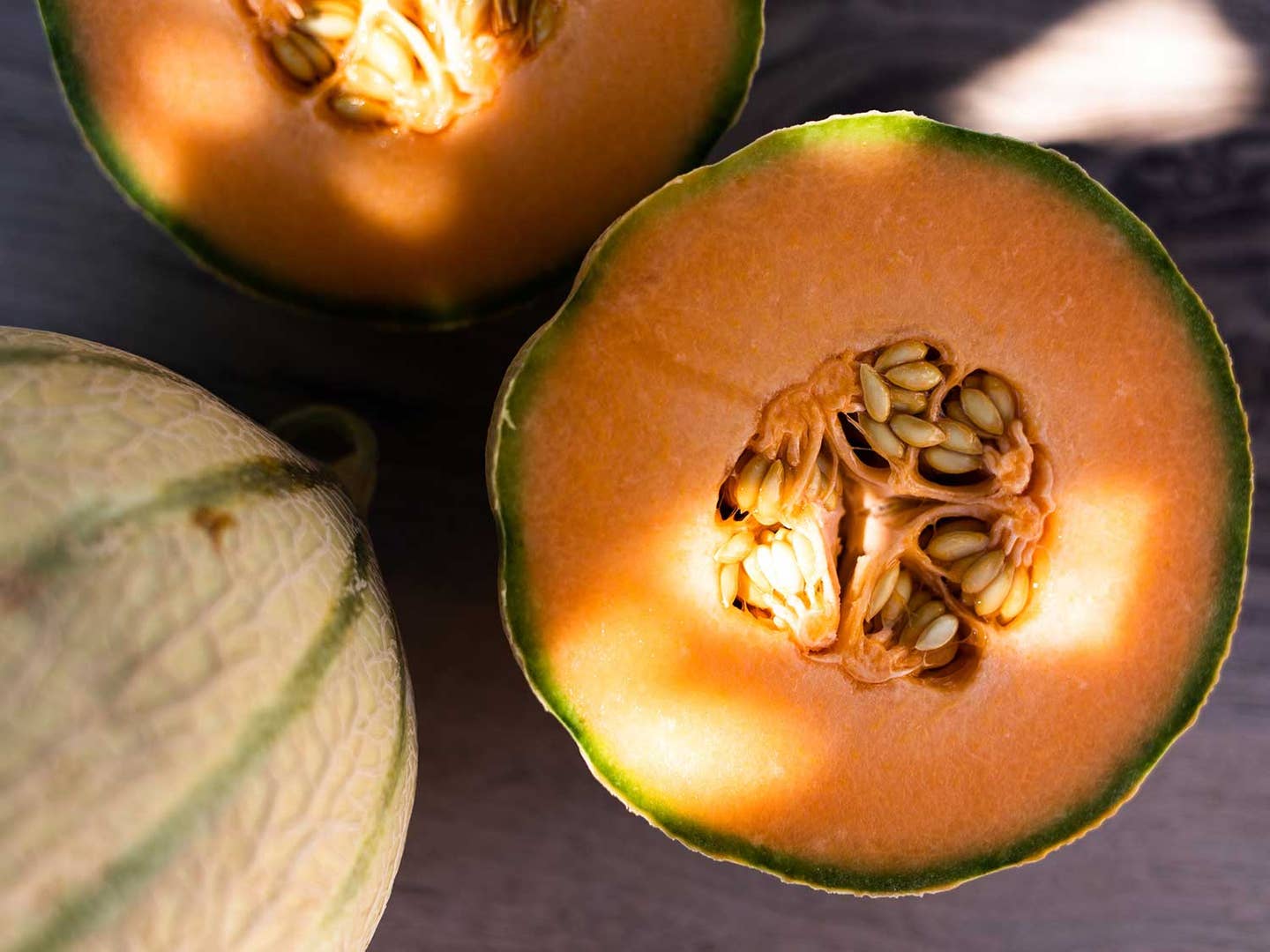 Travel
This French Melon Is Everything Cantaloupe Wishes It Could Be
Renowned for its perfume and flavor, the Cavaillon melon even has its own festival in Provence
Every July, 100 Camargue horses are released in the center of the French city of Cavaillon in celebration not of a national holiday, but of the local melon. Not just any melon, the Charentais melon of Cavaillon is regarded as one of the best in the world. The running of the horses is the grand finale at the Fête des Melons, during which crowds of people gather in the small Provençal town to honor the storied fruit.
For the annual festival, the green-striped, honeysuckle-sweet melons are piled all over town, and revelers attend melon tastings, peruse melon-themed art, tour melon farms, and so on. This multi-day party is not to be dismissed as frivolity, however. The Cavaillon melon has a dedicated Brotherhood of Knights (Confrérie des Chevaliers de l'Ordre du Melon de Cavaillon) who inspect density, sugar content, and appearance—and thus verify authenticity.
Not to be confused with American cantaloupes (which belong, confusingly, to the muskmelon and not the cantaloupe family), Cavaillon melons are small and round with smooth or very lightly netted greenish-gold skin and dark green stripes. The orange flesh is deeply perfumed, sweet, and mildly acidic. Walk into any open-air market in Provence during peak season, and their intoxicating scent is one of the first things you'll note.
These highly celebrated melons have a recorded history that dates back to 1495. Many say that their story goes back even farther, to over a century prior, when Avignon (25 miles from Cavaillon) was the official residence of the—apparently melon-loving—popes, but the wide fame of the Cavaillon melon truly began in the mid-19th century with the ability to ship, and therefore sell, melons by train to Paris.
Their fans are dedicated and at times famous. In 1864, in exchange for copies of his published works, Alexandre Dumas (author of The Count of Monte Cristo and The Three Musketeers, among other classics) requested 12 melons a year for life. He enjoyed a total of 72 perfectly ripe Cavaillon melons before his death in 1870.
"The colors of the Cavaillon melon match the natural colors of peak summer in Provence," says Lise Kvan. Kvan and her husband Éric Montéléon own and operate Le Saint Hubert, a hotel-restaurant in Provence's Saint-Saturnin-lès-Apt, 30 minutes by car from Cavaillon. Melon harvest stretches from mid-June through September and, calendar aside, Kvan knows it's the season when "neighbors start bringing us extras." In the early part of the season, Kvan and Montéléon serve the honeyed fruit in granola parfaits, in salads, or as an accompaniment to locally made goat cheese.
Another classically French presentation is chilled, scooped-out melon halves with a shot of port or Muscat de Beaumes de Venise (a sweet local wine) poured into the center. By the end of the season, the intense summer heat ripens the melons more quickly on the vine, meaning they need to be picked and used just as fast. To stretch their time, Kvan turns them into chutney, granita, and gazpacho served with highly seasoned shrimp.
Charentais melons can be and are grown outside of Cavaillon. While still delicious, the combination of Mediterranean sun and soil is not one to be exactly reproduced whether you're talking melons or summer holidays. You can pick up a pack of seeds to try your hand at home, but to taste the Cavaillon melon in top form, you'll need to travel.
Luckily, once you're here, choosing a ripe melon is like finding another queer person at a Robyn concert—not exactly a difficult task. That said, there are some general guidelines to follow: "The way that you choose a melon is by weight, first. Then smell," Kvan says. Hold it in your palm—it should feel solid and heavy. "When you tap it, it should have an almost hollow sound, like a dense thud." This weight indicates the density of sugared water content. The heavier the content, the sweeter the melon.
If playing balance scale isn't your thing, go by aroma. "The scent should be really intense, and the general smell should be everywhere on the melon," says Kvan. "If it's not quite there when you buy it, let it ripen at room temperature a few days."
Some also say that the number of stripes indicates its ripeness: 10 strips for perfection, 9 or 11 and it's either too early or too late. However you suss out the ripest of them all, just remember that the reward for your efforts is a melon worthy of 100 horses charging through a town center—and you're worth it.