Recipes
Cheddar Cheese-Stuffed Kulcha
Serves

makes 5 Flatbreads

Cook

10 hours 30 minutes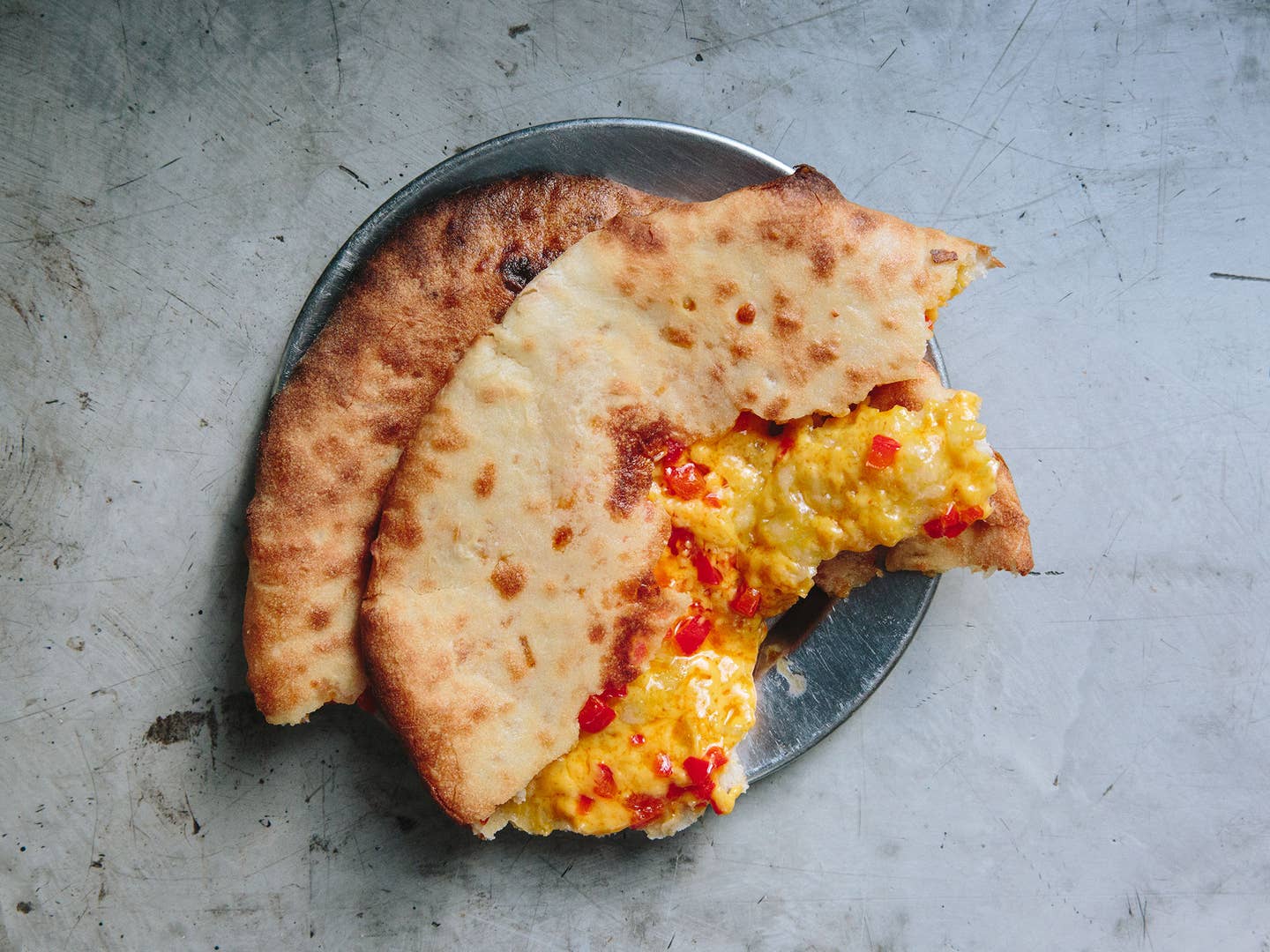 One of the most popular appetizers at Paowalla, Floyd Cardoz's modern Indian restaurant devoted to bread-bakers, is this flatbread filled with melty spiced cheese. A simple naan dough is wrapped around a filling of classic American cheddar, sweet red pepper, cumin, and chile powder.
Cardoz bakes all of his flatbreads in a massive tandoor, but he suggests home cooks use a pizza stone in a very hot oven to mimic the effect. For best results, pre-heat the pizza stone for a full hour before baking to get it—and keep it—hot during baking as you open and close the oven.
Serve these breads hot out of the oven, with either a sweet or spicy chutney on the side.
Ingredients
1⁄2 tsp. dry active yeast
1 tbsp. plus 1/2 tsp. sugar, divided
4 cups plus 3 Tbsp. (1 ¼ lb.) all-purpose flour, plus more for dusting
2 1⁄2 tsp. fine sea salt, divided
1 tbsp. canola oil, plus more for greasing
4 cups (1 lb.) grated cheddar
1 large red bell pepper, finely diced (1 cup)
1 tbsp. ground cumin
1⁄2 tsp. cayenne pepper
Melted ghee, for brushing
Tomato tadka or chutney, for serving (optional)
Instructions
Step 1
In the bowl of a stand mixer fitted with a dough hook, combine the yeast with ½ teaspoon sugar and 1 tablespoon plus 1 ½ teaspoons lukewarm water. Set aside until the yeast has helped form tiny bubbles on the surface of the water, about 5 minutes.
Step 2
Add 1 ¼ cups cold water to the yeast mixture, followed by the flour, remaining sugar, and 2 ¼ teaspoons salt. Mix on the lowest speed until a dough begins to form, 3-3 ½ minutes. At this point, if all the flour is not hydrated and the dough seems very dry, add 1-2 additional tablespoons of cold water and mix on low speed for 30 seconds more. Increase to second speed and mix until the dough is smooth and elastic, 2 minutes more. Lower the speed again, add the canola oil, and mix until the oil is evenly incorporated and the dough is homogenous, 2-3 minutes. (The dough should be very sticky and soft, but very smooth.)
Step 3
Lightly oil a medium bowl with canola oil. Transfer the dough to the bowl, turning it over a few times to thoroughly coat with the oil. Cover the bowl tightly with plastic and set aside at room temperature until the dough is inflated, very gassy, and nearly doubled in size, 80-90 minutes.
Step 4
Generously dust a clean countertop with flour and turn the dough out onto it. Divide the dough into 5 equal (6-oz.) pieces, gently rounding each into a ball.
Step 5
Lightly oil a large baking sheet with canola oil place the dough rounds on top, spacing them evenly. Cover tightly with plastic wrap and refrigerate for at least 8 hours and up to 2 days.
Step 6
An hour before you are ready to bake, preheat a pizza stone in a 500° oven. In a medium bowl, combine the cheese, bell pepper, cumin, cayenne, and remaining ¼ teaspoon salt; set aside.
Step 7
When the stone is heated, generously flour a countertop. Remove the dough from the refrigerator and place one of the balls of dough on the floured surface (cover the remaining balls with a clean towel or sheet of plastic wrap to prevent them from drying out while you work). Use a rolling pin to flatten one piece of dough out to a 10-inch circle. Pile 1 cup of cheese filling in a compact mound at the center of the circle, then pleat the sides up to meet at the center to seal the cheese within the pouch of dough. Continue filling the rest of the balls. Let stand at least 30 minutes before rolling out the kulcha. (Alternately, you can cover and refrigerate the filled balls overnight.)
Step 8
Working one at a time, lightly flour the kulcha, flatten gently, then roll back out to even 8-inch rounds. (If any air bubbles are trapped within, slit the dough with the tip of a sharp knife, deflate the bubble, and pinch the opening back together to seal.) Repeat with the remaining kulcha.
Step 9
Working quickly so that the oven does not lose heat between loading, use your hands or a pizza peel to transfer 2 to 3 kulchas to your pizza stone. (Bake as many pieces as you can fit on the stone without overlapping or crowding.) Immediately close the oven and bake 5-7 minutes, until it is irregularly puffed and browned in places on the bottom and the cheese within is thoroughly melted.
Step 10
Use a spatula or pizza peel to remove the kulcha and transfer to a clean baking sheet. Brush lightly with ghee and cover with a dry towel while you continue baking the rest of the kulcha.
Step 11
Serve warm, plain or with tomato tadka or chutney on the side.