Recipes
Chestnut Pudding with Nutmeg Whipped Cream
Serves

serves 8 people

Cook

1 hour 30 minutes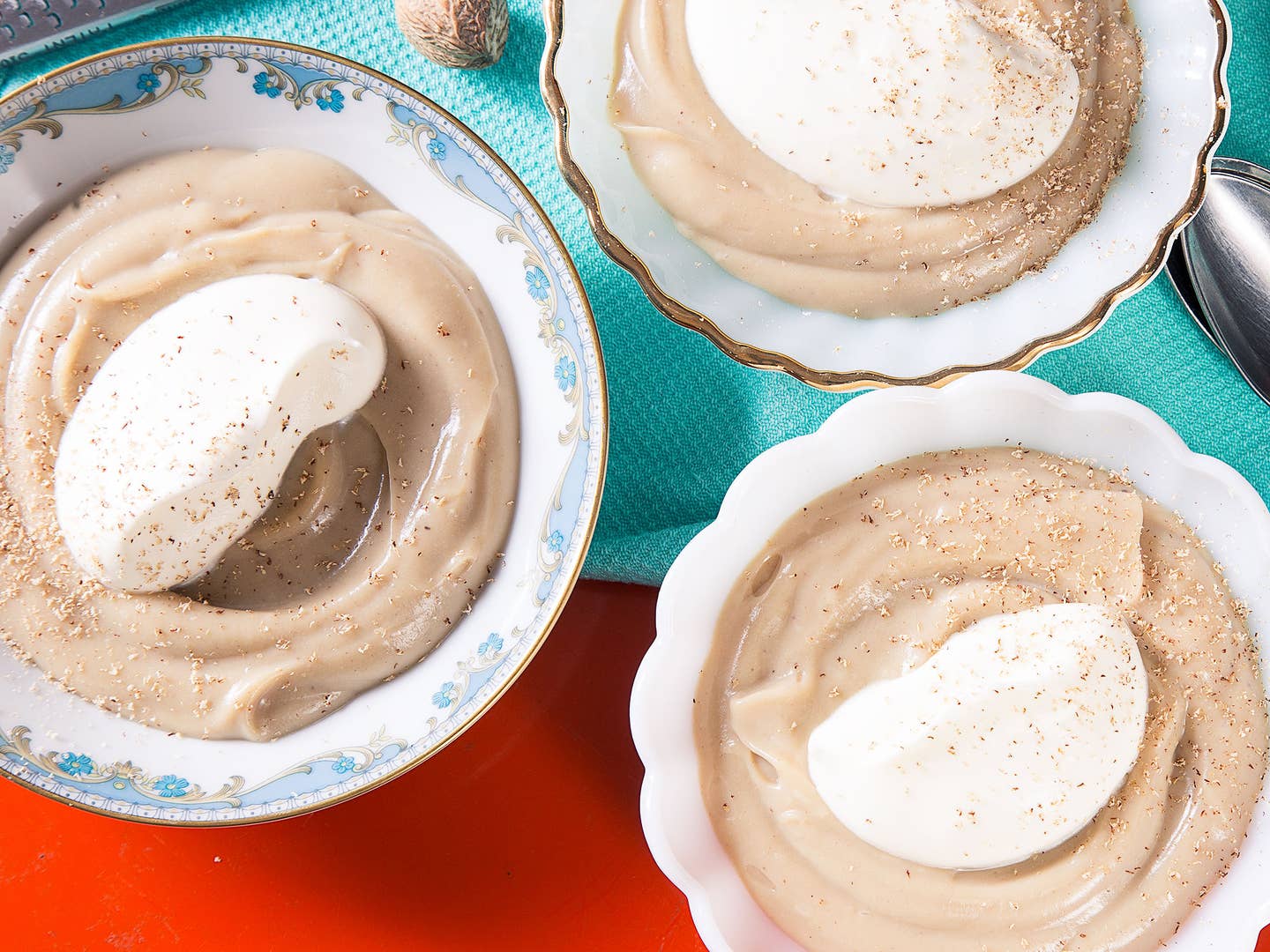 This pudding takes the best part of a traditional mont blanc—the chestnuts—and dispenses with the fussy meringue, so you can enjoy chestnuts in all their toasty glory, with no distractions. Nutmeg's distinct floral aroma complements the earthy chestnuts for a simple pudding perfect for a weeknight dessert or a holiday party.
Ingredients
2 cups whole milk
1⁄2 cup sugar
3 tbsp. cornstarch
1⁄4 tsp. kosher salt
1 large egg, plus 2 egg yolks
2 tbsp. unsalted butter, cut into cubes
1 tsp. vanilla extract
1 cup chilled heavy cream
1⁄2 tsp. freshly grated nutmeg
Instructions
Step 1
In a blender, puree the chestnuts with the milk until very smooth, at least 2 minutes. In a medium saucepan, whisk the sugar with the cornstarch and salt, then whisk in the egg and yolks. Stir in the chestnut milk and bring to a simmer over medium heat, stirring constantly, until bubbles break the surface of the pudding and it thickens, about 8 minutes. Remove from heat and whisk in butter cubes and vanilla. Pour the pudding through a fine sieve into a bowl and press a piece of plastic wrap onto the surface of the pudding. Let the pudding cool completely, then refrigerate until chilled.
Step 2
In a large bowl, whisk the cream with the 1⁄2 teaspoon nutmeg until semi-stiff peaks form. Spoon the pudding into bowls or cups and top each with a dollop of whipped cream and a fresh grating of more nutmeg.