Recipes
Cucumber and Radish Salad with Fresh Cheese
Serves

serves 4

Cook

4 hours 30 minutes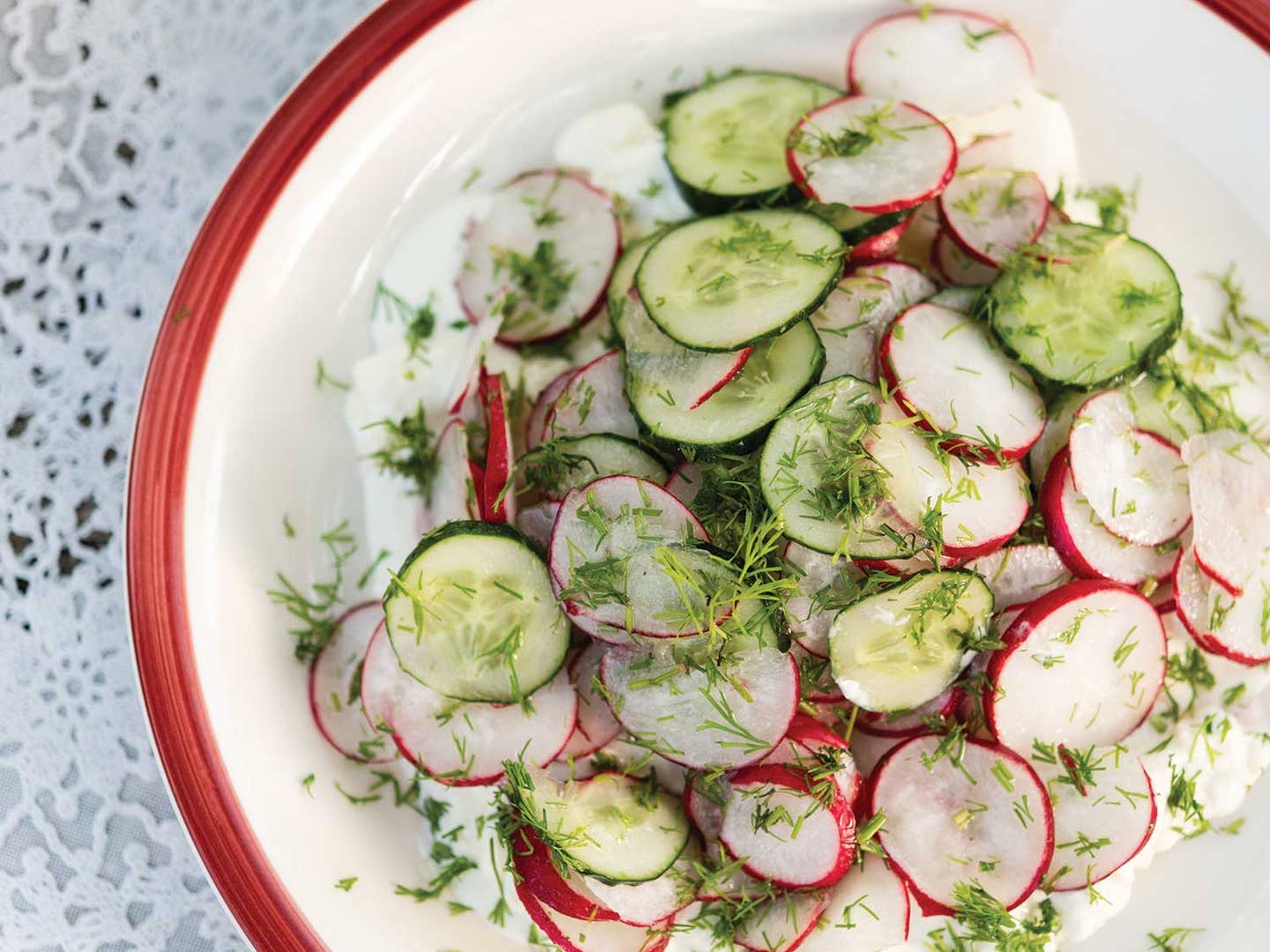 This simple garden salad sits on a milky bed of crumbled biezpiens, a soft, fresh cow's-milk cheese omnipresent throughout Latvia. This recipe details how to make your own, but in its place you can substitute a well-drained ricotta or crumbled queso fresco.
Ingredients
4 cups whole milk
2 1⁄2 tsp. kosher salt, divided
3 tbsp. fresh lemon juice
1 kirby cucumber (8 oz.)
7 large round radishes (7 oz.)
1 tbsp. plus 11/2 tsp. distilled white vinegar
1 tbsp. extra-virgin olive oil, plus more for drizzling
Freshly ground black pepper
1⁄4 cup thinly sliced scallion (2 small scallions)
2 tbsp. finely chopped dill
1 tbsp. heavy cream, for drizzling
Instructions
Step 1
At least 4 hours or up to 12 hours before you plan to serve the salad, make the biezpiens: In a heavy, medium stockpot, combine the milk and 1½ teaspoons kosher salt. Heat slowly until the milk approaches a simmer, barely trembling at the surface, 185°F. Remove from the heat, add the lemon juice, and stir gently, just until curds form, about 2 minutes. Set aside at room temperature until the curds have settled at the top, about 20 minutes.
Step 2
Line a fine mesh strainer with 3 layers of cheesecloth and set it over the sink. Drain the curds, discarding the whey. When most of the whey has drained off, set the sieve over a bowl and refrigerate to firm up and continue draining, at least 3 hours or overnight.
Step 3
Prepare the salad just before serving: Thinly slice the cucumbers and radishes and place in a large bowl. Season with 1 teaspoon kosher salt, the vinegar, 1 tablespoon olive oil, and black pepper, then add the scallion and dill. On a large serving platter, crumble the biezpiens in a loose layer, then drizzle the cheese with the heavy cream and olive oil to moisten. Season lightly with salt and pepper. Pile the cucumber mixture in a loose nest atop the cheese and serve immediately.