Culture
Everyone Is About to Be Drinking More Savory Cocktails
As imbibers across the world seek innovation and surprise, sugar is out—salmon and sriracha are in.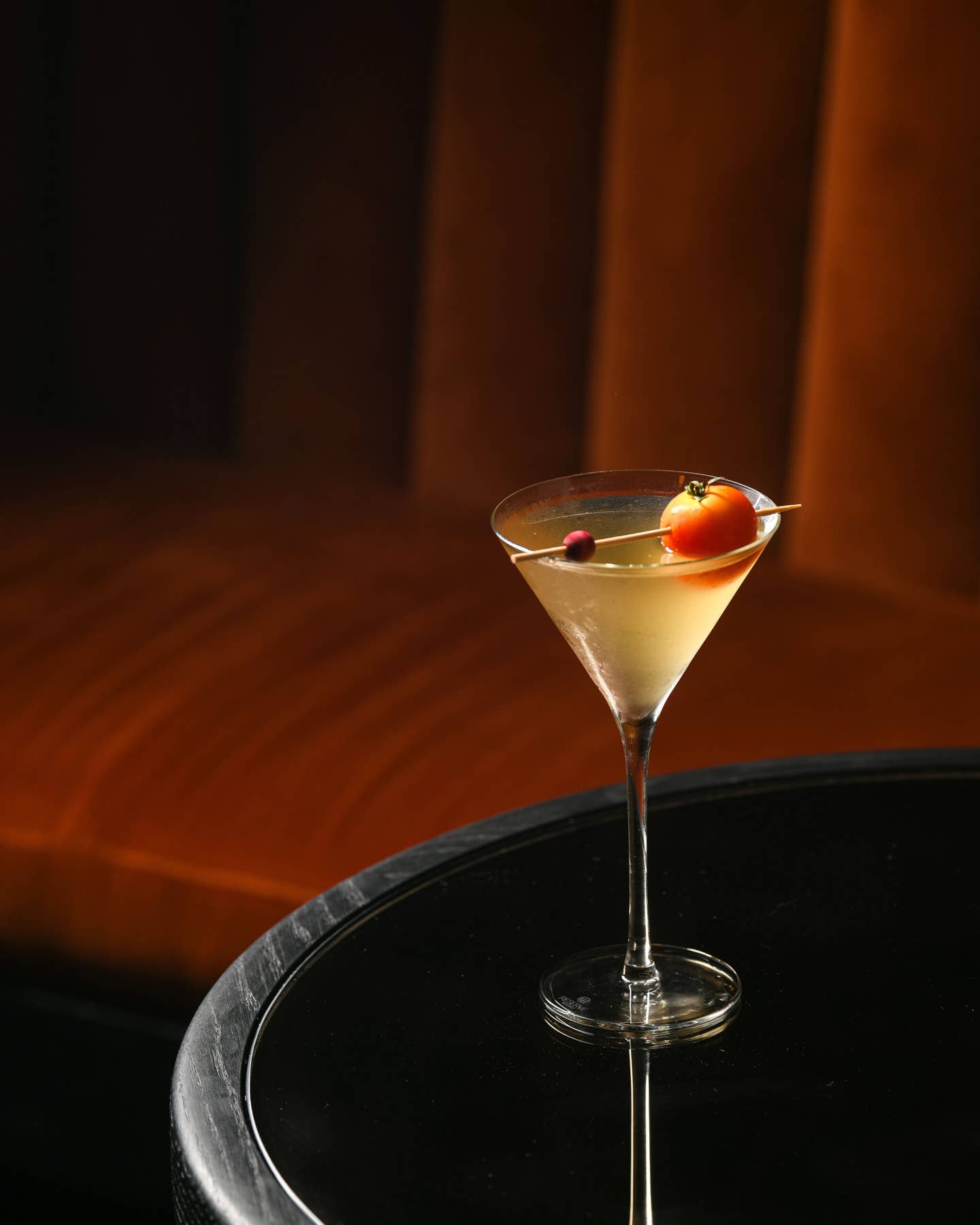 Portland, Oregon-based photographer Jordan Hughes stirred up vehement debate on TikTok earlier this year when he made an espresso martini—a latter-day mixology flex—and finished it with a shower of freshly grated Parmesan cheese.
"I tried it and I can report back that it's just crazy enough to work!" wrote one viewer. "Straight to jail," condemned another. Some were appalled, others tickled, and still others traced the combination to a concrete place in their sensory recollections. "This unlocked my memory of coffee cheese! It's a Swedish bread cheese (no bread, just sturdy) served in coffee," one user shared.
Hughes' Parmesan-scented concoction may have sparked mixed reactions, but the drink is part of an ever-growing range of salty, spicy, and briny creations showing up on drinks lists all over the world. According to Dave O'Brien, a veteran wine and spirits developer who helped launch Aperol in the U.S., the trend towards savory sips is rooted in the mixology craze of the late aughts—and the evolution of American drinkers' palates have traced a clear arc. "I've seen our collective tastes change from more sweet, to embracing bittersweet, to finally a more bitter and adventurous palate," he explained. On the other side of the equation (and bar), business owners face stiff competition. "I think bartenders feel the need to innovate to help their drinks programs stand out," he added.
As savory drinks take up growing real estate on bar menus, mixologists are incorporating brine into their beverages in surprising, and highly sippable, ways.
Marian Beke, owner of erstwhile London bar The Gibson (which will be reopening in Berlin later this year), is arguably a pioneer of the savory cocktail movement. The Slovakia-born mixologist has been experimenting with unexpected flavor profiles for years. In 2018, he collaborated with Belgium's Copperhead Distillery to roll out a savory gin featuring five botanicals and 13 pickling spices, including mace, pepper, cassia, bay leaf, ginger, allspice, fennel, and dill seeds. In 2019, Beke launched a liqueur line with Italian spirits producer Casoni featuring flavors like Balsamic Vinegar of Modena.
According to Beke, savory cocktails correlated with UK customers' relatively salty palates. Consider the classic English breakfast—back bacon, eggs, sausage, baked beans, fried tomato, fried mushrooms, black pudding, with fried and toasted bread—a sodium-rich way to start the day (at odds with many American breakfast staples like pancakes and waffles). Beke said that UK imbibers were already stalwart fans of unsweetened classics like martinis and old-fashioneds. When he began serving savory drinks, like a martini aged in balsamic barrels and served with truffle onions, it was immediately apparent that customers were into them. So he continued to experiment. "We tried to introduce an element of savory or umami into each cocktail," he explained. Think sea salt, smoked fruits, a hint of balsamic for syrups, pickled eggs for martinis, or pickles as a garnish.
In other regions where palates skew sweeter, Beke noted, one might expect a savory cocktail to be met with more skepticism. Take Spain, for example, where people don't bat an eye at mixing coke and red table wine (hola, kalimotxo). And yet, the country has seen its own savory mixology boom, including recent openings like Especiarium, a cocktail bar in Barcelona's El Born neighborhood dedicated to exploring the world of spices. There, the menu features cheeky, thoughtfully made sips like the popular Saltbae: Gin Mare, a spicy tomato juice, sriracha, a mix of salsas, and salt and pepper "al gusto" (to your liking). Partner and head bartender Antonio Naranjo described it as their spicy take on a Bloody Mary. "You expect something that everyone does the same—the Bloody Mary—and instead you taste a bomb of flavors. And as the ice melts, you get sensations in different parts of the mouth and the nose." He called it a "complete sensory experience."
Bartenders are flexing their creative muscles, and—despite the authoritative ring to the term "mixology"—not taking themselves too seriously
Finding inspiration in food
As Beke's English brekkie-inspired drink suggests, a staple ingredient or time-tested recipe can be a solid jumping-off point for cocktail innovations. In New York City, the menu at Noho haunt Jac's on Bond features a caprese martini, with notes of olive oil, tomato, basil, and balsamic vinegar. According to beverage director Trevor Easton Langer, the creation phase often starts with seeking inspiration from dishes or ingredients that one already loves—no matter how far off they might seem from the world of cocktails. On the rise of savory mixed drinks, Langer noted, "There have been fine variants of classics like the Dirty Martini, Gibson, and Bloody Mary, but there's been a massive influx of thought-inducing tipples that you'll want to try purely out of curiosity—like, 'How'd they turn this into a drink?'"
Over in New York City's Meatpacking District, Genesis House puts yet another spin on a classic with their Kimchitini. Head bartender Leslie Hong, who had been daydreaming about a kimchi-infused martini for some time, used her vegan kimchi recipe as a base. Through trial and error, she figured out the ideal ingredient ratios for the cocktail. "I created a cold-brewed gochugaru-and-salt solution to pull the color and flavor," Hong explained. "The final cocktail also gets a little muddled fresh Asian pear to bring back a little fresh sweetness." The resulting drink "marries the best parts of the traditional dirty martini with a beloved element of Korean cuisine," added Kevin Prouve, Genesis House's general manager. 
When Dave Kupchinsky, bar manager at Bar Moruno in Los Angeles, was looking to shake up the classic martini, he beelined to the restaurant's kitchen for ideas. There, chef Chris Feldmeier told him about a salmon martini he onced sipped at Dr Stravinksy, a trailblazing cocktail bar in the seaside city of Barcelona (where the team also produces a curiosity-piquing gorgonzola cheese rum). This birthed Bar Moruno's popular salmon martini, a fish-forward, briny, and unexpectedly balanced cocktail. "I take smoked salmon and infuse it into Tanqueray gin. That sits for about three weeks, then I strain it off, including a lot of fat—but you have to leave some of the fat because that's where all the flavor is," Kupchinksy explained.
It makes sense. Consider the dirty martini: a briny cocktail with an oily touch from the olives. Kupchinsky pointed out that fat has been finding its way into the cocktail shaker for some time now. He recalled the bacon old-fashioned at mythical New York speakeasy PDT, adding, "That was probably 10 years ago." More recently, mixologists have taken the fat-washing method—infusing a spirit with something fatty, freezing it and skimming off the fat—and run with it, incorporating plant-based ingredients like coconut oil, peanuts, avocados, and more. In New York City, the restaurant Hutong serves its Ancient Old Fashioned with sesame-washed bourbon. Curio Bar in Denver offers a sip called Heathen made with green chili vodka, rhum agricole, coconut, and lime oil. The effect of fat-washing is a richer, rounder flavor and, as Naranjo of Especiarium suggested, a fuller sensorial experience.
Fermenting is another savory technique infiltrating the beverage menu. At Workshop, a new Portland restaurant with a vegan tasting menu that makes heavy use of chef Aaron Adams' fermentation lab, the cocktails are inspired by people and places culled from Adams' memories. One, the K&A, is a tribute to Kevin Farley and Alex Hozven of the Cultured Pickle Shop and features Rittenhouse rye, Cynar, and celery kombucha vinegar. It sounds almost nutritious enough to negate any detrimental effects of alcohol (except, perhaps, that late-night text sent an ex).
Be it fatty, fermented, or generously spiced, you can have your cocktail and (sort of) eat it, too.
Savory cocktails may be as old as the dirty martini itself, which dates back to 1901, but it's clear that mixology experts are going bolder than ever with briny ingredients. Sometimes, in getting patrons to embrace seemingly strange combinations, it helps to tap into a spirit of nostalgia, drawing on profiles that might hit a sentimental note of familiarity for cocktail creators and customers alike.
Recently, I popped into Abricot Bar, a buzzy new cocktail spot in Paris' Belleville neighborhood. Co-owner Allison Kave, a Brooklynite cum Parisienne, served me their instant-hit minitini—a teensy-weensy dirty martini at the right price of five euros. It was perfectly chilled and packed with savory flavor. Kave explained that the team makes their own brine, blending lactic acid, salt, and water, and also uses Baldoria Dry Umami vermouth for its strong notes of mushroom and seaweed. (Obvious by now: the OG briny cocktail is catnip for savory spinoffs.)
For the next round, Kave poured one of the cocktails on tap—the Cel-Ray, a fresh take on a G&T inspired by the cult-favorite vegetable soda and Jewish deli mainstay of the same name. It's made with the juice of lemon peels, Citadelle gin, aquavit, and a celery syrup produced in-house using fresh celery and fennel seeds. I sipped the bubbly elixir from its tall glass and got an instant hit of celery. But there was something deeper—an earthy, nutty, maybe even malty character, which I asked Kave about. "That's probably the rye bread notes that come through from the aquavit," she told me. The aquavit, Kave explained, is flavored with the same caraway seeds that stud rye bread in those Jewish delis of our native New York. We shared an IYKYK smile. For an instant, two New Yorkers in a bar on a quiet street in Paris' 10th arrondissement were transported to warm memories of the place they used to call home.
"This is amazing," I told Kave. It was easily drinkable—nothing cheesy or gimmicky about it. The woman next to me leaned over the bar and ordered the same.